The meet comes to a close on Wednesday at Horseshoe Indianapolis, featuring a mandatory payout in the 20-cent pick 6. This jackpot pool is at $24,678.85 going in to Tuesday's card. The sequence encompasses races 3 through 8 and offers a mandatory payout regardless of carryover.
All races in the pick 6 will be run at six furlongs on the dirt. The Post Position Bias Report shows that posts 4 and 11 win most frequently, at 16 percent. With the smallest sample size, post 12 also has the lowest win rate, 6 percent.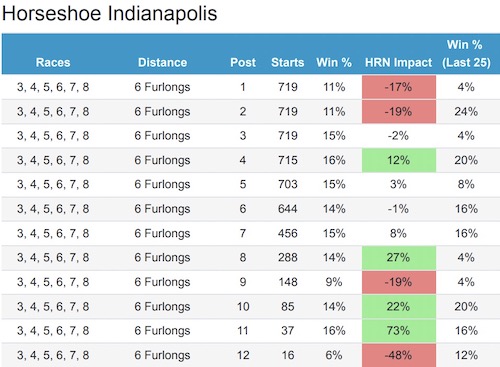 The rail and post 2 are both successful 11 percent of the time but underperform their odds based on the Horse Racing Nation Impact score. Other than post 12, it doesn't appear as though a significant bias is apparent for this distance and surface. Post 11 is most frequently under-bet, resulting in a +73 percent HRN Impact score.
Race 4, like several others, projects a fairly moderate early tempo. According to the Pace Report, No. 1 Protected Area (5-2 morning line) should take command. Making his seventh career start, he was second at this level last time out going 5 1/2 furlongs. His trainer Dawn Fontenot is 0-for-23 in sprints, so this could be a spot to find a better-priced alternative.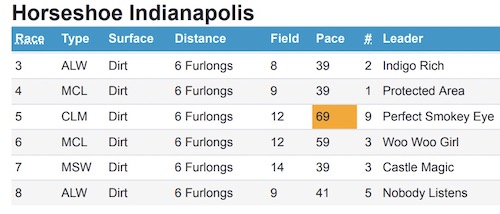 Both Charting Horse Value and Power Picks have identified No. 7 Love Drunk (8-1) as a live long shot in race 5. At the top of the sheet, she is the designated spot play, indicated by the "+" in the ABC column. She also receives the highest value rating in the field.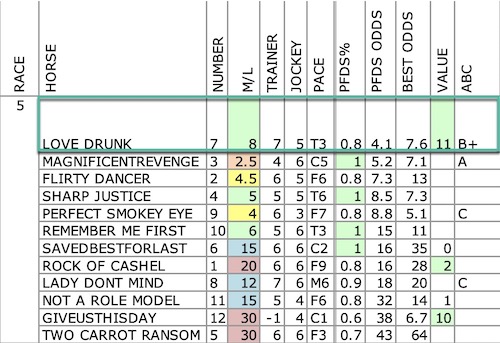 Power Picks use 14 criteria for analysis when assessing a race and has determined that Love Drunk fits the bill. Over the last two weeks, the top pick has won at 33.8 percent for Horseshoe Indianapolis.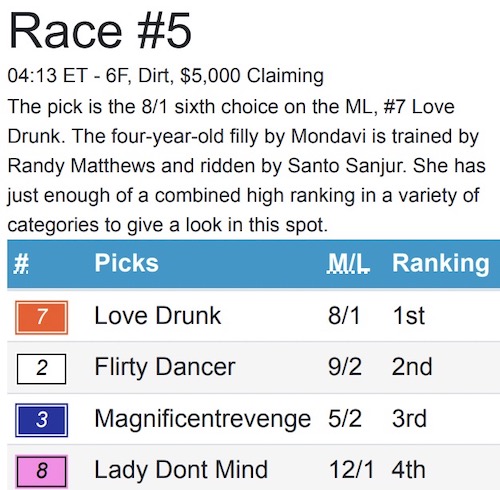 Of those with more than 20 mounts, Samuel E. Bermudez and Gage Holmes have the highest HRN Impact scores. According to the Jockey Report, Bermudez is winning at 19 percent while Holmes is winning at 14 percent. Based on the odds of their mounts, they both have been expected to win at a lower rate, resulting in positive Impact scores.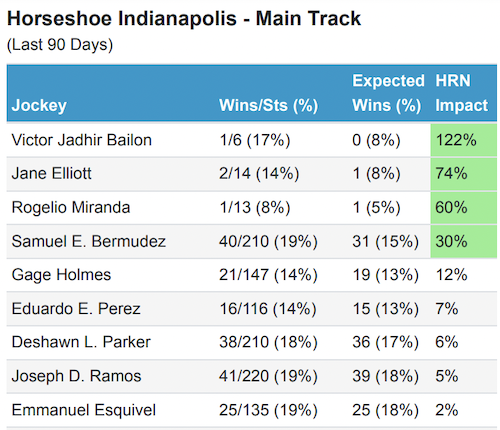 Both Bermudez and Holmes will be on prices in race 6. Bermudez rides No. 11 Pantalones Enfuego (30-1), while Holmes takes the call on No. 6 Ruby Sky (15-1). These are jockeys that have made a difference on long shots so far this meet and are worth considering in the pick 6. 
Race 7 features four debut runners. First-Timer Power Ratings rank No. 1 No Joking Matter (6-1) highest of the group at a 3. Rankings are on a 1-to-5 basis, with 5 being the best.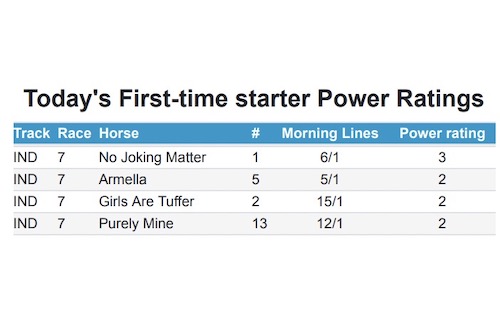 Debut runners with the 3 power rating win 8.3 percent of the time, while for comparison, those with a 5 rating win at 22.0 percent. First-time-starters with a 2 win at 6.5 percent. 
In the final leg of the sequence, Power Picks is siding with the favorite. No. 5 Nobody Listens (9-5) is the top selection based on his early speed in a projected slow pace. Perhaps this is a reliable short price to build tickets around, as other races seem much more open.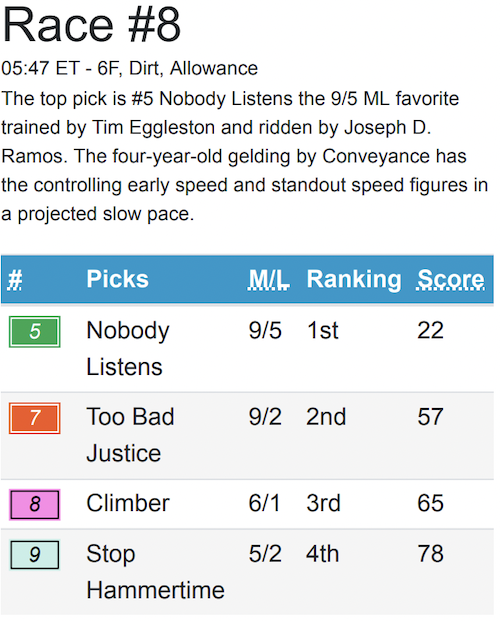 All 
Horse Racing Nation
Pro Reports
are available for every track, every day.