One of the best wagering opportunities any horseplayer can face will present itself Wednesday at Canterbury Park, where a $23,218 carryover awaits in the 10-percent takeout Pick 4.
The early Pick 4 at Canterbury is the lowest takeout wager in North America. The added money to Wednesday's sequence makes it an even better bet for horseplayers. The early Pick 4 begins with race 1 at 6 p.m. EDT.
Even if Canterbury is not a regular track for you, Horse Racing Nation has handicapping products available to get you up to speed on how the Minnesota oval plays.
The Jockey Report, in particular, could be of use, as it gives stats for both turf and dirt, highlighting both who's hot and who's not in Shakopee Minn. This variety is key for a pick 4 sequence that includes a mix of both surfaces.
I took a deeper dive on the jockeys named to ride the two turf races, and the data clearly shows that Jermaine Bridgmohan's mounts are outrunning their odds. Sofia Barandela, meanwhile, is still looking for her first win this year on the Canterbury sod.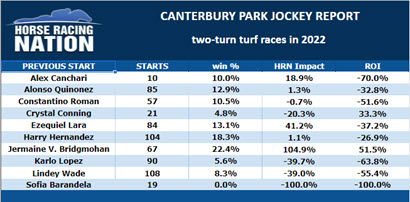 While we all know handicapping is part of the fun, it is worth noting that Horse Racing Nation's Power Picks tabbed 14 winners from 27 races last week at Canterbury for a flat-bet profit. Our Power Picks are available for every track every day and include not only graded selections but also written analysis of each full card!
Ready to place your bets? Sign up for AmWager, and get a match of your first deposit up to $300.