The 20-cent Derby City 6 must-go on Monday. The carryover amount already was $166,544 through Sunday's races and is expected to grow to perhaps $1 million or more.
Two-year-olds will be featured in half of this holiday sequence. Horse Racing Nation's Pro Reports offer insight on how to approach the races and build those Pick 6 tickets.
In the opening leg, 2-year-old maiden fillies will compete. Generally difficult for many handicappers, the First-Time Starter Insights Report provides information about first- and second-time starters.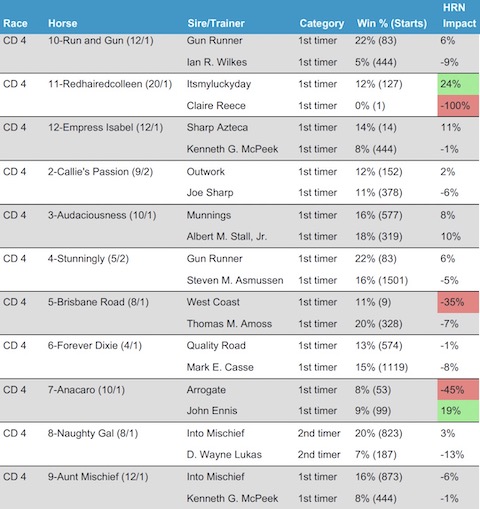 Sires that show up with a negative HRN Impact score are West Coast and Arrogate, the sires of No. 5 Brisbane Road (8-1 morning line) and No. 7 Anacaro (10-1), respectively. It might be best to take a wait-and-see approach with both of these debut runners. 
The Pace Report predicts the fastest fractions on the card for Race 5, with the expected frontrunner as No. 4 Koufax (12-1). He could face pace pressure from the likes of No. 1 Enid (4-1) and potentially No. 2 Red Label (30-1). This could set up well for runners who won't be on top of that pace, such as No. 8 Skyro (4-1) and No. 5 Doubly Blessed (3-1).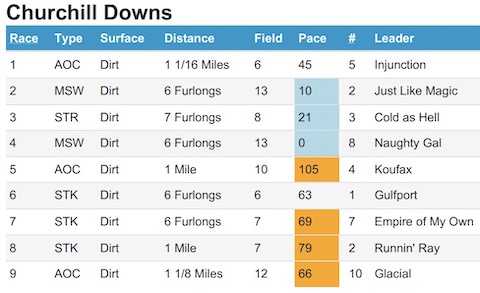 Two-year-old males face off in the Bashford Manor Stakes in Race 6, where No. 1 Gulfport (4-5) is the top Power Pick. The top Power Pick has been firing at 33 percent for the last 60 days. Favored on debut, Gulfport was a winner at first asking going 5 furlongs. He looks to stand above this field.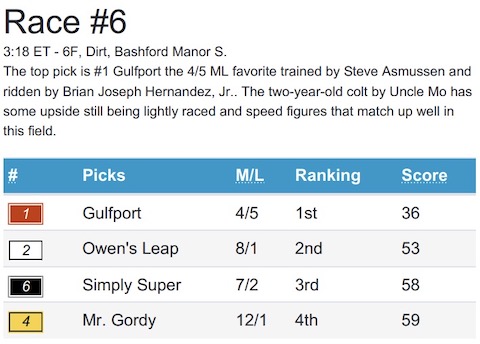 Two-year-old fillies take the stage next in the Debutante. Jockey Julien Leparoux rides favored No. 7 Empire of My Own (9-5). The Hot Jockey Report shows that Leparoux has been winning at 14 percent. Based on the odds of his mounts, he's been victorious when expected. His HRN Impact score is +4 percent.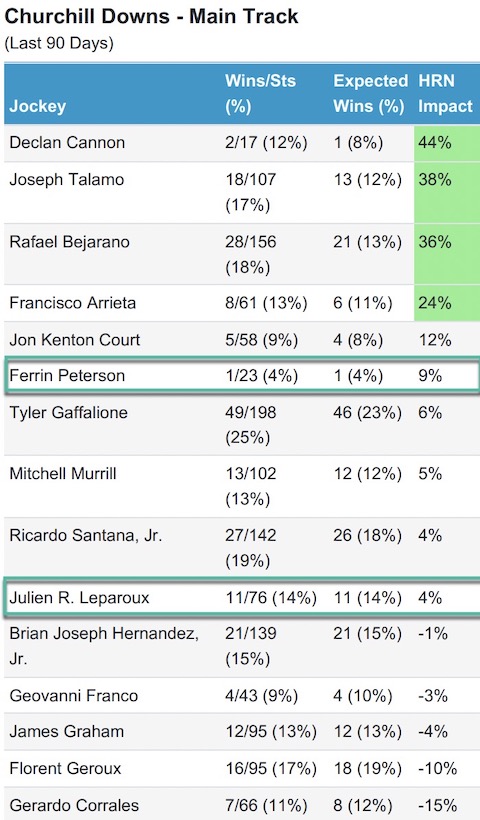 Jockey Ferrin Peterson rides No. 1 Crackalacking (7-2) who broke her maiden impressively at Keeneland with Peterson aboard. In 23 starts so far at the Churchill Downs meet, she has won once.
A generally accepted notion at Churchill Downs is that inside speed can be very dangerous and that some days that bias is more pronounced than others. According to the Post Position Bias Report, that's actually not the case at the mile distance that will be contested in Race 8. Gates 1, 7 and 8 all win 11 percent of the time. With a smaller sample size, gates 9 and 10 have lesser win rates.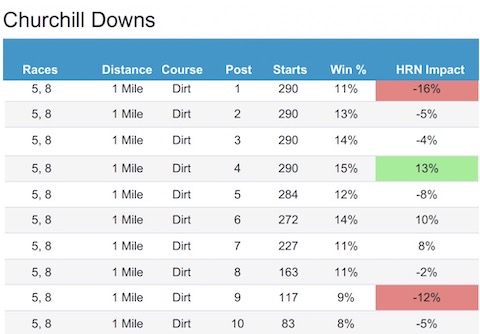 The gate producing the most winners is gate 4, where No. 4 Awesome Gerry (15-1) will break from. He is the co-longest shot on the board and opts for this spot over the Kelly's Landing Overnight Stakes, which was run on Saturday.
In the finale, the top Power Pick is No. 9 Warrior Johny (4-1). A recent maiden breaker facing winners for the first time, he also has early speed. The morning lines suggest that this race is wide open without a standout favorite. Perhaps he has figured things out and will continue his winning ways.