The Pick 6 must go this Saturday at Woodbine. A 20-cent wager, the pool sits at $211,572.49 heading into Friday's card. The take out is 15 percent for the Power Pick 6. Horse Racing Nation's Pro Reports offer insight on how to play the races from a variety of handicapping angles and can assist bettors in constructing their Pick 6 tickets. The sequence begins at 3:10 p.m. EDT and includes the Grade 2 Connaught Cup.
Leg 1 is a turf route, and the Post Position Bias Report shows that post 2 has the highest success rate of 19 percent. Recently, both posts 2 and 3 are winning at 20 percent. That's good news for No. 2 Miss Marie (ON) (15-1 ML) and No. 3 Mogadama (IRE) (5-2 ML). Post 10 has gone 0-for-21, indicating that No. 10 Googly Eyes (15-1 ML) could be an automatic toss in this situation.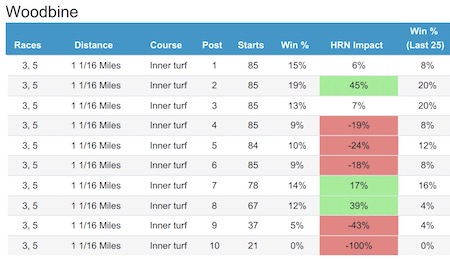 Two-year-old fillies compete for the first win of their careers in Race 6. The top Power Pick is No. 2 Film (4-1 ML). Experience is extremely valuable in these races and she has a start under her belt having finished third on debut.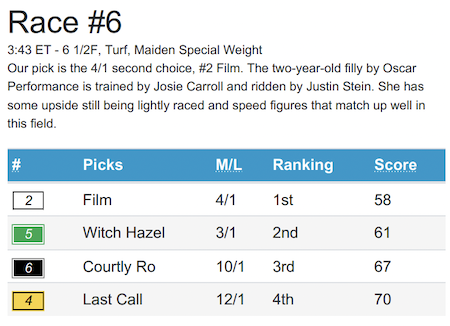 A slow early tempo is predicted in Race 7 by the Pace Report. In this synthetic route, No. 3 It's Game Knight (10-1 ML) will look to take them gate to wire. If he doesn't face any pressure on the front end, its possible that he could sneak away and upset the field.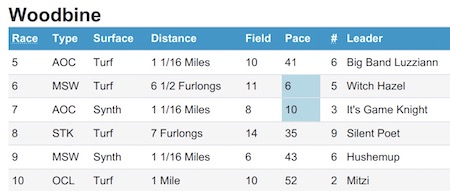 Race 8 is the Grade 2 Connaught Cup Stakes. A full field of 14 will go 7 furlongs on the turf, and No. 14 is the slight favorite, Shirl's Speight (3-1 ML). Only 4 contenders have lined up in gate 14 going this distance previously and none have been successful, according to the
Post Position Bias Report
. Post 11 is also 0-for-30.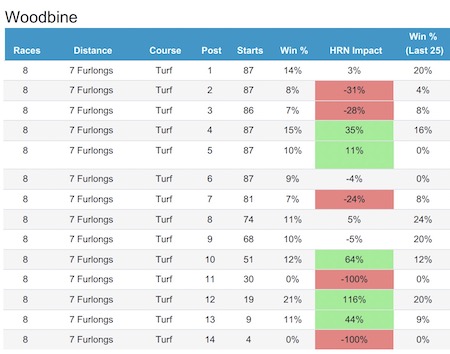 In Race 9, three of the six contenders are predicted to benefit from a surface switch based on the
Sire Moves Report
. No. 1 Anyquist (5-2 ML) is by Nyquist, who has had more success with his synth route progeny than those sprinting on the tapeta. No. 2 Gio Maria (10-1 ML) is by Gio Ponti, whose offspring win 17 percent of the time going a route of ground on the synthetic. No. 5 Now Is a Breeze (6-1 ML) should also appreciate the switch from a turf route as well.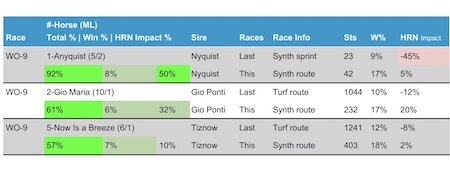 The sequence ends in Race 10, another grass event. According to the
Hot Jockey Report
, favored No. 2 Mitzi (3-1 ML) is ridden by a jockey that's being over-bet in Kazushi Kimura. Kimura is winning at a high level of 18 percent, but the HRN Impact score is -18 percent. This means that the mounts of this rider have been expected to win a bit more frequently based on their odds.