Newly reduced takeout this season is a major incentive for horseplayers to get involved at Fair Grounds. With 15 percent takeout in the Pick 5 and a new $1 minimum Pick 6, the wagering menu is stacked with opportunity.
Saturday's nine race card highlights the state-bred program with competitive stakes action. The Pick 5 kicks off in race 5, where No. 1 Free Like a Girl (7-5 morning line) should benefit from this cutback in distance and a dry track.
According to the Sire Moves Report, progeny of El Deal have a 24 percent success rate in dirt sprints. This could be an opportunity to single her as the second choice rather than favored No. 5 Ova Charged (6-5).

Race 6 will be run at 5 1/2 furlongs, and inside is the place to be. The Post Position Bias Report shows that over the last 25 races, gates 1 and 2 are both winning at 20 percent. No. 1 Jeb's Lucky Eight (10-1) and No. 2 Cryptozonic (5-1) both deserve a look with this information.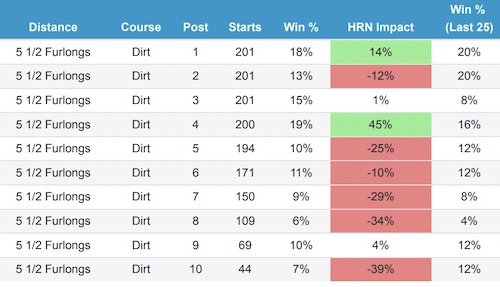 Cryptozonic won at this distance here at Fair Grounds last time out from post 4, which also has a high win rate over the last 25 of 16 percent. Post 4 also has the highest rate of success over time at 19 percent. 
The contenders in race 7 are familiar with one another, as six of the eight entrants exit the Big World Stakes that was run here on Nov. 18. That was won by A G's Charlotte, who upset favored Winning Romance. Nonetheless, No. 3 Winning Romance (8-5) is installed as the favorite over No. 6 A G's Charlotte (3-1). 
Power Picks think Winning Romance will turn the tables on A G's Charlotte, as she is the top choice.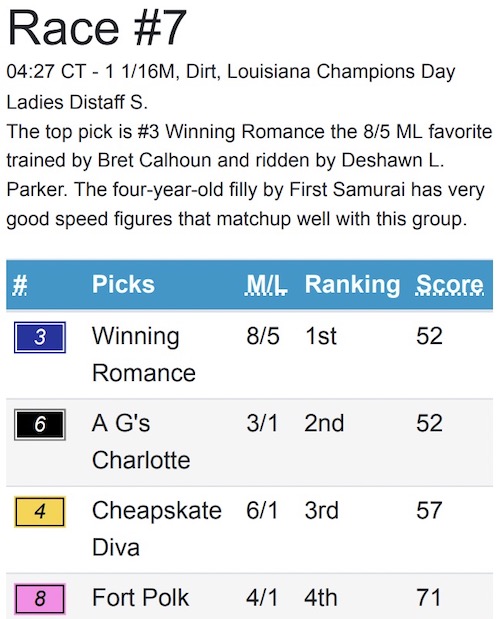 In race 8, Charting Horse Value's designated spot play "+" is No. 6 Ballinonabudjet (8-1). This isn't a typical price for runners from the Brad Cox barn, but this 4-year-old gelding is stepping up significantly in class. He's first off the claim for Cox, who is currently 40 percent with this angle.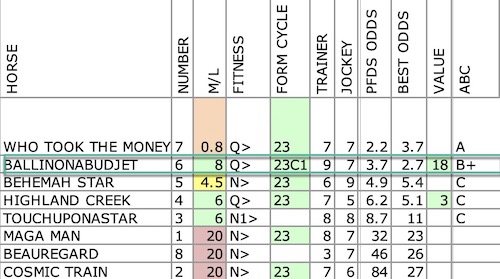 The hottest pace on the card is projected in the finale, according to the Pace Report. No. 12 Bertie's Galaxy (7-2) is the anticipated early pace setter. This is an opportunity to search for a horse with a different running style that could benefit from some pace to chase.