Pride month ends Thursday with a mandatory payout in Gulfstream Park's Rainbow 6, with $131,153.97 already in the 20-cent pick 6 pool, which is expected to go past $1 million.
The sequence begins with race 3 on the eight-race card at 1:35 p.m. EDT.
For full-card entries, visit the Horse Racing Nation entries & results page.
Bettors will be forced with a decision right off the rip, as the Horse Racing Nation Horses to Single Report sides with morning-line favorite No. 6 Grand Player while Charting Horse Value sees opportunity on No. 11 Celestial Gaze.
CHV's Jeff Bessa discusses the sequence in its totality in the video below.
The most wide open race of the sequence might be the penultimate leg, race 7, which Power Picks has the top 4 selections separated by only 8 "points."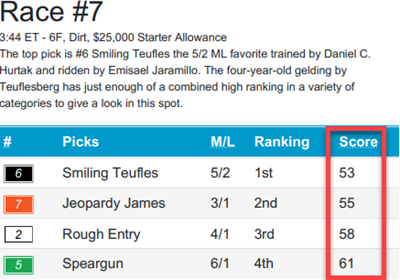 Obviously, Power Picks is a great resource to help identify winners, but when using the product for wager strategy, the "spread" between each pick's score can help identify underlaid, if not outright vulnerable, favorites. In the case of race 7 above, No. 6 Smiling Teufles is a fade as the favorite.
The sequence closes with the lone route race among the sextet. It's also one of two races on the synthetic Tapeta surface (leg 4, race 6 is the other).
HRN has several reports as part of our pro membership that help with surface handicapping, including sire moves and hot jockey reports. Below are the hot (green shade) and cold (red shade) jocks on the Gulfstream synthetic.