I'm in a contest.
No, not that kind of contest.
The Grayson Grass Challenge benefits the Grayson Jockey Club Equine Research Foundation and is a five-week contest involving a pair of turf races each week on Wednesdays and Thursdays at Horseshoe Indianapolis. It begins Wednesday and concludes Sept 1. The week 1 slate is race 7 on both days.
The format is each of the 7 players get $50 to bet on each race. Highest total wins, but more importantly, Caesars Entertainment will donate all the money accrued to the Grayson Jockey Club Equine Research Foundation.
After handicapping the race I noticed a gravitation toward outside options. Nos. 6, 7, 8, 9, 10, and 12 all made my (not-so) short list after a first round of looking at the race. That made me want to see how outside posts do going a mile on turf at Horseshoe Indianapolis. There have been 80 such races the past 5 years, and the extremes seem to be the spots to fade, as posts 1, 11, and 12 are the clear downgrades.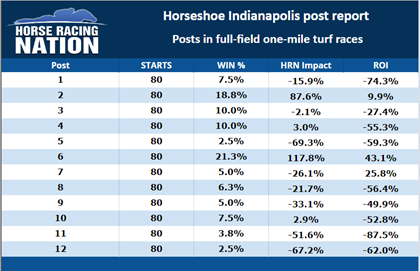 Can the jockey make a difference in this race? As a fan of No. 12 Mine Own Star, it's certainly comforting to see Joseph Ramos aboard given his numbers below from the Horse Racing Nation Hot Jockey Report, but I do fear his price will be too short with that 7-to-2 morning line that did not account for the morning line favorite scratching.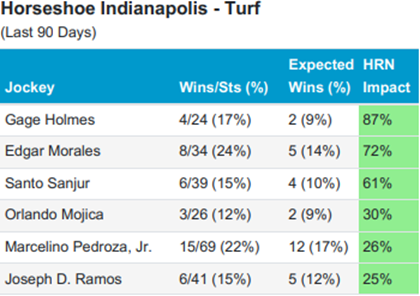 We have not mentioned the highest (morning line) price among my short list yet, and that's No. 10 Expressed, who should have some pace to chase. He's definitely my key to be in the number with the other logical contenders.
The Play: $20 to win on 10 ($20). $1 exacta key box 10 with 6, 7, 8, 9, 12 ($10). $2 exacta key 6, 7, 8, 9, 12 ($10) with 10. 50-cent tri key box 10 with 6, 7, 8, 9, 12 ($10). Total: $50.