Dozens of horse racing supporters, including Hall of Fame trainer Bob Baffert and his wife, Jill, rallied Wednesday outside a meeting of the Los Angeles County Board of Supervisors calling for the return of racing at Santa Anita Park.
The "call to action" of California's horse racing industry was organized by Oscar de la Torre, a well-known advocate of backstretch workers in the state.
In addition to Wednesday's rally in downtown Los Angeles, horse racing advocates were also directed to file public comments prior to the board meeting. Supervisor Kathryn Barger, who serves as the board's chairman and represents Santa Anita's district, noted in her opening remarks that more than 800 comments had been filed. The name of each person to file a comment was read out loud by the board and the list was loaded with well-known names in the industry.
De la Torre estimated around 50 people took part in the rally. Two-time Kentucky Derby-winning trainer Doug O'Neill was on hand, as were horse owners, union representatives for Santa Anita front-side workers, and officials for The Stronach Group, which owns Santa Anita Park. In addition, KC Horse Transport provided several horse vans that were paraded outside of the meeting in a show of support.
"We had a great turnout," de la Torre said. "It really showed today the horse racing community is one family and one family strong. We had people from all the stakeholder groups in our industry together. It was very nice to see -- just a very powerful gathering."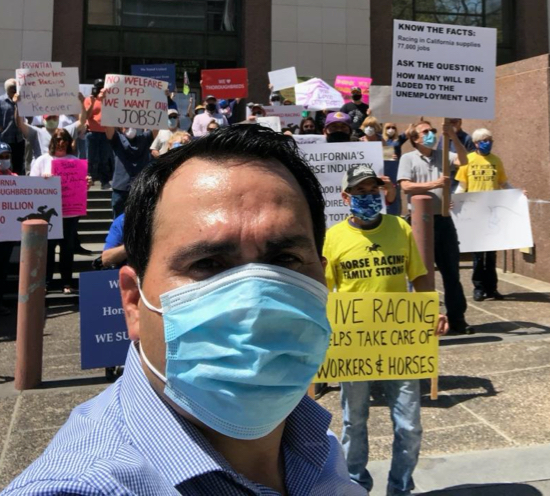 (Oscar de la Torre with horse racing supporters Wednesday.)
Racing at Santa Anita has been shut down since March 27, when the Los Angeles County Department of Public Health deemed it a nonessential business. The suspension followed two weeks of racing without spectators at Santa Anita that by all accounts went without incident.
Officials for Santa Anita on April 16 filed a detailed plan to safely resume racing -- which would include the construction of on-site housing for jockeys among other precautions -- to the board of supervisors. Officials for Santa Anita have yet to receive a response to the plan.
Baffert addressed the gathering, noting Santa Anita has remained open for morning training and there has yet to be a positive for COVID-19 at the expansive facility.
"There's a lot of families out there suffering right now and I think it's unnecessary that more people aren't able to work, especially at Santa Anita where it's been safe," Baffert said "We've been COVID free. We're doing everything possible and haven't had any problems.
"I know the supervisors have a lot on their plate, but hopefully this will bring a little attention to them that we need to start racing."
DTLA protest going on now with Baffert speaking on behalf of industry interests and resumption of racing @santaanitapark.. Thanks to Derek Lawson for footage. pic.twitter.com/5AG6d7fiCS

— Steve Byk (@Steve_Byk) April 28, 2020
Supporters of Santa Anita's reopening were encouraged by the board's unanimous passing of the Los Angeles County "Roadmap to Economic Recovery" on Wednesday. De la Torre sees this as potentially aiding the effort to resume racing at Santa Anita.
"We see that as a good sign," de La Torre said. "We hear and are hoping Santa Anita would be part of 'phase one.' This would mean still no fans, but that live racing could resume. 
"All the data is in our favor. There have been zero COVID-19 infections at the racetrack, the science shows horses cannot transmit or be infected by COVID 19, and the science show you are more susceptible to infection of COVID-19 indoors rather than outdoors," de La Torre added.
"We have more than 300 acres of space at Santa Anita. So with all the science and the data in our favor, we're hopeful Santa Anita can be part of the phase one reopening."