In a roller-coaster year where everything changed, from racing dates to the Triple Crown dates, in the end total U.S. Thoroughbred handle for 2020 was only off 1.3 percent from 2019. 
It certainly didn't look that way in the spring, when the COVID pandemic had reduced racing to only five tracks (Gulfstream, Tampa Bay, Oaklawn, Fonner Park and Will Rogers Downs) and handle was down nearly 23 percent in March, 26 percent in April and more than 31 percent in May.  
Through the first five months of 2020, handle was down 14 percent, and it was down 11.5 percent through the first half of the year. But with a back-loaded schedule of big event days and delayed track openings, racing closed out the second half of the year with a 9.5 percent gain over 2019 to close 2020 down only 1.3 percent.
U.S. Thoroughbred handle 2020 — month by month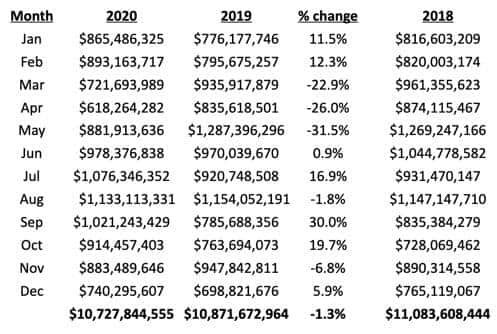 In a year that was unusual in so many ways, no doubt there will be many analyses of the handle performance under such unique circumstances.  But looking at the key performance indicators below, the statistics that stand out below are that the number of races was down 23.2 percent, yet handle was down only 1.3 percent.  
US Thoroughbred handle 2020 - key performance indicators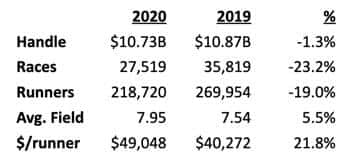 Also significant is that average field size increased from 7.54 to 7.95 runners per race in 2020. This is likely a result of reduced racing dates, so it will be interesting to see where this trend goes in 2021.
Looking at big event days show another interesting outcome of 2020, as every major event day was down in handle. These declines could be explained by changing calendar dates, but obviously seeing handle down 49 percent, 50 percent and more than 33 percent for the Derby, Preakness and Belmont, respectively, was not a good result.   
Overall, the Triple Crown, Breeders' Cup and Travers days combined to be down $230 million in handle, which represents 2.1 percent of the decline in 2020 handle.
Big event race days in 2020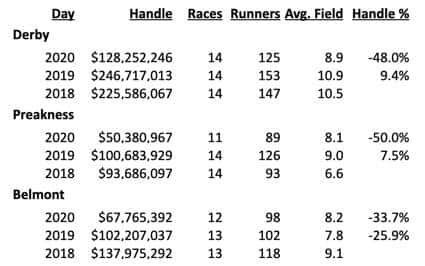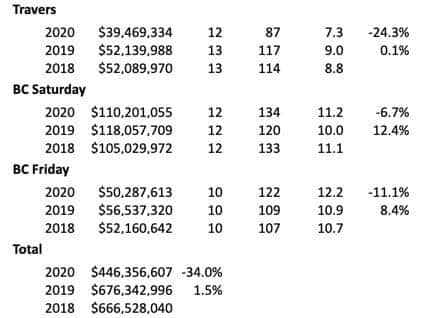 Hopefully the unwelcome experiment of 2020 has provided ideas and changes that can be applied to benefit racing in the long term.