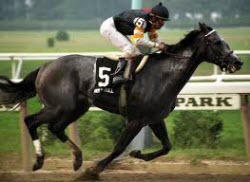 Darley Stud's recent announcement of Holy Bull's retirement from stud is bittersweet. The '90's icon rose from humble beginnings to become a formidable Champion on the racetrack and a Racing Hall of Fame inductee. Holy Bull was the "everyman's" horse, beating better-bred colts and outrunning his modest pedigree at every turn.  
Holy Bull was foaled in Florida by Rachel Carpenter's Pelican Stable. When Carpenter died in 1993, Holy Bull was one of 19 horses bequeathed to Jimmy Croll, the stable's long-time private trainer.  Croll sold off 18 of the horses, but held on to the strapping gray two year old.  Jimmy Croll took out his trainer's license in 1940 and trained for Pelican Stable for over 40 years. He spent much of his time habiting the backstretch of Monmouth Park in the summer and Gulfstream in the winter, gaining a reputation as a no-nonsense trainer with a skill for developing two year olds and sprinters.
Holy Bull kicked off his career in August 1993, blasting out of the gate to conquer maidens by  2 ½ lengths. He traveled 5 ½ furlongs in a speedy 1:03 4/5. Two starts later, Holy Bull faced the undefeated Grade 1 winner Dehere in the Belmont Futurity (G-1) beating that rival by half a length.  Despite ending his two year old season undefeated, Holy Bull lost out on Champion Two Year Old honors to Dehere because Holy Bull owned only one graded stakes victory.
Holy Bull jumped onto the Kentucky Derby trail in January 1994 with a gritty decision in the Hutchinson Stakes (G-2). Breaking alertly from post one, Holy Bull zipped to the front, getting his first quarter in :21.78. He whipped around the turn, getting the half in :44.10 and six furlongs in 1:08.21.  Leg weary in the stretch, Holy Bull was headed for the first time in his career by Patton. The gallant gray fought back, flashing under the wire three-quarters of a length in front. His final time was a spectacular 1:21.23 for seven furlongs.
A month later, perhaps tired after his efforts in the Hutchinson, Holy Bull recorded the first defeat of his life in the Fountain of Youth (G-2).  After an early speed duel with Halo's Image, Holy Bull hit a wall after a half mile and checked in last, well beaten by his nemesis, Dehere.
Undeterred, Croll brought Holy Bull back in the Florida Derby (G-1) and was rewarded with a dominating 5 ¾ front running score. His 1 1/8 mile victory in 1:47.66 earned the three year old early favoritism for the Kentucky Derby. Journeying to Kentucky in mid-April, Holy Bull stopped off at Keeneland and stole the 1 1/8 mile Blue Grass Stakes (G-1) in a more moderate 1:50.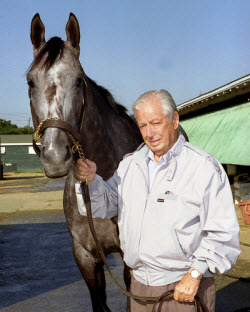 Just three weeks later, Holy Bull wore the favorite's mantle in the Kentucky Derby. Debate over the front-running colt's ability to get the 1 ¼ miles ensued amongst pedigree and dosage buffs. Holy Bull broke slowly from post position four and was an uncharacteristic sixth through the first quarter. He was sluggish throughout the race and checked in a disappointing twelfth, beating just two horses.  Jimmy Croll announced to the Los Angeles Times that Holy Bull had been drugged with Halcion and he knew who had drugged the horse.  Despite his claims, and an investigation by the FBI, no blood sample was drawn from the horse and Croll refused to name a suspect.  
The owner/trainer Croll decided to skip the remaining Triple Crown races and pointed his charge to the Metropolitan Mile. Barely three weeks after his Derby humiliation, Holy Bull was back to his winning ways. Taking on a strong group of older horses, the sensational colt dragged his jockey Mike Smith to the lead and never looked back. Holy Bull flew past the finish line 5 ½ lengths in front, recoding a mile in 1:33.98. His list of foes included Cherokee Run, who would later be named 1994 Champion Sprinter, multiple Grade 1 winner Devil His Due and the previous year's Belmont Stakes winner, Colonial Affair.
After resounding victories in the Dwyer (G-2) and Haskell Invitational (G-1), Holy Bull faced only four rivals in the Travers Stakes (G-1). Once again, debates among racing fans erupted over whether the free-running colt could carry his speed against the Preakness/Belmont hero Tabasco Cat. They weren't the only ones worried.  Trainer D. Wayne Lukas entered the Grade 3 winning sprinter Commanche Trail as a rabbit for his more accomplished stablemate Tabasco Cat.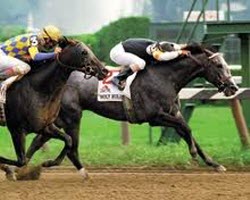 In the 1994 Travers Stakes, Holy Bull burst of the gate running. He was quickly headed and passed by Commanche Trail who blazed the first quarter in :22.83 seconds. The rabbit went wide around the first turn while Holy Bull hugged the rail, bringing him on even terms with the sprinter. Tabasco Cat sat in a perfect stalking position three lengths behind the frontrunners. Holy Bull and Commanche Trail raced as a team, drilling the half in :46.35.  At that point, Commanche Trail had all he wanted of the Bull and quickly dropped out to last, his job complete.  Holly Bull kept rolling, opening up by three lengths to the ¾ pole in a testing 1:10.43.  The crowed looked for Tabaco Cat to make his move, but the Classic winner was toiling, and had dropped back eight lengths.  Uncontested on the front end, Holy Bull opened up another length, flying through a mile in 1:35.97.  Meanwhile, Concern, storming from the back of the pack was quickly gaining ground. Holy Bull held on to a tenuous lead through mid-stretch, Mike Smith asking the colt for everything he had. Concern, under jockey Jerry Bailey, was gaining with every stride. The two Hall of Fame Jockeys slugged it out to the finish, but no matter how Bailey pushed on Concern, he wasn't getting by the courageous gray.  Holy Bull held on to win the Travers Stakes by a determined neck, stopping the timer in 2:03.  It was 17 lengths back to Tabasco Cat, who had re-railed for third.
Holy Bull took on his elders for the second time in the Woodward Stakes (G-1), once again facing Devil His Due and Colonial Affair.  Also in the group was Kentucky Derby winner Go For Gin and the speedy Bertrando. At the break, Bertrando took the lead while Holy Bull proved that he could rate, sitting just off of the front runner through a moderate :46.49 seconds. Around the far turn, Holy Bull's naturally long strides took him past Bertrando into the lead. Mike Smith pushed the "go" button and Holy Bull cruised to a five length triumph while the rest of the field were whipping and driving behind.  Proclaimed, "The best horse on dirt in America today," by race caller Dave Johnson, Holy Bull won the 1 1/8 mile Woodward in 1.49.89.  Eclipse Award voters agreed with Mr. Johnson, crowning Holy Bull as Champion Three Year Old and Horse of the Year for 1994. 
Jimmy Croll could have retied Holy Bull after his Championship season, but brought the game colt back for another year.  Holy Bull began his four year old campaign in the seven furlong Olympic Handicap. In typical Bull fashion, the colt dueled for the lead and out kicked his over-matched competition by 2 ½ lengths.  The race was an easy prep for the Grade 1 Donn Handicap.
As usual, Holy Bull was the favorite in the Donn Handicap. Nine rivals lined up to take a shot at the Champ. Included in the field was a horse named Cigar, who had won the previous year's NYRA Mile (G-1) in only his second race over dirt. Cigar had toiled on the lawn in former years, but by the time the Donn Handicap rolled around, the Bill Mott trainee was hinting at future stardom. 
Breaking alertly, Holy Bull and Cigar mixed it up early and began to separate themselves from the rest. Suddenly, a step past the ½ mile pole, Mike Smith heard a loud pop. Holy Bull faltered and the jockey pulled him up.  Holy Bull sustained injured the tendon and ligaments in his left foreleg. He would go on to regain his health, but his racing career was over.  The Champion retired with a 16-13-0-0 ($2,481,760) record.  During his colt's racing career, Jimmy Croll sold a ¼ share interest to Darley and Holy Bull retired to Darley's Jonabell Farm to stand at stud for an initial fee of $25,000.  
Despite his modest pedigree, Holy Bull (Great Above – Sharon Brown, by Al Hattab) carries bloodlines crucial to the Thoroughbred breed. Unlike most stallions standing at stud, Holy Bull is free of the genes of Northern Dancer, Bold Ruler, Raise A Native and Hail To Reason.  Instead, his sire line traces back to the Florida foundation sire Rough'N Tumble, and farther back, to 1898 Kentucky Derby winner Plaudit. After starting off with a humble $250 stud fee in Maryland, Rough N' Tumble was relocated to Ocala Stud in Florida, where his fee gradually rose to $10,000.  He sired 24 stakes winners, including the great Dr. Fager, 1968 Horse of the Year and Minnesota Mac the grandsire of Holy Bull, Housebuster and Preakness winner Codex. Rough'N Tumble was honored as a Brilliant/Classic Chef-de-race, as he passed along both speed and stamina to his descendants.
With little blacktype in her make-up, Holy Bull's dam Sharon Brown gave no hint that she would bear a Champion. She started her career winning a maiden claiming race, and spent three years on the track as an allowance level runner. The Pelican Stables homebred racked up a 32-3-6-5 ($45,860) record under the tutelage of Jimmy Croll.  Two years before Holy Bull arrived on the scene, Sharon Brown foaled her only other stakes winner, a Crafty Prospector filly named Winnie D.  In 1995, Jimmy Croll sold Sharon Brown for at auction for a bargain $13,000.  At the time, her son Holy Bull had yet to compete at the races. Purchased by the son of George Steinbrenner, Sharon Brown bore Brandy Rose, (by Distinctive Pro). That filly would later produce Alabama Stakes (G-1) winner Sweet Symphony.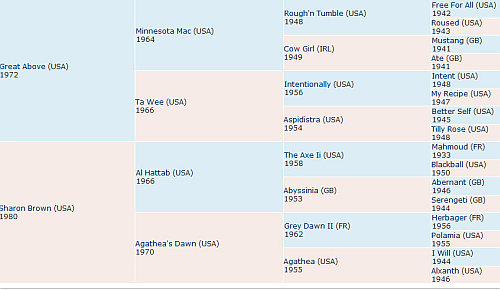 Holy Bull's damsire Al Hattab competed against the top runners of his generation from 6 ½ furlongs to 1 1/8 miles. He was better as a broodmare sire and besides Holy Bull, his daughters produced Breeders' Cup Classic hero Black Tie Affair and Win Crafty Lady, dam of Florida sire Graeme Hall.
Holy Bull is a large, well-built horse with a mind of his own. He passed along his conformation, temperament and pretty gray coat to many of his progeny. The stallion was off to a quick start at stud, siring five stakes winners, including Frizette (G-1) winner Confessional in his first season. Two years later, Holy Bull's son Macho Uno burst upon the scene with a victory in the Breeders' Cup Juvenile and earned Champion Two Year Old Honors. In 2005, Holy Bull's son Giacomo vindicated his sire by becoming a shocking longshot winner of the Kentucky Derby. In all, Holy Bull sired one Champion, 14 graded stakes winners and 45 stakes winners from 16 crops to race.  His offspring won going short, long, and over every surface.  Holy Bull is represented as a damsire by multiple graded stakes veteran Going Ballistic, G-2 winning sprinter Munnings, San Raphael (G-3) winner Conveyance and 20 other stakes winners.
As a sire, Holy Bull was a solid performer, but like his pedigree, not spectacular. He could be counted upon to produce strong, healthy offspring who always gave their best on the track. His 19 sons at stud will carry on the valuable and only bloodline in the US of Plaudit, giving mares inundated with more modern bloodlines a necessary outcross.  Holy Bull's best son at stud is his only Champion, Macho Uno, who has already sired two Champions from six crops to race. Another son, Flashy Bull, is off to a decent start at stud and has two crops on the track.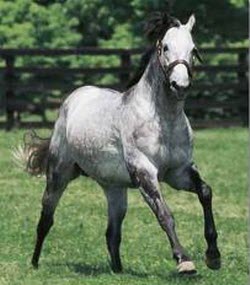 In 1996, Gulfstream Park renamed the Preview the Holy Bull Stakes. In 2001, the gray stallion was inducted into the U.S. Racing Hall of Fame.  He ranked #64 on the Blood-Horse magazine List of the Top 100 U.S. Racehorses of the 20th Century and was included in the DRF's book, "Champions." 
Now white from age and recently retired from stud to live out his days in the pastures of Jonabell Farm, the 21 year old Holy Bull remains a sentimental fan favorite.  The racing world wishes him a long and happy life rolling in the bluegrass.
By HRN Pedigree Analyst, Laurie Ross