Owner Jim Thompson always shows up when his prized 3-year-old colt, Trigger Warning, runs "all around the country." There were races everywhere from New Mexico to Louisiana — under three trainers' care — before the Ohio resident Thompson paired the son of Candy Ride with a home state conditioner.
Since then, Michael Rone, a trainer on a lengthy journey of his own, has brought the best out of Trigger Warning, the former $6,000 auction purchase who was a head away from winning last Saturday's $500,000 Indiana Derby.
"I don't hide nothing," Rone said, "because my past performances make me the man that I am today."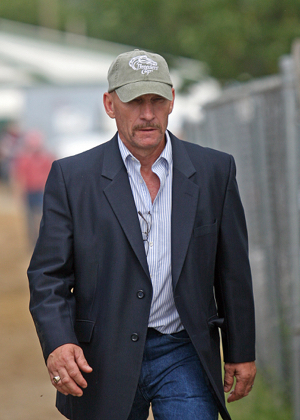 A trainer now for more than a decade, and a blacksmith before that, Rone said he's "hit rock bottom twice" due to alcoholism. In a tale familiar to racing — think of the Hall of Fame jockey Pat Day — Rone credits finding his faith for helping him pick up the pieces.
He also hopes others can learn from it.
"The good Lord above's got a handle on this outfit," said Rone, who's on pace for his most lucrative year ever, already with mounts having earned in excess of $450,000 from 44 starts, according to Equibase. All of last year, Rone's runners tallied $617,000 in 117 starts.
The development of Trigger Warning — he also ran third at lofty 86-1 odds in the $500,000 Ohio Derby — has certainly helped.
"He expects a lot of courtesy and respect amongst the team," said Thompson, who campaigns horses under the Brinley Enterprises name. "I'm sure in some way that is also affecting the animals. I believe that a positive energy around them and God having a hand in it is part of this."
But you can't chalk all of this up to divine intervention.
Kim Williams, whose Fairwinds Farm campaigned the filly Indian Ink from 2007-2011, had never heard of Rone before a veterinarian recommended him. Indian ink was a "rogue horse," fractious to the point where another trainer suggested Williams put her down due to the dangers she caused around the barn.
"She had a wide eye, and everybody thought she was just crazy," Williams said. "I took the horse to Michael, and about a week later, he says, 'Do you mind if I run this horse?'
"…Hell, she won by 10 lengths."
Indian Ink went on to total $288,000 in earnings with multiple stakes wins.
From southern Illinois, Rone grew up riding barrel horses, then later worked for top blacksmiths at Churchill Downs. He says there, "When those old boys were talking, I was listening. I was around the elite of the elite."
Also in his barn is 4-year-old True Cinder, his top all-time earner, but much of Rone's success has come from training Ohio-breds at a lower level. He has about 30 horses at the track and another 10-15 on his farm.
Rone continues to shoe his own horses and also rides them in the mornings.
"He does it all," Williams said. "He goes and buys his own hay and straw."
Thompson, Trigger Warning's owner, credits Rone with changing up the training regimen for his colt, giving him long gallops rather than focusing on sharp breezes. Connections "are comfortable right now in this class," running Midwestern derbies, but Thompson isn't ruling out bigger spots for a horse — and trainer — on the rise.
Simply, Thompson said, "I've got to follow Mike's lead."