Saturday's Sword Dancer (G1) at Saratoga features an evenly-matched field with strong betting opportunities, as horses in this marathon turf division often take turns beating each other.
To help better clear up this turf scramble, we turn to our friends at Brisnet for free past performances.
Sadler's Joy and Cross Border meet again after Sadler's Joy, who crossed the finish line first in the Aug. 1 Bowling Green (G2), was disqualified for interfering with Cross Border. The win improved Cross Border's record to five-for-five at Saratoga.
Brisnet is split on the two rivals. Their Prime Power Ranking favors Sadler's Joy, but most of the factors they weigh are a photo finish between the two.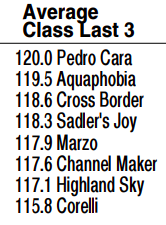 By looking at average recent class, it is clear that there is very little separating the two pros. We also see that this is a tougher race than the Bowling Green, which also included Highland Sky, Channel Maker and Marzo. Brisnet favors the class of two runners who did not come out of the common Bowling Green; Pedro Cara and Aquaphobia.
Aquaphobia won the United Nations (G1) in his last start while Pedro Cara invades from overseas. Pedro Cara has run all over the world and his career-high figure comes from his only start in the U.S., a strong second place finish in the $1 million Jockey Club Derby at Belmont Park in September 2019.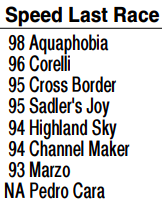 The Bowling Green was a paceless race according to Brisnet, which means one of the three entrants who do not come out of that race could steal this race on the lead if they are fast enough. The United Nations featured a much faster early clip than the Bowling Green and the two runners coming out of that race, Aquaphobia and Corelli, should be on or near a slow pace, increasing their chances.
Though is is tough to leave out a horse undefeated over the Saratoga turf in Cross Border, and a consummate old pro in Sadler's Joy, Brisnet makes it clear that your betting should be centered around those who do not exit the Bowling Green. The United Nations was a stronger race and Aquaphobia is the horse to beat once more. Should he falter, look for United Nations third-place finisher Corelli or the fresh face of Pedro Cara to get the job done.
Take a closer look at the Sword Dancer PPs below, with the option to go full screen in the lower right corner of the window. Visit our free past performances page to view more Saratoga free stakes PPs, plus free PPs for the Charles Town Classic and Oaks.