For people who saw the 2-year-old Dennis' Moment unleash a tour de force in the form of a 19 1/4-length maiden victory Saturday at Ellis Park, the obvious comparison was to another youngster owned by Albaugh Family Stables and trained by Dale Romans: Not This Time, who three years ago rolled to a 10-length triumph at the track.
Certainly Jason Loutsch has that thought.
"It's crossed my mind a lot today and last night," Loutsch, partner in and racing manager for Albaugh Family Stables, said by phone Sunday. "I've had a lot of people say, 'Well, that was kind of like Not This Time.' Maybe this was more impressive what this horse did, just the way he did it and how he did it. But there are a lot of similarities.
"In this game today, you just never know what's going to happen. At this time with Not This Time, we were pretty excited about him, and all in one race it's over. You've just got to just enjoy these special moments and then take it day by day and race by race, and hopefully he takes us where we want to go."
Not This Time in 2016 also made his first start at Churchill Downs, finishing a well-beaten fifth while Dennis' Moment clipped heels and unseated his rider early in his debut. Not This Time ran back at Ellis Park, blowing to that 10-length victory that was followed by an 8 3/4-length laugher in Churchill Downs' Grade 3 Iroquois over Lookin At Lee. Not This Time, in what proved his last race, narrowly lost the Breeders' Cup Juvenile to 2-year-old champion Classic Empire, sustaining a soft-tissue injury in the process. Lookin At Lee went on to finished second in the 2017 Kentucky Derby won by Always Dreaming, who never won another race.
"All the time we talk about if he was sound and healthy what could have been," Loutsch said of Not This Time. "Classic Empire was a very talented horse, so yeah, we could have had a shot going into the Kentucky Derby. You think about it, but in this sport, it's good to have a bunch of horses in the chamber because you never know what will happen."
What happened Saturday at Ellis Park was breath-taking, with Dennis' Moment effortlessly cruising seven-eighths of a mile in 1:21.95, just three-fifths of a second off the 15-year-old track record.
Track announcer Jimmy McNerney, who has been around Ellis Park his entire life, said he's never see a more impressive 2-year-old run at the track.
"That was a very solid field he crushed," McNerney said.
Among them was the well-fancied first-time starter Elite Class, who briefly pressed Dennis' Moment before fading to 10th.
"He got struck into down the backside, and really didn't do a whole lot after that," said trainer Brendan Walsh. "He got a cut behind, but I don't think it's too bad. And the winner was very, very impressive — about as impressive as they get first time out."
By way of another comparison, Dennis' Moment earned a sparkling 97 Beyer speed figure and 95 Bris speed figure to the 83 Beyer and 88 Bris registered in Not This Time's first victory.
Even better, for the Dennis' Moment camp: "He came out of the race really good," Romans said by phone from Louisville. "I don't know. It's just incredible. I've never seen anything like it out of one of my first-time starters. He's just freaky good.
"… I've been fortunate enough to have a lot of good horses. This horse has a lot of steps between now and doing what some of them have done, like (Preakness winner) Shackleford or (champion) Kitten's Joy. But I'll tell you what, as a 2-year-old, he's trained as well as anyone I've ever been around."
Before Dennis' Moment ever ran, Romans confided to friends — which of course meant the word spread all over the racetrack — that the $400,000 yearling purchase might be the best 2-year-old he ever had.
"Well, I like to say he's as good as I've ever had," he said Sunday. "I don't have to brag on him anymore. He took care of that himself."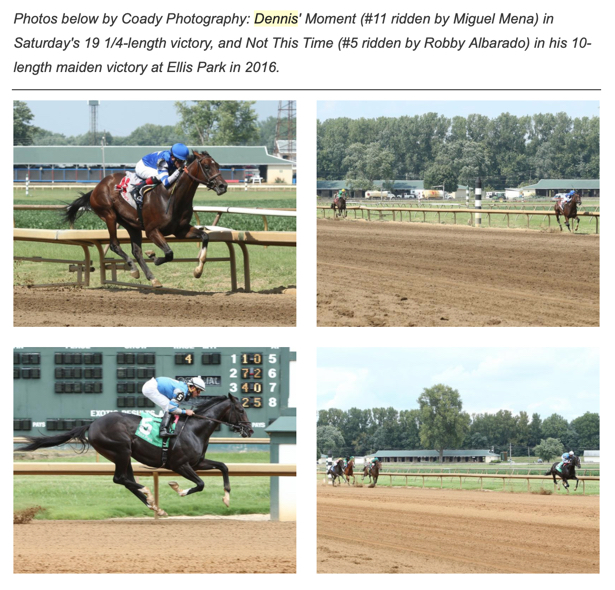 Said jockey Miguel Mena: "It was so impressive for the future. We knew they liked him. Dale said he was the best horse he ever trained, and he showed that yesterday. When I got on him, he was pure class, did everything right. Didn't need the pony. I warmed him up by himself. He did everything good up to the gate, was calm as can be. He came out of the gate rocketing. He was cruising. He didn't feel like he was going that fast. I asked him a little bit in the stretch, hand-rode him a little bit and he won super easy. I didn't think he was going that fast, but he did."
Whether Dennis' Moment follows Not This Time's path by going into Churchill Downs' 1 1/16-mile, Grade 3 Iroquois on Sept. 14, ships to Saratoga for the Grade 1 Hopeful at seven furlongs on Sept. 2 or goes in another race remains to be seen.
"I'm not even going to think about his next stop for a few days," Romans said. "Let emotions die down. There are a lot of options."
Dennis' Moment is the namesake of Loutsch's father in law, Des Moines entrepreneur and philanthropist Dennis Albaugh.
"We had another Dennis about three years ago and he couldn't break his maiden," Loutsch said. "So we thought we better try another one. I kind of picked this one out at the Fasig-Tipton sale last August. I just love Tiznow and always wanted to own a Tiznow. I just fell in love with this horse last year, just how athletic-looking he was. Thank god Dennis allowed me to get him. That's just one I had earmarked that I thought would be a special horse."