Four of the most important factors in figuring out the 2012 Belmont Stakes are pedigree, current form, running style and jockey choice.  A horse with the right combination of these attributes can be lethal.  Let's take a closer look at some of the threats that could ruin I'll Have Another's Triple Crown venture.
Every year race fans debate the running styles of the Belmont Stakes contestants. Which manner - front runner, pace presser, mid-pack runner or come from behind stalker - is the most favorable for winning the grueling 1 ½ mile Test of Champions?
After reviewing the last twenty-two editions of the Belmont Stakes, the conclusion was that one-run closers won eight of the races, with mid-pack runners taking six editions. Pace pressers presided over five races and only two pace setters were victorious on the front end. The 1997 running of the Belmont Stakes was not counted, due to the unusual running style of the winner, Touch Gold, who led in the early stages, took a breather in the stretch, then came on again to win.                                                                                 
Fourteen of the last twenty-one Belmont Stakes winners got into gear at the mile pole while the rest made their runs at the 1 ¼ mile pole. Last year's Belmont champ Ruler On Ice was an anomaly. He didn't have the pedigree to win the race, but he did benefit from a sloppy track that was kind to horses on or near the pace.  Ruler On Ice pressed the pace in second place before taking over in the stretch from an exhausted Shackleford.  If you recall, Shackleford was softened up from running fourth in the Kentucky Derby and winning the Preakness.    
Pedigree plays a large part in determining a Belmont Stakes winner.  A horse must be capable of making a strong, sustaining move after traveling a mile.  Although every colt entered in the Belmont Stakes has the potential to upset the applecart, some have a better chance than others.  Viewing the current entrants, I'll Have Another faces five opponents with strong stamina oriented pedigrees and four contestants with borderline pedigrees to sustain their speed at 1 ½ miles.  Out of the nine potential rivals, the top four with current form to be serious threats to I'll Have Another's Triple Crown bid are as follows:   
ALPHA
(Bernardini—Munnaya, by Nijinsky) has the pedigree to run all day. His young sire's offspring have been successful at 1 ¼ miles over dirt and 1 ½ miles over the turf. In the Kentucky Derby, Alpha was once again victim of circumstances at the gate. He had a poor beginning, left fourteen lengths behind the front runners and was taken out of his pace pressing running style.  Alpha was second behind Union Rags in the Champagne Stakes last year at Belmont Park and he's been working strongly.
DULLAHAN
(Even the Score – Mining My Own, by Smart Strike) has a borderline pedigree for 1 ½ miles.  His sire Even The Score has produced one stakes winner at 1 ¼ miles, but none at farther distances. Dullahan does have strong stamina influences on his distaff side and the huge colt was closing fast in the stretch of the Kentucky Derby, so the potential to get 1 ½ miles is there.  Dullahan has strong current form but his one-run style may be compromised if the Belmont Stakes pace is slow.
PAYNTER
(Awesome Again – Tizso, by Cee's Tizzy) could well be I'll Have Another's most dangerous foe in the Belmont Stakes. He's lightly raced and has the pedigree to handle 1 ½ miles.  The late-maturing colt's sire Awesome Again was a ten furlong specialist, and won four times at 1 ¼ miles, including Canada's prestigious Queen's Plate, and the Breeders' Cup Classic. He's sired one stakes winner at 1 ½ miles.  Paynter's damsire Cee's Tizzy is best known as the sire of two-time Classic hero Tiznow. His daughters haven't produced a stakes winner past 1 1/8 miles, but Paynter is closely related to Tiznow, as his dam Tizso is a full sister to the stallion.  Additionally, Paynter's distaff line is boosted by the presence of his second damsire, Seattle Song, winner of the now defunct Washington D.C. Invitational at 1 ½ miles. 
Paynter and I'll Have Another have similar running styles. Both usually sit directly behind the pace, however, both colt have won on the lead as well.  Paynter has shown improvement in each of his four races. On Preakness day, Paynter outclassed a group of allowance runners by 5 ¾ lengths.
STREET LIFE
(Street Sense - Stone Hope, by Grindstone) has improved in each of his starts since winning his debut in January.  By Kentucky Derby Champ Street Sense out of a mare by the 1996 Kentucky Derby hero, the late maturing Street Life should be in his element at 1 ½ miles. His dam is a half-sister to Jefferson Cup victor Brilliant.  Street Life was most recently third in the Peter Pan Stakes, beaten a narrowing 1 ¾ lengths by Mark Valeski. Like Dullahan, Street Life is a one run closer.
Besides pedigree and current form, a Belmont Stakes contender's jockey choice is crucial.  Belmont Park is the only 1 ½ mile oval in the United States and experience over the oval can be a winning factor.  Jockey's seldom have the opportunity to ride the 1 ½ mile distance. Given the huge track configuration of Belmont Park, it can be easy to misjudge when to make a winning move and the best part of the track to do so. 
Jockeys of other high profile Belmont runners have been a deciding factor in their mount's winning chances. In the last twenty years, all except two winning jockeys, Jeremy Rose and the top Irish jockey Mick Kinane had previously ridden at Belmont Park. 
Good examples of inexperience that cost the race are the rides given to Smarty Jones in 2004, whose jockey sent him to the front at the mile pole and Mine That Bird who charged to the front after passing the mile pole but couldn't sustain his bid. Neither Stewart Elliot, the jockey of Smarty Jones, nor Calvin Borel, Mine That Bird's pilot, rode regularly at Belmont Park; however eleven of the last eleven Belmont Stakes champs all had ridden on the New York circuit or had previous Belmont Stakes experience.  Ruler On Ice's jockey Jose Valdivia, Jr. also had familiarity riding at Belmont Park before his Belmont Stakes victory.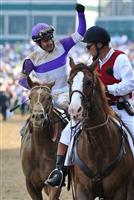 This year, I'll Have Another appears to have almost everything going for him.  He has a stamina oriented pedigree and a pace presser/mid-pack running style. Reports indicate that he's kept his body weight up and his coat is shiny, which is a good indicator that he should handle the physical demands of the Belmont Stakes.  The only drawback is that his jockey Mario Gutierrez has no acquaintance with Belmont Park's 1 ½ mile oval.  So far, Mario Gutierrez has performed admirably in the biggest races of his career.  Hopefully, he'll have a few mounts lined up before the Belmont Stakes to get a feel for the track.  It would be a huge disappointment for racing if I'll Have Another's Triple Crown attempt was denied due to jockey error during the race.
By HRN pedigree expert, Laurie Ross