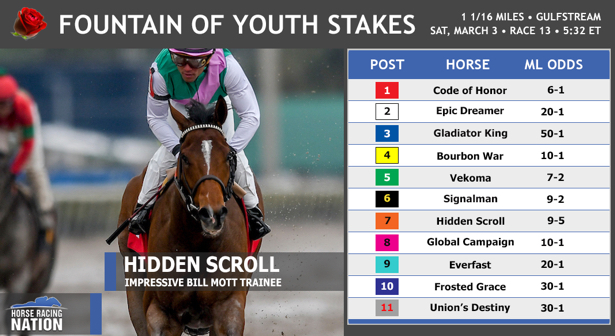 The
2019 Kentucky Derby
trail gets serious with major contenders meeting in the Saturday's 
Fountain of Youth
at Gulfstream Park. The mile and a sixteenth stakes, a Grade 2, carries with it a $400,000 purse and Derby qualifying points on a 50-20-10-5 scale to the Top 4 finishers.
Going back to Orb in 2013, every Fountain of Youth winner has gone on to run the first Saturday in May, most recently with Promises Fulfilled finishing 15th after helping set the pace beside Justify last year.
RELATED: Fountain of Youth day entries and results

The Fountain of Youth is carded as Race 13 out of 14 with post time 5:32 p.m. ET. Here's a look at the field of 11 with the official morning line:

Code of Honor [ML 6-1 – Noble Mission – S. McGaughey/J. Velazquez – 3: 1-1-0 - $151,700 – 4 Derby points] Trainer Shug McGaughey put four breezes into Code of Honor since his disappointing performance in the Mucho Macho Man. That race hasn't produced others having an impact on the Derby trail, so it's unsure what to expect from this son of Noble Mission as he faces a deep group of prospects. I'd like to see him show some speed and get engaged in the race early on. Use underneath.



Epic Dreamer [ML 20-1 – Orb – K. Breen/T. Gaffalione  4: 1-1-0 - $73,050 – 1 Derby point] Epic Dreamer deserves this additional chance on the Derby trail after a tough trip in the Springboard Mile, then coming back to set blazing fractions and fade in the Holy Bull (G2). Rushing a horse like that was out of character for jockey Irad Ortiz Jr, though the Kelly Breen trainee did win his maiden race on the lead setting more manageable fractions. He will have to be rated to some degree if he is going to have any chance here. Toss



Gladiator King [ML 50-1 – Curlin – J. Mejia/J. Solorzano – 9: 3-1-0 - $97,300 – 0 Derby points] The most experienced horse in the field has run 10 times with a stakes win at Tampa Bay Downs on the slop in December. After going off at 202-1 while finishing ninth, beaten by 28 lengths in the Holy Bull, he dropped down in class just last weekend and lost on the turf, too. Enough said? Pretender.
 

Bourbon War [ML 10-1 – Tapit – M. Hennig/I.Ortiz Jr. – 3: 2-0-0 - $79,900 – 1 Derby point] This royally bred bay colt has a maiden victory and an allowance win sandwiched around a distant fourth-place finish in the Remsen behind three good horses. Bourbon War and Tax came back to win out of that December stakes race at Aqueduct. Sons of Tapit have done well on the Derby trail without having ever won the big one. Clearly, he has talent, but he will have to make a step up to win in a quality field like this one. Live longshot.



Vekoma [ML 7-2 – Candy Ride – G. Weaver/M. Franco – 2: 2-0-0 - $151,250 – 0 Derby points] Vekoma won his only races in New York in impressive fashion. He hasn't run since taking the Nashua (G3) back in November and thus he slipped off a lot of Top 10 lists. But I believe he might be a bit under the radar. His connections are bullish on the talent of this son of Candy Ride. Although he did beat some good horses in the Nashua, he must now go two turns for the first time against a top-notch field off a layoff. Win contender.


Signalman [ML 9-2 – General Quarters – K. McPeek/B. Hernandez Jr. – 5: 2-2-1 - $448,990 – 18 Derby points] At the end of 2018, Signalman had landed near the top of most experts' Derby lists after he ran a strong third in the Breeders' Cup Juvenile and followed that with a victory in the Kentucky Jockey Club (G2), both at Churchill Downs. With 18 Derby points already to his name, I expect that this big Kenny McPeek colt may not be at full fitness. He won't be my pick to win the race, but he has hit the board in all five career starts. Use underneath.
 

Hidden Scroll [ML 9-5 – Hard Spun – B. Mott/J. Rosario – 1: 1-0-0 - $31,800 – 0 Derby points] This son of Hard Spun burst onto the Derby trail with his speedy and visually impressive 14-length debut victory in January on a sloppy Gulfstream track going a mile. He earned a 104 Beyer Speed Figure, pointing to the quality of his performance. But sloppy and sealed tracks like that one can become hard below the surface, making them speed-favoring, and Hard Spun tends to produce off-track runners. This Bill Mott trainee must perform on a dry track while stepping up to face graded stakes winners. A worthy favorite.
 

Global Campaign [ML 10-1 – Curlin – S. Hough/L. Saez – 2: 2-0-0 - $52,200 – 0 Derby points] This son of Curlin did not run as a 2-year-old, breaking his maiden at the beginning of January at Gulfstream Park. Since Justify ended the curse of Apollo last year, does that mean we don't have to worry about this one's relatively light resume? He returned in February following a minor foot issue to impress at the Fountain of Youth's distance. Global Campaign has the talent and the pedigree to run all day long, but he has to get the required Derby points. His running style is well-suited to Gulfstream. Win contender.



Everfast [ML 20-1 – Take Charge Indy – D. Romans/C. Landeros – 7: 1-1-1 - $109,885 – 4 Derby points] One thing is clear about this Dale Romans runner is that we won't be getting 128-1 again. Clearly, he got an ideal setup in the Holy Bull, where the pace-setters backed out of it nearing the wire. But the quality of the field improves significantly as the importance of the Derby preps increases. Toss.
 

Frosted Grace [ML 30-1 – Mark Valeski – K. Ritvo/J. Gonzalez – 5: 1-1-1 - $42,325 – 0 Derby points] This Florida-based runner broke his maiden in October at Gulfstream Park West going seven-furlongs and since then he was second by a neck in a one-mile allowance race. Stepping up to stakes company in the Swale (G3) around one turn, he could not keep up. He now faces added distance and quality of competition. Toss.
 
Union's Destiny [ML 30-1 – Union Rags – J. Avila/L. Reyes – 3: 1-1-1 - $39,750 – 0 Derby points] The son of Union Rags has made all three of his starts at Gulfstream Park. He broke his maiden in August and then in December he was third in the Smooth Air Stakes. He returns to the races in a tough spot. Toss.