On Tuesday, after racing without spectators since March 23 because of the coronavirus pandemic, Fonner Park set an all-time handle record, handling $2,836,646 on nine races. Yet the Grand Island, Neb., track is uncertain about its racing schedule. Fonner Park is accustomed to racing with a packed house on the weekends, and that is how its economics are set up. Even with the record numbers, the financial viability of a meet without fans isn't a certainty, and Fonner Park GM Chris Kotulak is taking a wait-and-see approach.
"At this point, we have decided to move along into next week and take it day-by-day," Kotulak said. "The numbers are exciting, but I have to be pragmatic as I know what the real numbers mean." 
It may come as a surprise to many racing fans who are unfamiliar with Fonner, but the track routinely sells out its 6,000-seat capacity every Saturday, according to Kotulak.  
"We're used to a packed house, and we have standing room only every Saturday," said Kotulak, noting that Fonner generates a large share of revenue from on-track seating and food and beverage sales. "We have an incredibly young crowd. A new crop of racing fans."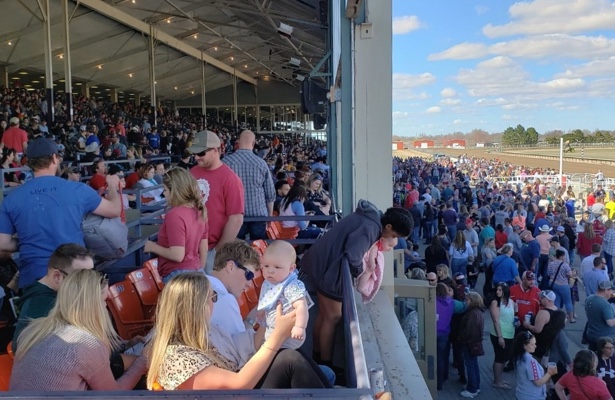 Record handle keeps coming
Not only was Tuesday an all-time record in the 67-year history of the track, but the last five days have produced the top five handle days of all time at Fonner. For comparison, only one other day since 2000 has handled more than $600,000.
Fonner Park - Top handle days since 2000

| | |
| --- | --- |
|  Day |  Handle |
|  Tuesday, March 31, 2020 |  $2,836,646 |
|  Tuesday, March 24, 2020 |  $2,221,301 |
|  Monday, March 30, 2020 |  $2,176,010 |
|  Wednesday, March 25, 2020 |  $1,643,822 |
|  Monday, March 23, 2020 |  $1,340,265 |
|  Saturday, April 1, 2000 |  $619,237 |
|  Saturday, April 27, 2002 |  $585,508 |
Economics of simulcasting difficult for small tracks
Despite the large handle increases, Kotulak explained that Fonner Park isn't seeing a windfall for the track or the purse account. 
"I had to disappoint some horsemen and a member of the racing media that was really excited, about how low our take is on this," Kotulak explained, noting that Fonner typically receives only 3% to 4% of simulcast handle. "We're pretty much at the bottom rung of host fees." 
With Fonner keeping only 3-4% of handle, that means that on $1,000,000 of simulcast handle, the track brings in only $30,000 to $40,000, which is then split with the horsemen's purse account. 
Still, Kotulak hopes Fonner can continue under this new structure. 
"We're surviving, and if everything continues to go well, I hope to continue," he said.