On the Monday before the 2022 Kentucky Derby, Indiana farm operator Austin Nicks received a call from fellow Hoosier state horseman Merrill Roberts asking if he would take a couple of underperforming broodmares.
Nicks, who rehomes Thoroughbreds at his Nicks Farm in Sellersburg, said sure. One of those was a mare by Smart Strike named Gold Strike.
Roberts had tried to breed the former Canadian champion, now 20, for three straight seasons after acquiring her from previous owner Tommy Wente. He was not successful. Gold Strike could not get in foal. With her most recent product, a 2019 colt by Keen Ice named Rich Strike a mere maiden-claiming winner, Roberts was ready to move on.
"He called me that Monday, before the Derby, and asked if I had any use for any mares," Nicks recalled to Horse Racing Nation. "I get people calling me all the time wanting to sell mares or give away mares, so I didn't really pay much attention to it. I've been covered up breeding and foaling my own mares.
"But then I got the papers and saw one was a (daughter of) Smart Strike. (Roberts) told me she ran and made quite a bit of money, so I figured there'd be a little bit of a market for her. I thought even if I couldn't use her, somebody could."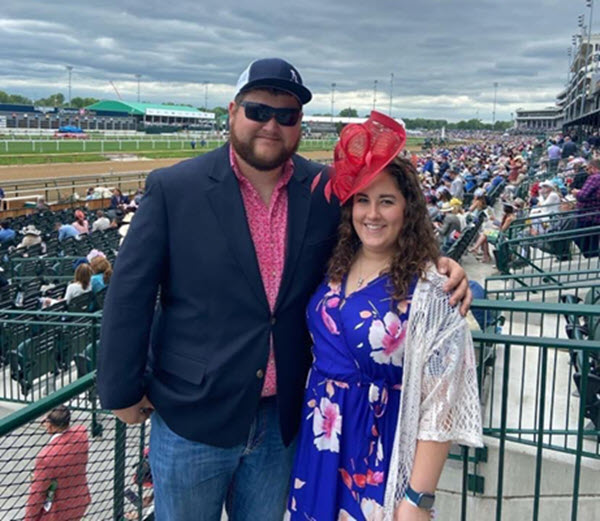 (Austin Nicks and Becca Hellinger)
On Wednesday of Derby week, Nicks sent his father to pick up Gold Strike along with the second mare.
"It wasn't until the next day I realized her 3-year-old (Rich Strike) was an also-eligible for the Kentucky Derby," Nicks said. "Then lo and behold, on Friday he drew in. I thought, 'wow, this is pretty darn cool just to have a mare whose foal was going to run in the Kentucky Derby.' I never thought he would actually win."
Nicks now has the potential to breed a sibling to a Kentucky Derby winner, a likely six-figure foal if everything goes right.
Life and times of Gold Strike
By Smart Strike out of the Dixieland Brass mare Brassy Gold, Gold Strike was a 2002 foal bred in Canada by Harlequin Ranches. Campaigned by her breeders, she proved precocious on the track when winning the Debutante Stakes and Buffalo Stakes at Assinobia as a 2-year-old.
The following year, 2005, she earned champion 3-year-old filly honors in Canada. Trained by Reade Baker, Gold Strike won the Selene Stakes (G3) and Woodbine Oaks to claim the Sovereign Award. She made two more starts at 4 without a win before being retired.
Gold Strike's next career would start off well enough for Harlequin Ranches. On her first try in 2008, she foaled a filly by Posse, Lode Lady, who earned six figures on the track. Two years later, Gold Strike dropped a filly by Sky Mesa named Llanarmon who was a Grade 2 winner in Canada.
But from 2012 to 2014, Gold Strike failed to foal. Harlequin Ranches entered her in the 2015 Keeneland November breeding stock sale, where Calumet Farm ponied up $230,000.
Gold Strike produced three offspring for her new owner, including an Oxbow filly My Blonde Mary in 2017. This past winter, My Blonde Mary was running in low-level claiming races at Tampa Bay Downs. Last month, she was claimed for $5,000 by owner Rodney M. Miller.
"I don't think you'll see that mare running in claimers anymore," Nicks said.
Then on April 15, 2019, Rich Strike was foaled. Seven months later, Gold Strike went through the Keeneland November breeding stock sale. Wente, who operates St. Simon Place in Kentucky, bought her for a mere $1,700.
"I never took her home," Wente said. "I had some people looking for mares, including M.C. (Roberts), who had a new stallion. I thought she would be a good mare for him. So I sent her to him up in northern Indiana, in Indianapolis."
Things would not go as hoped for Roberts.
"She couldn't get in foal," Wente said.
Enter Nicks, who Roberts and Wente figured would find a use for Gold Strike.
"I've sold mares for all kinds of things," Nicks said. "Breeding for polo, breeding quarter horses, barrel horses, pretty much all avenues.
"I've sold stakes-producing mares, somewhat similar to her, to quarter-horse people. They can flush eggs or pasture breed to get them older mares in foal. So I thought I'd take her."
Gold Strike's next chapter
Gold Strike is currently at Watershed Equine in Lexington. Nicks has one goal in mind for his newly acquired and now relevant mare.
"I'm going to try and get her in foal," he said. "We got her down there with some pretty good people. They've flushed her out, trying to get her uterus and everything as ready as it can be, free of infection and everything like that. Hopefully we'll get a good-sized follicle and she'll ovulate soon after."
Gold Strike will be sent to an as-yet undetermined stallion next week.
"Most times I'll look at some stallions and whatever is cheap, I'll agree to," Nicks said. "But this mare, I have to do some serious thinking."
For his part, Wente is of the opinion that Gold Strike can produce another foal, particularly given the high-level care provided in Kentucky.
"The (veterinarians) in Indiana aren't that good, especially up north where she was at," he said. "They are more cattle vets there, unlike here (in Kentucky). So I don't think she got a fair shake. I told Austin, 'there are a lot of things vets can do nowadays to help. I think she has a chance. You just need to let somebody work on her who knows what they're doing.' "
It might be a long shot. It's getting late in the breeding season, although as Nicks noted, "There have been a lot of Derby winners foaled in May."
In fact, there have been seven Kentucky Derby winners foaled that month. That group includes Triple Crown winner War Admiral and Mine That Bird, who lit up the Churchill Downs tote board at 50-1. That's reminiscent of Gold Strike's foal Rich Strike, who stunned at 80-1 in this year's Derby.
"It's crazy, that's for sure," Nicks said of a whirlwind couple of weeks. "It's just a once-in-a-lifetime opportunity. Even if we never get her in foal, I'll sure have a cool story to tell somebody."