The prestigious partnership behind 2011 Kentucky Derby winner Animal Kingdom is shipping out.
Since before the new year, Barry Irwin, the founder and CEO of Team Valor International, has made public his intentions to largely stop racing in the United States.
"I think that a lot of people are trying to hope it's not for real," Irwin said.
Actions, however, are beginning to back up words. Irwin refers to Team Valor's current American runners as "remainders."
Among them, the 3-year-old Gouverneur Morris, will aim for the 2020 Kentucky Derby; Neil Drysdale-trained Oleksandra may ship from Santa Anita Park for the Al Quoz Sprint (G1) on Dubai World Cup night; and La Sardane is a stakes winner working on the west coast.
But, "As of the start of this year," Irwin said, "I'm no longer buying horses to race in America unless it's a classic prospect, so I might buy one or two a year."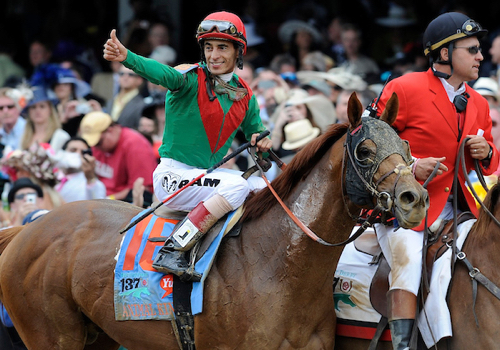 (Team Valor's 2011 Derby winner, Animal Kingdom. Eclipse Sportswire)
The majority of Team Valor's racing operations will take place in Europe. He says that in the U.S., "the level of cheating is just insane."
"The policing and investigation and penalties (overseas) — they don't screw around," Irwin said. "They're serious. In this country, you're life and death to find any regulator or jurisdiction that's going after anyone big."
Irwin remains a proponent of the Water Hay Oats Alliance. He also thinks this could be the year the Horseracing Integrity Act — which aims to create a national anti-doping authority — passes its final hurdles.
But Irwin's willing to watch from afar.
"I'm fed up with the lack of regulation and enforcement with illegal drugs and designer drugs," he said. "That's one of the main reasons I don't want to race here anymore."
Team Valor, which bred and owned Animal Kingdom, also a winner of the 2013 Dubai World Cup (G1), has made its green silks with a red "V" and cap recognizable at racetracks around the world. Originally launched by Irwin as Clover Racing Stables, it later morphed into the Team Valor of today and has won more than 300 stakes races.
"Last year we had a very good year," Irwin said, speaking of his overseas runners. "We had the champion 3-year-old distance horse in France. We had the best miler in Germany. We had that colt, Spanish Mission, who we brought over and won the Jockey Club Derby. So we've got some really good horses over there.
"…I'm trying to win at the highest level, and it's become impossible in this country."