The rate of total winning favorites held steady, with the public choice winning 38 percent of the time in week 2 (Jan. 10-16) vs. 37.9 percent in week 1 (Jan 1-9) even though 66 more races were run. Average field size also remained virtually unchanged – about 7.7 for both weeks. In week 2, the average win payoff for a $2 wager dipped slightly, from $12.94 to $11.73. 
For two weeks running, favorites won at least half the races on the Sunland Park dirt and on the Tampa Bay Downs turf course. Favorites were more reliable in week 2 on the Gulfstream Park dirt. Out of 22 races there week 1, favorites won 27 percent of the time. Out of 21 races week 2, favorites won 43 percent of the time. 
Santa Anita changed significantly from week 1, when favorites won 50 percent of the time on the dirt. In week 2, winning favorites dropped to 23 percent. The amount of races run there increased by only one from week to week, while the average field size increased by only 0.03. 
Aqueduct remained one of the best locations for horseplayers to beat chalk as favorites won only 22 percent of the time last week compared with 19 percent in week 1. Santa Anita (dirt) came in second for tracks with the lowest percentage of winning favorites for week 2. Third was Tampa Bay Downs (dirt), where two of the top three winning long shots for the week won Saturday. The winner with the highest payout of the week was Excellent Mark ($107.60), making his sixth start a winning one.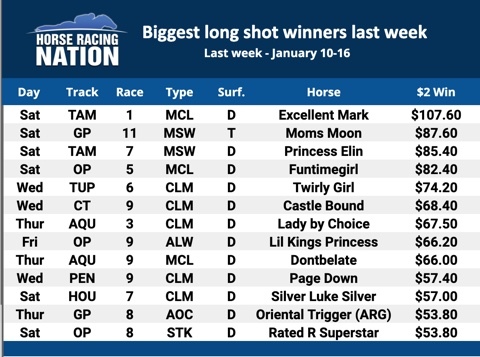 Maggie Wolfendale, paddock analyst for the New York Racing Association, was covering the Tampa Bay Downs races on Saturday. "Personally, it was difficult to come up with Princess Elin ($85.40) for several reasons," she said. "First, the board gave you no indication that she was live, as she stayed around 40-1 the entire wagering. Her work tab, at least on paper, hinted that she wouldn't have much speed. But in hindsight, you don't often want to be on the lead at Tampa as they usually go too quick early and you want to be the one making the last move. Cairo Prince is an 11 percent sire with debut runners 3 and up, so not that encouraging. And her trainer never had a debut winner until her."
"Positives are her dam won first out (but had yet to produce a winner with two foals to run), and she looked decent in her sales work. Maybe I would have been able to at least pick up on her if I was in the paddock," Wolfendale said.
For the year through Monday, favorites have won 38.7 percent of all races, with winners paying an average of $12.07. Average field size for the 1,171 races was 7.8.