Going back as far as he can remember, horses have always been there for Harold 'Hank' Allen. So has baseball. The two passions have alternated as dominant parts of his life for nearly eight decades, and now the pendulum is swinging back again.
Living in the same Upper Marlboro, Md., home he built during his major-league playing days for the Washington Senators, Milwaukee Brewers and Chicago White Sox from 1966-1973, Allen retired in May after 20 years as a professional scout, the last 11 for the American League's Houston Astros.
In the quarter-century that passed between phases of his baseball career, Allen trained Thoroughbreds in Maryland. He is perhaps best known for conditioning speedster Northern Wolf, a former track record-holder at both Laurel Park and Pimlico Race Course who in 1990 upset future Hall of Famer Safely Kept to win the inaugural race commemorating the former owner of both tracks a year after his passing.
The 28th running of the Grade 3, $250,000 Xpressbet Frank J. De Francis Memorial Dash for 3-year-olds and up going six furlongs serves to highlight a spectacular program featuring eight stakes worth $1.3 million in purses Saturday, Sept. 21 in Round 1 of Laurel's September to Remember Stakes Festival.
During its lifetime, the De Francis has evolved into one of the premier sprint races on the East Coast. The roster of winners includes Housebuster, a member of the National Museum of Racing's Hall of Fame; fellow Eclipse Award champion sprinters Cherokee Run, Smoke Glacken, Thor's Echo and Benny the Bull; and multiple graded-stakes winner Lite the Fuse, the race's only two-time winner, in 1995 and 1996.
Before them all, there was Northern Wolf. A Maryland-bred son of South African sire Wolf Power out of the Northern Fling mare Glenorthern, Northern Wolf was campaigned by Deep Silver Farm, a trio of psychiatrists that Allen fondly recalls as "the three cerebral guys."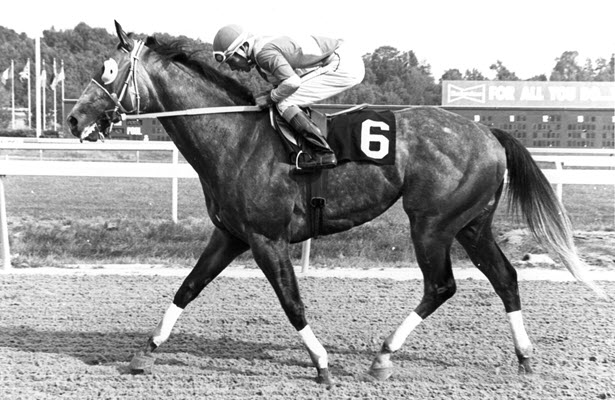 (Northern Wolf, winner of the De Francis Dash. Photo: Jim McCue)

"I don't think it's as much about being the first [winner]; it's about the accomplishment and the journey," Allen said. "The horse, from where we started out to where he went as a 4-year-old and became what we thought would be, was a very nice horse. When you're able to go out there and run in those kinds of races, those are special horses. Anytime you come across one of those types of horses blessed with that talent, the thing for you to do is to try not to mess it up and maybe just put a little polish on it."
At ease whether talking baseball or horses, Allen knows talent. His contributions helped the Astros win their first ever World Series title in 2017, a fitting honor for a man who played in the shadow of his older brother, prolific slugger Richie 'Dick' Allen, and who said in a 1989 Newsday article, "the high point of my career was standing out there while they played the 'Star-Spangled Banner.'"
"I got my World Series ring, and I'm very satisfied," Allen said. "It took me a long time to get one, but I finally did it."
Allen's horse racing equivalent came in 1989, when he brought Northern Wolf to the Kentucky Derby (G1) and became the first African-American trainer in 38 years to start a horse in the first leg of the Triple Crown. There hasn't been another since.
"That was the experience of a lifetime," Allen said. "I'll tell you, it was something I didn't expect. We sent the horse there a week beforehand and I think I got there a few days later and I remember when I arrived in the parking lot, I got out of the car and before I could get to the barn I was surrounded by 30 or 40 reporters. They had all kinds of questions: 'What makes you think your horse belongs here?' 'Who put you up to this?' 'Why did you come?' They thought it was a stunt."
Northern Wolf was dismissed at odds of 47-1 in the field of 15 but was never far from the front and remained within a half-length of the lead at the top of the stretch before finishing sixth under jockey C. Joe Ladner III, beaten four lengths by Sunday Silence.
He gave a good account of himself that day," Allen said. "He got stopped in the lane. If you go back and look at some the film of that day, we turned for home and we were [near] the lead. I think our rider, who was inexperienced and young, moved a little bit too soon. We were bumped by Sunday Silence, who knocked us off stride a little bit. I thought we might have been third in the race; we would not have won, but I thought we had maybe a shot at second but definitely would have been third or fourth. All in all, he ran a great race."
After running eighth in the Preakness at Pimlico, Northern Wolf didn't race again until the following April. He was brought back in sprints due to the time between starts, and did well enough that connections decided to see how far the shorter distances could take him.
Northern Wolf won a Pimlico allowance in May 1990, then came back to earn his fifth career victory in the Duck Dance Handicap in a Laurel Park-record 1:08.20 for six furlongs – a mark that would stand for 10 years before Richter Scale won the 2000 De Francis in 1:07.95.
Fourth in his prep, the Groovy Handicap in June, Northern Wolf set Pimlico's six-furlong track record winning the De Francis by 2 ½ lengths in 1:09 with jockey Mike Luzzi aboard. The record wasn't broken until subsequent Grade 1-winning filly Covfefe captured the Adena Springs Miss Preakness (G3) in 1:07.70 May 17.
Northern Wolf was injured following a workout at Belmont Park prepping for the 1990 Breeders' Cup, and was retired with seven wins, one second, two thirds and $461,107 in purse earnings from 20 starts, the richest horse Allen would ever train. In 2006, Laurel hosted the Northern Wolf Stakes, and Allen presented the winning trophy.
"I actually took off a horse I had won six or seven in a row on to ride him. He had an outside post in a good field of horses – Sewickley, Glitterman and Safely Kept, she was in the race, as well," Luzzi said. "He wasn't like a run-off sprinter. He would sit a few lengths off the pace and then he would pounce. He wasn't like a pure sprinter that went to the lead and never looked back. He got a perfect trip that day and he was a fast horse. He could really run.
"Hank was actually a real good trainer," he added. "He had one of them corner barns at Bowie and he was always there. He was hands-on. Another one of his brothers helped him. He never had a lot of horses, but he had some good owners and I won a lot of races for him."
Allen can trace his love affair with horses to his father, Coy, who grew up around horses in Virginia and kept some as an adult, in part to teach his children responsibility. He sold the horses as the kids grew older and developed other interests, in particular baseball. Coy Jr. ultimately played in the Negro Leagues, while Dick and Hank both won Pennsylvania state high school championships before going on to the majors, where they were later joined by their brother Ron.
Hank Allen had six home runs, 57 RBI and a .241 average in 389 games, spending the end of his career with his older brother in Chicago, where Dick Allen owned some racehorses. During a visit to Arlington Park after his career ended, Hank Allen met up with 97-year-old Nate Cantrell, at the time the oldest living trainer in America, and wound up working under him for a year before going out on his own.
"His thing was, good horses need good trainers but bad trainers can make bad horses. That's something that always stuck with me for a long time," Allen said. "He would talk about paying attention to the little things. Once you learn to pay attention to the horses' personality, you have to learn to get along with him. You have to learn what his likes and dislikes are. Once you can get into his mind, you're on your way."
Allen, who earned a college degree during his playing days, trained from 1976-1998, winning 286 races and more than $3.6 million in purse earnings. His lone graded-stakes triumph came with Island Champ in the 1984 John B. Campbell Handicap (G3) at Bowie. Serious migraines, later determined to be diet-related and now controlled by medication, forced him to step away.
A chance meeting with a former teammate while he served as a volunteer baseball coach at Riverdale Baptist near his Maryland home led to a scouting job with the Milwaukee Brewers. His baseball acumen and location, ideally situated between Washington, D.C. and Baltimore where he could assess both the American and National Leagues, proved to be a perfect match.
"First of all you've got to be able to recognize talent. You've got to find it, and then you've got to get them to play for you," Allen said. "It's the same thing with the horses. You've got to be able to find talent. You've got to be able to recognize it and then you've got to get them to run for you."
Allen has continued to own horses, including Blessed Soul, a filly that won five of 11 races and more than $104,000 in purses for trainer Damon Dilodovico in 2010 and 2011. When Allen brought the horse back in 2013 after more than a year layoff, he was the trainer of record for her final two starts.
Never having lost touch with racing, and with his baseball career behind him, Allen is eager to immerse himself again with horses. He keeps tabs on the yearling sales and has been a frequent visitor to Laurel, where he enjoys running into familiar faces as well as meeting new fans.
"I don't know whether they recognize me or not, but they speak to me. They may say, 'There goes that SOB," Allen joked. "If I don't go to the races, I'm reading or studying up on races every day. The thing I love about the racetrack is the people are very friendly. It doesn't matter who you are. They're very friendly and they remain your friends. I've made a ton of friends at the racetrack. Some of the new owners I'm not familiar with in person like I was before, but I'd like to establish myself again because I do plan to get back. I never took my money out of the office. It's been there for years. I always planned to go back.
"Maryland racing's been making a comeback and that's one of the reasons why I'm thinking about getting involved," he added. "I like the racing here and the industry seems like it's coming back. I used to breed and I'd like to breed again. I've bred a couple of horses that have run that were decent horses. It's like they say, once you step in it it's hard to get out."