The inaugural Equestricon racing conference held at Saratoga Springs this week was an unequivocal success. From a variety of interesting panels, to exhibitors, participation from around the industry and attendance from fans and key industry employees - it was a hit on every level.  
"We were extremely pleased with turnout," noted Equestricon co-founder Justin Nicholson. "Fans, of all ages and interest-levels, were able to connect directly with their favorite racing personalities, Triple Crown-winning jockeys and other legends. In our Woodbine Tech Lounge, alone, we saw jockeys playing video games with fans and utilizing our virtual reality headset.  It was just a cool atmosphere and a really fun vibe."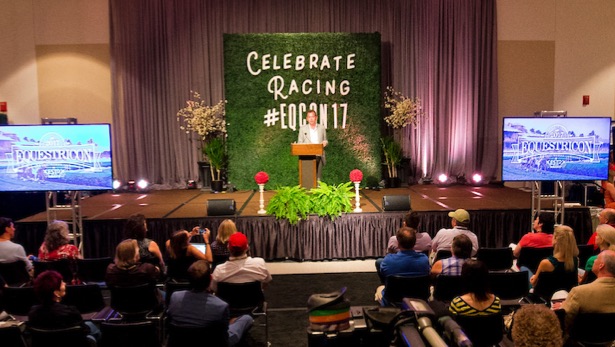 Going into the first-ever conference, most everyone didn't know what to expect. But what we found was a vibrant conference with a tremendous gathering of racing fans and plenty explore. 
A sampling of some of the panels included: 
- The Greatest Race Calls (with Tom Durkin, Travis Stone, Dave Rodman, Larry Collmus)
- Tournament Handicapping Workshop (see Periscope video)
- Triple Crown Jockeys (Q & A) 
- How to Get a Job in Racing 
- Racing Marketing from Coast to Coast 
- Young Racing Photographers (Q & A)
- HANA Horseplayers Forum
Autograph signings included Team Secretariat, Triple Crown jockeys, Ramon Dominguez and Tom Durkin, plus Pat Day. 
"This was just an incredible gathering of fans, bettors and stakeholders at every level of the sport. We had people registered from 35 states and six countries, many of whom told us directly that they'd never been to Saratoga before," said Dan Tordjman, co-founder of Equestricon. "It was also great to see that a lot of people turned it into an extended vacation, pairing the convention with time at the track."
#EQCon17 is ROCKIN' ??the city center in #Saratoga. Browse everything from horse farms, equine art, authors, fashion, technology, and more! pic.twitter.com/I8yX8tzI9Q