This week's announcement by Churchill Downs Inc. that it will not seek a casino license for Arlington Park, while only committing to two more years of live racing at the suburban Chicago venue, drew understandable concern from the racing industry.
Could this be the beginning of the end for Arlington Park, and eventually all thoroughbred racing in Illinois?
The Daily Herald spoke with Dick Duchossois, the well-respected chairman emeritus for Arlington Park and a former CDI board member. He views the CDI announcement as more of a negotiating ploy to gain more favorable terms with the state legislature.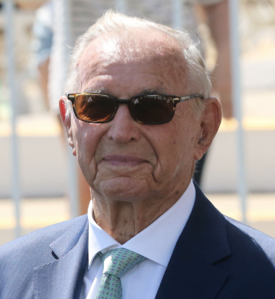 "Churchill Downs Incorporated will not close Arlington Park." Duchossois told the Herald. "The Illinois state legislature will close Arlington Park. Only its members can change things."
Duchossois also praised how things have been handled by Bill Carstanjen, CEO of CDI, and CDI President Bill Mudd. He said "they serve the best interests of the corporation and its shareholders and they have done a fantastic job in that sense."
In explaining its decision, CDI noted Arlington would be joining a saturated gaming market "with an effective tax rate that would be approximately 17.5% to 20% higher than the existing Chicagoland casinos due to contributions to the Thoroughbred purse account."
Part of that saturated market is nearby Rivers Casino, which CDI became majority shareholder of late last year. Some believe the decision by CDI not to pursue a casino license for Arlington comes down to not wanting to cannibalize its business at Rivers. A portion of the revenue that's diverted from Rivers to Arlington would then have to be paid out to the horsemen's purse funds, rather than remain in CDI's coffers. 
The Illinois Thoroughbred Horsemen's Association offered a scathing response to Churchill Downs' announcement, reminding that Arlington had lobbied for a decade to secure expanded gaming in order to boost its racing product.
"Yet now that it is finally poised to operate both slots and table games, as a direct result of the gaming law recently approved, Arlington's parent Churchill Downs has, astoundingly, declined to apply for the license necessary to operate a racino."
The ITHA also said the legislators should deny CDI the "enormous financial advantages" it receives from the state. It cites the track's property tax break and "recapture" subsidy, which the ITHA said has totaled nearly $7 million so far this year. 
The Daily Herald also caught up with perennial leading Illinois owner Frank Calabrese, who is also a significant shareholder in CDI. Calabrese did not sound optimistic about the future.
"Arlington Park is dead and thoroughbred racing in Illinois isn't far behind," Calabrese said.