This year's Florida Derby hero Dialed In bears an eerie resemblance to last year's champ, Icebox. Both are trained by the legendary, yet down-to-earth Nick Zito and owned by one his main clients, Robert LaPenta. The similarities don't end there.  The colts share a from-the-clouds running style and each won his Florida Derby flying down the stretch with a furious rush to earn victory in the shadow of the wire.  Both colts are bred on the A.P. Indy/Storm Cat bloodline cross.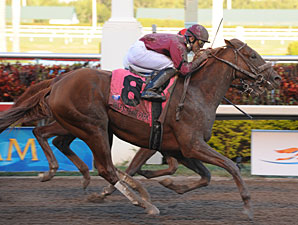 This is where the comparison ends. Ice Box's winning time in the Florida Derby was 1:49.19, while Dialed In covered the same distance in a pokey 1:50.07, the slowest time since Friends Lake went in 1:51.38 in 2004. The internal fractions were close, the 2010 half mile went in 46:46 and six furlongs in 1:10.76,  while this year's half was timed in 46.35 and six furlongs in 1:10.63. The final eighth run by Ice Box was 13.09 while Dialed In took 13.69 seconds to travel the last eighth. Granted, the track surface 
may have been slightly different, but both races were run over the fast speed-favoring Gulfstream Park main track. In the Kentucky Derby, Ice Box was blocked and steadied during his stretch run and would up second, 2 ½ lengths behind Super Saver. We'll have to wait about a month for Dialed In's Kentucky Derby results.
But enough about Ice Box.  Let's take a closer look at Dialed In.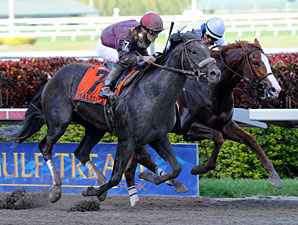 In January, Dialed In gave notice that he'd be a horse to watch on this year's Kentucky Derby trail.  Showing up with his best "Zenyatta at Hollywood Park" impression in the Holy Bull Stakes (G-3) at Gulfstream Park, The dark brown colt dropped fifteen lengths off of the lead at the start of the race, made a strong middle move around the turn, then mowed down the competition in the shadow of the wire, blazing the mile in 1:35.19. 
In a precursor to the Holy Bull, Dialed In had an auspicious career start last November at Churchill Downs in a 6 ½ furlong Maiden race. Slow to break, the Mineshaft colt found himself several lengths behind the field, blew the turn and looked as if he'd finish no better than fifth in mid-stretch after lugging in. However, the determined colt resolutely kept to task, eating the ground with huge strides to win by ½ a length.
Dialed In (Mineshaft - Miss Doolittle, by Storm Cat) is by 2003 Eclipse Award Older Horse Mineshaft. A typical son of A.P. Indy, Mineshaft was slow to mature and made his initial start at the age of three in England over the lawn. Traveling to France, he finished third in the Group 3 Prix Daphnis, but his record over turf was middling. Shipping to the US late in his three year old season, Mineshaft immediately took to the dirt, winning two allowance races for trainer Neil Howard  by a combined 4 ½ lengths.
The following year, the handsome dark brown colt raced nine times, conquering his rivals in seven races and finishing second twice. He took home trophies from the Jockey Club Gold Cup, Pimlico Special, Suburban Handicap, Woodward Stakes and was second by a head in the Stephen Foster. His victories in these prestigious races ensured him the Eclipse Award for Horse of the Year, despite not running in the Breeders' Cup Classic.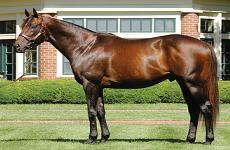 At stud, Mineshaft has five crops of racing age and six graded stakes winners. His progeny are generally slow to develop and prefer running two turns; however, those with precocious distaff families can win at shorter distances. Mineshaft's best progeny include Vosburgh winner, Discreetly Mine, Dwyer winner Fly Down, Peter Pan winner Casino Drive and Fountain of Youth winner Cool Coal Man.
One would think that Mineshaft would get long-winded runners, but surprisingly, he has only four stakes winners at 1 1/8 miles and two winners at 1 ¼ miles. Hawthorne Gold Cup (G-2) victor Redding Colliery and Greenwood Cup winner A U Miner have won at 1 1/8 miles and 1 ¼ miles and Casino Drive is a winner at 1 1/8 miles. Additionally, Mineshaft's son Fly Down was second in the 2010 Belmont Stakes. All of these colts have stamina-oriented distaff families.
Mineshaft's lack of winners at longer distances indicates that he doesn't have strong stamina influence on his progeny and the distaff families of his offspring play a clear-cut role in determining how far the babies will run.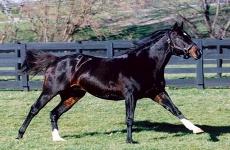 The international sire Storm Cat is Dialed In's broodmare sire. Storm Cat is a chameleon of sorts. Bred to mares with distance oriented pedigrees, he would get two turn runners, and those mares with predominantly sprint influences would produce sprinter/miler types. This was the key to his remarkable success in the breeding shed.
Storm Cat is excelling as a broodmare sire as well. He's the current 
leading broodmare sire by earnings and is second in the 2011 standings by number of winners. In 2010, he was third on both lists.
The Mineshaft/Storm Cat cross has produced 17 offspring, but Dialed In is the first stakes winner. Going back a generation to Storm Cat's sire Storm Bird, Mineshaft has a stakes placed runner from a Storm Bird mare (Minewander).  Mindshaft's sire A.P. Indy crosses well with mares by Storm Cat and his sons.  That cross has produced 20 stakes winners, including this year's Santa Anita Oaks (G-1) heroine Turbulent Decent, Alabama Stakes (G-1) winner Careless Jewel and the sires Sky Mesa and Parading.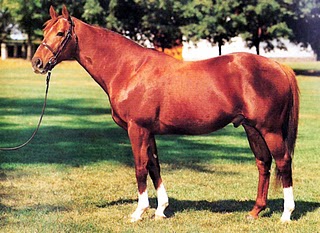 Dialed In's second damsire Mt. Livermore adds a dose of speed to the pedigree.  Mt. Livermore was a sprint specialist, counting the Carter and Fall Highweight Handicaps (G-2) among his many stakes wins and he was third in the 1985 Breeders' Cup Sprint. As expected at stud, Mt. Livermore produced precocious sprinter
Dialed In's dam, the cleverly named Miss Doolittle, out of Eliza, faced the starter six times,. She entered the winner's circle twice, was second twice and placed third in the Schuylerville Stakes (G-3). She never won beyond six furlongs.  Miss Doolittle is a half-sister to the Irish Group 2 sprinter Samuel Morse and the English listed stakes placed sprinter Country Song. As a broodmare, Miss Doolittle produced six foals, with five making it to the track. Her daughter Broadway Gold (by Seeking The Gold) won the Astoria Stakes (5F) and placed in a listed sprint. Her other accomplished foal is  Mambo Meister (by Kingmambo) who won two of 26 starts and placed in the Patterson Stakes (1 1/6 miles, turf).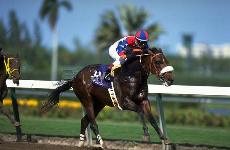 Miss Doolittle's dam Eliza, was the 1992 Champion Two Year Old Filly. She won five of 12 starts, including the Breeders' Cup Juvenile Fillies and was second in the 1993 Kentucky Oaks. Eliza (by Mt. Livermore) was best at a mile to 1 1/6 miles and finished second going 1 1/8 miles.
Dialed In's Lowe's Female Family number 37 hasn't produced any Kentucky Derby winners, but they are represented by a Preakness winner Knight of Ellerslie (1884). Dialed In shares the same great-grand-dam as that Preakness winner. This is simply a historical tidbit and has no bearing on his Triple Crown prospects.
So what is Dialed In's likelihood of becoming a Kentucky Derby winner?  The slang definition of "Dialed In"  means to be very proficient at a given activity.  In this regard, the very promising colt is well named.  Dialed In is battle tested and has won two major prep races for Kentucky Derby against strong fields.
Conformation wise, Dialed In is an average sized colt. Reminiscent of his sire, Dialed In has an excellent extended stride with slightly high knee action and a blazing turn of foot once he gets going. Pedigree wise, he is lighter in stamina on his distaff side than is  optional for getting a true route. His pedigree indicates that he borderline for 1 ¼ miles.  Can his undeniable talent and tenaciousness make up for his pedigree short-comings? In recent 
years, colts with borderline pedigrees have won the Kentucky Derby. If this year's version of the race sets up with plenty of speed and Dialed In has an smooth trip, he could outperform his stable-mate Ice Box and wear the roses. Despite the slow time of the Florida Derby, Dialed In merits serious consideration.