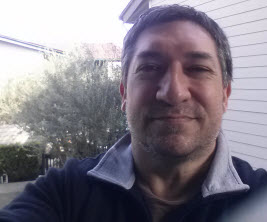 Albert Tiernan (Dodobird)
makes his first appearance in the Final Four after a fantastic weekend of play in the Sweet Sixteen and Elite Eight rounds. He has won 4 games in a row, with only two more to go!
Tiernan defeated 2015 NHC Final Table contender, Joe Scanio (Trots), on Saturday. He had the second-best score on the day, $56.80, with three big picks early in the contest.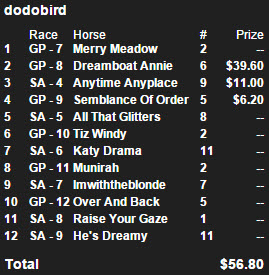 "In any head to head, grabbing an early lead is key," he said. "When you're leading, it feels like you have all the other runners that your opponent didn't pick. My best play was Mcheat (in Sunday's matchup) because I hated the common race that most of the others came out of, it looked very weak."
That play, in Santa Anita's 4th race on Sunday, came versus Matt Blair (Saldano), who had advanced to the Final Four after also defeating a major player, January Head-to-Head Champ, Anthony Trezza (Youare2020). Tiernan's final score on Sunday was $53.40, the second-highest on Sunday, too.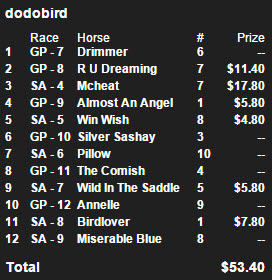 The race track and handicapping were part of Tiernan's life from early on. "My Father was a pari-mutuel clerk and horseplayer so I've been around it for many years," he said.
Tiernan will face Allan Gregory (Allways Allan) in the Final Four matchup on Saturday, the next-to-last step toward the $10,000 First prize and championship trophy.
Tiernan has no set plans for what he'll do with the money should he prevail this weekend, but he does know who will decide on the trophy. "My brother and I are partners (in the game) so we will let our Mother, who will be most excited about it, decide."
Tiernan is all-in on the horses and so has no NCAA pick (but we don't think he'd go with the short-priced favorite).