Post position and pace projection were the two questions I expected the Grade 1 Pegasus World Cup draw to answer for me, but as I waited for the pill pull for the $3 million race, I did some research that leads me to think that the former does not matter at all and the latter is essential for unlocking the secrets of the race.
First, on posts. I looked at all 1 1/8-mile dirt races with at least 10 starters since 2015 at Gulfstream Park and learned that in no way, shape or form is the outside an impediment to success. (See chart below.)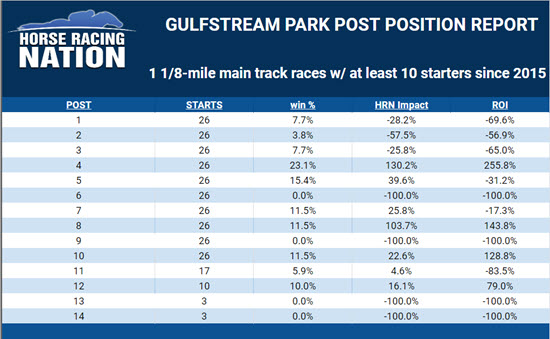 What is an issue, however, is pace (or lack thereof).
Horses ninth or worse at the first point of call in 1 1/8-mile dirt races @gulfstreampark with at least 10 starters are 0/85 since 2015.

— Ed DeRosa (@EJXD2) January 22, 2023
So although the draw did not sway my fair odds, running styles did, which is why Proxy is downgraded from my initial fair odds because he figures to be in the back third of this field in the early stages of the race. He is 9-2 on the morning line, which is terrible value versus my 6-1 fair odds.
I viewed Cyberknife as a likely underlay before the draw, and as much as I'd love to say post 10 hurts his chances, I can't because of the post-position data. Still, he will be shorter than 7-2, I think, and thus not worth a bet. He is 5-2 on the morning line.
I was surprised to see Skippylongstocking made 5-1 on the morning line given that he has been trading in futures markets at no less than 8-1 and regularly in double digits. He is my pick to win the race, but the morning line price does not offer any value.
Either Last Samurai or Get Her Number could be worth a look if their odds drift as the morning line suggests. 
| Pegasus World Cup | Ed's fair odds |
| --- | --- |
|   1. Proxy |   6-1 |
|   2. Simplification | 12-1 |
|   3. Ridin with Biden | 40-1 |
|   4. White Abarrio | 20-1 |
|   5. Defunded | 22-1 |
|   6. Art Collector | 24-1 |
|   7. Skippylongstocking |   5-1 |
|   8. Get Her Number | 14-1 |
|   9. Last Samurai | 16-1 |
| 10. Cyberknife |   7-2 |
| 11. Stilleto Boy | 50-1 |
| 12. O'Connor | 10-1 |
| 13. Hoist the Gold (AE) |   |
| 14. Endorsed (AE) | |