Louisville, Ky.
Rick Dawson never expected to be in the position he is today. The odds were 80-1 on May 7 that he would be the owner of the Kentucky Derby winner.
Rich Strike changed all that "in two minutes and two seconds." It was like hearing Chuck Woolery on an old episode of "Love Connection."
Now the unlikeliest Derby winner in more than a century is trying to force himself into the conversation for the 3-year-old male championship of 2022. A win Friday in the Grade 1, $750,000 Clark Stakes at Churchill Downs would give him a big bargaining chip with Eclipse Award voters.
For Dawson it is not just about the present. In a conversation this week for Horse Racing Nation's Ron Flatter Racing Pod, he talked about his Rich Strike's progress from toiling last winter at Turfway Park, the colt's performances for trainer Eric Reed since the Derby, the Shoegate controversy from last month's Lukas Classic, Sonny León's controversial ride for him in that race, an ambitious schedule of races in 2023 and whether he has been tempted by any stallion deals.
Following are excerpts from the half-hour telephone interview recorded Sunday at Churchill Downs, when Dawson was at home in Oklahoma.
You were drawn into the 4 hole and looking at a field of seven for the Clark on Friday. How do you like the chances here for Rich Strike?
"Not a big field, but it looks pretty competitive to me. We'll have our hands full, for certain. Just looking at speed indexes, I think we're the third as far as registered speed indexes. We understand that that's not always the telltale sign of a race, but it does give you an indication as to the talent within the field. It looks like there's plenty of good horses in there, so it ought to be a great day at Churchill."
West Will Power, coming off the Fayette (G2) win, is in the 7 hole, drawn outside. That appears to be the speed. Do you think there's enough pace that Rich Strike can come after late in the race?
"(West Will Power) wired those in the Fayette, but when I looked at the fractions, they weren't very fast. Not saying that he couldn't have gone faster if he wanted, because he looked like he had a lot left at the end. He ran the last (furlong) in a little over 12 (seconds), so he was moving really well in the last eighth of a mile, which tells me that he probably could have gone faster. But yes, I would think that he looks like the obvious speed. Not sure about the others, but if they run 1:13, I think everybody's going to be close. If they run 1:10 or 1:11, then that tends to stretch the field a little bit. Hopefully, Rich Strike can get a lot better race than he got in the Breeders' Cup. Epicenter basically leaned on us (when he got hurt), and we held him up until he could get his feet under him. In fact, (Epicenter's jockey Joel) Rosario told Sonny, 'You pretty much saved us, because that would have been a horrible crash.' Part of all that is why we're running back, because we don't feel like we really got a chance to run much. I think Sonny mentioned that Richie ran five-eighths of a mile that day. The rest of the time he was pretty much in just an easy gallop. That was part of the reason we made the decision to come back. The other is that Richie is just training fantastically. He looks like he's sitting on go, and we're excited about seeing what happens on Friday."
LISTEN: Interview with Dawson on Ron Flatter Racing Pod.
With a very strong Beyer finishing fourth in the Travers (G1), the controversial second in the Lukas Classic (G2) where he was right in it and the Breeders' Cup that really wasn't a full race, how do you look at the whole picture as you paint it, post-Derby, for Rich Strike?
"Even starting back early leading up to the Derby, at Turfway we ran three races there, two of which we earned points that got us into the Derby. And then, of course, the Derby. I've watched him as he improved each time. If you scratch out the (sixth-place finish in the) Belmont, he has continued to improve each time. Each race was better than the previous, and so that always makes you feel OK. Maybe we haven't reached his potential yet. Had he backed up in the Travers and therefore repeated his Belmont performance, we would have thought OK, this was where we are, and this is what we have, and it's not the elite of the 3-year-old group.
"But the way he came back and ran the Travers and then, of course, the Lukas has told us differently. He ran a nice race in the Breeders' Cup Classic with all the traffic, and he and just barely got beat by Taiba (by 2 1/2 lengths for third), the other 3-year-old. He just tells us he's getting better all the time.
"The race in the Lukas especially impressed us when he ran much nearer the front of the race with the leaders. He stayed much closer and made a nice run down the stretch. Had he not lost interest and focus, I think we win the race pretty easily. Once he passed (eventual winner) Hot Rod Charlie, it was if he was just gawking at the crowd. It was just a very, very, 3-year-old-ish action on our part. Of course, Sonny, once we got into the bumping and back and forth and all that went on, then it was just a mess. What he showed me was on the backstretch, when he moved up very easily. In fact, Sonny said, 'I think he would have gone to the lead had I not held him up just a little.' I almost wish he would have, just to see what he would have done. I'm not sure if he just runs off or what.
"We've run several times this year, and you would think by now we'd know exactly how our horse is going to respond and what he's going to do. We just don't. We know there's lots of talent there. We know he comes out of races really, really well. He's not tired, typically. He seems to run better the longer we go. So with a three-week rest, back in at a mile-and-an-eighth, it may just be the perfect scenario for him at this point. When we won the Derby and didn't run the Preakness, Eric mentioned not running back in two weeks. I wasn't ready, either. I didn't think the horse would be ready. It was an easy decision for us in many ways.
"Now Richie is a much different horse. He's bigger. He's stronger. He's more mature. He preserves himself so well. He gets plenty of rest. He takes a couple of naps a day and sleeps all night. He's just one of those kind of horses that rebounds well from his races. Due to the fact that we basically had a five-eighths race the other day at the Breeders' Cup, we feel that he didn't really exert himself much, so we don't think we're pushing him beyond his limits, by any means. We wouldn't run if that was the case."
Photo: Matt Wooley / Eclipse Sportswire
Let me not leave the topic of what happened two races ago with the Lukas Classic without at least bringing up Shoegate and Hot Rod Charlie, the questions of whether he had toe grabs and what sort of repercussions should come from that. You've pushed the case through your attorney (Barry Hunter) to have the Horseracing Integrity and Safety Authority look at this. What is your hope at the end of the day on all this?
"I'm hopeful that HISA and the (Kentucky Horse) Racing Commission, regardless of where they are – Kentucky or New York or wherever they might be – just take a moment and thoroughly investigate and look at all the evidence before making these rulings. In this case I felt like there was way too much photographic evidence of toe grabs from a variety of different photographers in a variety of different angles. What we saw was all showing the same thing. To me the investigation lacked a sense of detail, and there was no forensic analysis of the photos. How do you not do that? I don't know, but that's what we've done. When we pushed it a little bit, HISA requested raw photographic evidence from all the photographers, and they have received that and have promised to provide that to us. When we get that raw data, we will have a forensic test on it. If it tells us that it's indisputable that it's toe grabs, then we're going to be looking to make this thing right in whatever avenue's available to us. I don't know what that is. If the Racing Commission overrules the race and reverses the decision, and if we're awarded the win, and we move on, or if that doesn't happen, and we have to pursue this through some other means, if there are other means. I'm not sure there are.
"It's not about the money. I really want the win for Rich Strike. That would make him undefeated at Churchill and his first time at Grade 2 against older, he would have won. I think he was easily the best horse on the track that day. I think it was obvious to everybody watched it. His immaturity cost him the race, even with the toe grabs. I think we proved it in the Breeders' Cup Classic when we went by Hot Rod Charlie pretty easily there and Life Is Good and so on. I think we're better than most people think we are, wherever they think we are. I think that's mainly because I don't think we've ran our best race yet, so I'm always hopeful every time you step on the track that we're going to see Richie's best race. I think the Lukas was pretty close had he not lost focus the last 200 yards. I think that would have been an impressive, impressive race had he just finished it."
Would you be concerned that, because Sonny León was sanctioned with a 15-day suspension because of the ride, loose saddle or not, that the DQ could also fall to you? Then all of a sudden, third-place King Fury would wind up winning race.
"No, not particularly. I don't think that that has anything to do with the outcome of the race and the appeals process. What I mean by that is there was no stewards' inquiry. There was no objection for Sonny's ride. It came from the video, where they thought he was way aggressive and so on. I agree with their decision that what was going on there was very dangerous for both jockeys and both horses. If in fact the saddle slipped, I have no way of knowing that other than what Sonny has told us. If the saddle slipped, and he falls over (into Hot Rod Charlie), I'm just very glad that everybody got through that race safe. In fact, Tyler was talking to Sonny about, 'Oh, my gosh,' he says, 'that was a mess.' They were almost laughing about how crazy it was. Of course, these guys live on the edge every day. So what you and I see is wow, they're looking at it as just a day at the track.' I do believe that that one shouldn't have anything to do with the other. I do believe that everybody's human – stewards, etc. It's very possible that they didn't give us the time necessary to get to the bottom of it because of the ride Sonny put on, that Sonny doesn't deserve to win, either. Maybe that's the way they looked at it. I have no idea. I don't know how they're thinking. But I know humans are humans. Sometimes other things factor into our decisions."
Let's go to the 3-year-old male championship and the thought that Epicenter was the leader in the clubhouse going into the Breeders' Cup. Now here he is injured. You have other horses who have two Grade 1 victories to their name. Yours could join that list and have the uniqueness (among dirt horses) of having one against open company. But Taiba is also out there, and the talk is he will go in the Malibu (G1, Dec. 26 at Santa Anita) and try to get a third Grade 1 victory before the year is out. What's your read on the 3-year-old division as you try to fight your way into the conversation?
"You named the three horses I think that are obviously in this conversation. For whatever reason after the Travers, the award was just given to Epicenter. To me there was a lot of races left to happen. The Breeders' Cup hadn't ran, and the Lukas hadn't ran, and the Pennsylvania Derby (G1), which Taiba won, and so on. Yes, (Epicenter) was impressive, but when you look back at that, when he won Jim Dandy (G2) with I think, what, four horses? It turns out Early Voting (last in the Jim Dandy) wasn't not as good as everybody thought he might have been. He beats Early Voting in the Jim Dandy, which shoots him up. I think Early Voting, after winning the Preakness, was thought to be the horse to beat. Then Epicenter beats him in the Jim Dandy. Of course, in the Travers, Early Voting runs way back (in last). I don't know if he bled or just what happened, but obviously something happened, because he's a much better horse than what he showed on Travers day. We had a horrible trip on Travers day, and all kinds of bad things happened to us, and we ended up a close fourth place that easily could have been second. Epicenter got the perfect trip, the absolute perfect trip. If you look at the side photos at the finish line, all the horses are covered and jockeys are covered. They can't see anything, and Epicenter is pretty clean, because he was able to run in the four or five path around the track.
"I'm not taking anything away from Epicenter. Don't get me wrong; he's a fantastic horse. I just don't think you can name the 3-year-old champ of the year in the summer. That's just a little early. I think that we all get excited, and we want to talk about it, and that's great. However, I've always thought if you got races on the schedule, let's let the races tell us who may be the best horse.
"If we win the Clark, and if the Lukas is reversed. I don't know. That's a pretty good résumé. You win the Derby, you run fourth in the Travers, you run first in the Lukas, first in the Clark and fourth in the Breeders' Cup Classic with a trip that we got, there's a lot to be said about that. I think we're in the conversation, but in my opinion, we're nose, nose and nose in that conversation with races to come.
"I don't know who's going to run in the Malibu, but obviously Taiba beat us in the Breeders' Cup Classic at the end where we were slowed by Hot Rod Charlie and slowed by Life Is Good. We just couldn't get running, and then Taiba went by us chasing Olympiad. We felt like we could have at least ran third and potentially second in that race. Nobody was catching Flightline, obviously, but we thought we'd have a lot better shot than we got. Until you race them, you just don't know. I hope Rich Strike gets consideration. I think he's done a lot for horse racing this year. The win in the Derby will be historic long after we're alive. I believe it will outlive us all, and that's just something that's pretty special. I do think that the ride that Sonny put on Rich Strike to pass 16 or 17 horses at the end of the day to win the race, I've never seen anything like it in my life, and I've watched them for years. There's a lot of pluses on our side. I'm sure Bob (Baffert) and their group with Taiba would have the exact same conversation about how they won the Pennsylvania Derby and I guess the other Grade 1 was the Santa Anita Derby. And doesn't Cyberknife have two?"
Cyberknife has two with the Haskell and the Arkansas Derby. And Modern Games, if you want to throw a turf horse into the mix. He was over here from Europe and won two. You could put him in there.
"If you're a voter, it kind of depends on what you see and what you watch and what you hear. Or do you look at the stats and go, wait a minute, we've got three horses that won Grade 1 races? Then do you rate the Grade 1 races against the other Grade 1s? That's the way I would do it if I was voting. I would try to figure out who won the most competitive of the Grade 1 races. Of course if we win the Clark, then I think Rich Strike could very well be the winner because of the competition in the Derby and the competition in the Lukas and the competition in the Breeders' Cup and the competition, obviously, in the Travers. We haven't dodged anybody, I'll just put it that way."
No, that's true. To that end, I know you have some ambitious plans for 2023, when Rich Strike will be a 4-year-old. I'm hearing about the Middle East. Is there anything you're leaning toward?
"Because of scheduling, the March 25 Dubai (World Cup, G1) would probably fit us best. It gives us a chance to let Richie take a nice, long break. Put him back in some light training in January and February. Probably ship to the Middle East the first or second week of March a couple of weeks ahead of race time, maybe even a few more days than that. Eric and I are trying to educate ourselves a little bit on how best to approach a race in the Middle East with travel and all those things that goes into that.
"If I had the perfect race schedule for Rich Strike next year, it would be Dubai, the Stephen Foster (G2) at Churchill, the Whitney (G1) at Saratoga, the Lukas back at Churchill and the Breeders' Cup Classic at Santa Anita. We probably call it a career by then. … Granted, all this is contingent on Rich Strike and his physical and mental-ability conditions prior to these races. Honestly, they're spaced out just about right. He'll get two races at Churchill with that group. He raced well enough at Saratoga, so he should do well at the Whitney. Who knows about Dubai, and who knows about Santa Anita? I don't. But I do know that if we were to stay healthy all year and be competitive and do what we hope that he can do, that's our calendar for next year."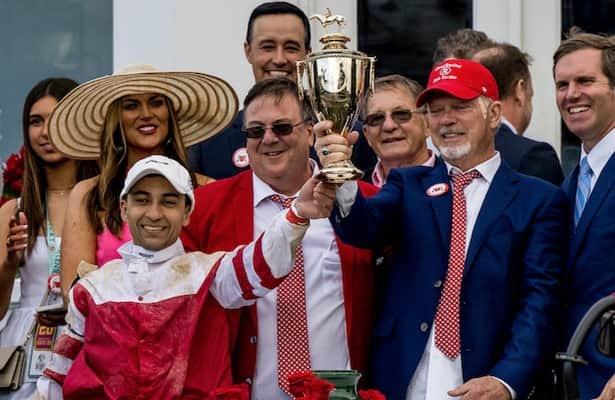 Photo: Alex Evers / Eclipse Sportswire
Have you been tempted to short circuit that with any big stud deals?
"Oh, not really. I made it so clear that I want to race him as a 4-year-old, I think that most of the stud farms have decided they're going to wait, too. Rich Strike is either going to be more valuable or as valuable, regardless. I think they look at it as why make a deal now and not know just what he's going to do as a 4-year-old. You might as well just wait and see what happens. I'm kind of happy with that as well. A couple different folks have asked me about selling pieces of the horse. The only thing I would probably consider is an opportunity for the very small horseplayer to own a share of Rich Strike during this 4-year-old career. I'm looking into a couple or three of those where they can buy in for a few thousand dollars or ever how it works. I guess you get a quarter or half a percent or something like that. I think Churchill does that (and) a few of those out there. I can't name them, but there's a few of those out there. With the following that Rich Strike has and his fans, I think giving them the opportunity to own a share of him would be really, really, really good and really fun for the industry and really fun for us. That's the only minority-interest sell that I would be interested in doing vs. just to sell a share to another owner of some sort. I'd rather divide it up among 50 people that own a small percentage and let them enjoy the 4-year-old career."
Just living the American dream, right?
"Oh, yeah, my family, they're just so excited about it. Friends that communicate with me through Facebook or through text, they follow the horse just religiously. A buddy of mine was telling me that his wife just reads about Rich Strike continually every day. So he's just become everybody's horse. In fact, my close friends call me up, and they go, 'Where are we running next? Where are we doing this? Where are we doing?' It's like what's this 'we' business? It's hilarious. They're just like, 'He's my horse, too.' I say, 'All right. I don't blame you. I claim him as well.' So yeah, It's been a lot of fun."