Andy Harrington has clocked horses at his clubhouse locale since Santa Anita Park's two-tiered meet began on Dec. 26, so who better to solicit an opinion from on locally based 3-year-olds gunning for a victory in the 2019 Kentucky Derby?
Harrington has been meticulous in his observation of not only Richard Mandella's pre-race Derby favorite, Omaha Beach, but Bob Baffert's daunting threesome of Game Winner, Improbable and Roadster, each with impeccable records and legitimate chances to capture the first jewel of the Triple Crown at Churchill Downs.
"Game Winner's last couple drills have been terrific since he's come out of the Santa Anita Derby," said the 55-year-old Harrington, who grew up in San Diego and has been at his trade since 1990. "He runs well every time; he'll run through glass to beat you. Whether he's good enough or not is the question, but I do think he'll show up."
"Improbable has always been my personal favorite, particularly because he's a flashy work horse, a pretty chestnut. He's always done everything rather easily. I think there's still a mental upside. Baffert tried blinkers in the Arkansas Derby, but he'll take them off Saturday.
"I think Bob's probably got him where he wants him. He's got more upside than some of the others."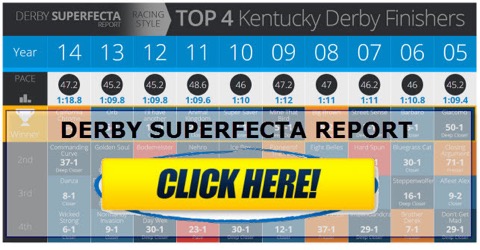 "Omaha Beach has been the flashiest workhorse you've ever seen, and that's since last summer at Del Mar. He caught all our stopwatches every time. The switch to dirt obviously woke him up, or maybe he's matured, too."
"Roadster surprised me a bit; he just keeps coming at you. I liked his last gate drill (1:13.60 on April 20). He seems like he's held his weight well since the Santa Anita Derby when he ran down  Game Winner.
"I could see  Roadster winning, but he needs the right trip, although he's exceeded my expectations along the way, and maybe that will continue."
Conclusion
"If I had to pick one horse now before the draw for post positions Tuesday, it would be Improbable. He's always been my favorite.
"But I hope a horse from California wins. We sure could use it."