There is no event in racing that offers better value than the Breeders' Cup. In many instances, multiple Grade 1 winners or horses who routinely go off favored can be had at double-digit odds. 
Our Super Screener highlights seven of the best early value plays in this year's event.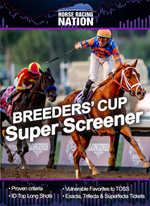 Bodenheimer — Juvenile Turf Sprint
He laid out crazy fractions in the Indian Summer win but held on gamely. Put a line through the race prior in which he caught a soft turf course and traveled too far after setting very fast early fractions. This is the desired 5F/5.5F specialist.
[RELATED - 2020 Breeders' Cup Super Screener available now]
Vequist — Juvenile Fillies
Makes her two-turn debut but will take to it just fine as she lays out energy evenly. Improved as the distance got longer and the competition tougher. Moves forward again off sharp works. Offers great value. Top pick 
Art Collector — Dirt Mile
This 3-year-old who impressed all spring and summer rates right along with the top players and seeks to amend his fourth-place finish in the Preakness. That cut back from 1 3/16 miles to a mile is a key advantage. His miss is that he comes up light on the E2 + SR = 205+ and the E1 = 93+ criteria, but have to give some credit because of the very slow pace setups in those last two races. A must use and offers value.  
[RELATED — Prospective fields & odds for all 14 Breeders' Cup races]
My Sister Nat — Filly and Mare Turf
Over the last nine years, at least one Chad Brown filly/mare has finished in the superfecta, and he has won four of those races. This deep closing mare fits best the profile of his past winners. She punched up a peak effort last out and did so closing with a stout turn of foot. She gets plenty of pace to close into and offers great value.
Diamond Oops — Sprint
He yields a near perfect Super Screener score and owns a stellar record at this distance and overall. Plus, he has that win last out in his lone start on the Keeneland surface. Will sit the perfect trip a few lengths off the swift and pressured pace. Form cycle analysis projects another move forward in just his fourth start since January.
Raging Bull — Mile
Chad Brown has this horse primed for a new lifetime top. Easily earns the highest Super Screener score. Thanks to Factor This and Halladay, he gets plenty of pace to close into as he'll be one of a trio at the back of the pack during the early going. In addition, he has not missed the superfecta in four starts on the Keeneland turf. Big win player.

Ollie's Candy - Distaff
Has run almost exclusively in G1 affairs and is always on the board. But wins have been elusive, which will help the odds on this mare that earns a perfect Super Screener score. After the layoff, she tracked the hot pace in the Spinster (G1) run on this surface, finishing a game second behind Valiance. She needed that race and is now set up for a new top.
Get your advantage at the Breeders' Cup - get the Super Screener!
Available NOW - expert analysis & horse-by-horse rankings for ALL 14 BC races. Wagering Guide with Exacta, Trifecta, and Superfecta strategies, as well as Pick-4 & Pick-6 tickets also included with the Super Screener and released as soon as posts are drawn. Don't let another big score pass you by - get the Breeders' Cup Super Screener today!