When Sistercharlie ran down Wild Illusion to win Saturday's Breeders' Cup Filly & Mare Turf, she gave owner Peter Brant with his second victory in the championships. It was 30 years in the making, and a nice welcome back to the sport from which he took a hiatus.
Brant said he's not quite sure why he left the game in 1994 after being involved for about 20 years, but he plans on sticking around from here on out. He's also hoping to see his Breeders' Cup winner Sistercharlie through a 5-year-old campaign with trainer Chad Brown.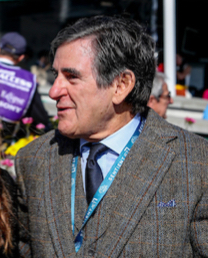 Brant previously teamed with big names such as D. Wayne Lukas, LeRoy Jolley, and Frank and David Whiteley. Lukas was the trainer of Gulch, Brant's horse who won the 1988 Breeders' Cup Sprint, also at Churchill Downs.
Upon returning, he wanted to partner with a top-notch trainer he could continue to learn from.
"I see that the game has changed somewhat and you try to make the necessary changes in your program to do that," Brant said of getting back into racing, "and I think first and foremost was to associate with Chad, who is a great trainer and focused on his stable and his operation. And spending a lot of time with him, I see it so clearly. He's a really great trainer and one of the greatest ever."
Visiting Aqueduct at a young age, Brant became a racing fan by watching horses like Kelso and Carry Back. It was the talented filly Ruffian that ultimately inspired Brant to become an owner. He might not remember the exact reason he left racing, but he remembers what convinced him to start up his stable again. 
Brant and his son, Chris, went to the 2015 Belmont Stakes and witnessed American Pharoah become the first Triple Crown winner in 37 years. Brant said he "had a feeling" American Pharoah would win that day.
"I just felt like, wow, this horse, after so many years won the Triple Crown,'" Brant recalled, "and that kind of inspired me to get back in. Then my cousin, Joe Allen, who has always been in racing, was originally in it with me. He was always kind of trying to persuade me to go back in and he finally did."
Prior to the Breeders' Cup, Sistercharlie won three other Grade 1s this year in the Jenny Wiley, the Diana and the Beverly D. Fog of War won the Summer Stakes (G1) at Woodbine in September carrying his colors, while Brant also campaigns graded stakes winners Raging Bull, Quidura and Fifty Five.
Raging Bull and Quidura are European imports, as were Brant's two big mares in the late 1970s and '80s, Waya and Just a Game. Brant is also spending big at the sales now. Fog of War was a $400,000 Keeneland September Yearling purchase, and at this year's sale, Brant went to $1.1 million for a Quality Road colt to be trained by Brown.
Sistercharlie, another import, is an Irish-bred daughter of Myboycharlie and raced in France before moving stateside. She won the Prix Penelope (G3) and was the runner-up in the Prix de Diane Longines (G1).
"I have always liked French horses," Brant said. "I think that the way they train the horses there kind of leaves some juice in the lemon, and basically I've always been successful with horses that I've got there. Like Waya, for instance, was a French horse that the Wildenstein's had. So I had some people looking in France and Michel Zerolo and Paul Nataf and Alan Leonard, they were looking for me and they said, 'This is a filly that we really like,' and so we bought her before the French Prix de l'Arc and she ran great.
"She almost got knocked down in that race and still finished second, very impressively, so we bought her and then gave her to Chad right after the race and brought her back and she's been right there every race we have run her and she's very special."
While Brant is no stranger to success, Sistercharlie's Breeders' Cup performance was extra special between Brant's return to racing and, most important, Sistercharlie's survival after fighting for her life in the clinic in 2017.
"I've been very fortunate and I'm just happy to be back," Brant said. "And I guess comparing this win, I mean, this is the greatest win I've ever had. This mare has had so much bad luck and she's overcome it. And she is out there today and she hasn't always been able to make the schedule because of weather, or because of a spider bite or because of a fever that she had.
"She had a bout of pneumonia earlier and she's just overcome everything and she's very special. Very special to me and very special to my family and I'm sure very special to Chad."
Brown seemed to agree with the statement, adding Sistercharlie is one of the greatest horses he's trained.
"I just want to say that she ranks way up there, especially in terms of her heart," Brown said. "This horse, when you watch the replay, she really lunges at the wire, I don't think like any horse I've ever seen. She knows exactly where the wire is and if she's anywhere close to that lead near the wire she's going to win."