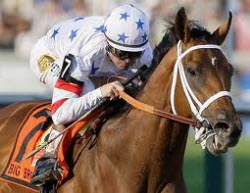 The mid-season of racing is quickly approaching with the imminent openings of Saratoga and Del Mar. The most precocious of the two year olds have made their debuts and a few already have more than one start under their girths.  A true picture of the Freshmen sires' potential will emerge as the bulk of this year's crop make their appearance from mid-July onwards.  One of the most anticipated crops of babies is that of Champion Three Year Old Big Brown.
Big Brown (Boundary – Mien, by Nureyev) exploded onto the racing scene in early September of his two year old season with an 11 ¼ domination over maidens in a  1/16 mile turf contest.  The son of Boundary sat on the shelf for six months, until reappearing in a one mile dirt allowance contest at Gulfstream in early March as a three year old. Emulating his maiden win, Big Brown ran away from a field of allowance runners prevailing by 12 ¾ lengths. The victory catapulted him onto the Triple Crown lists. Twenty five days later, Big Brown destroyed the hopes of eleven other Classic hopefuls with an authoritative 5 length decision in the Florida Derby. The field included eventual Belmont Stakes winner Da'Tara, who finished a dull ninth.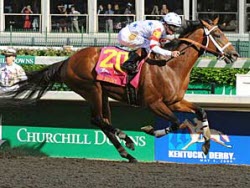 Despite drawing the far outside in the Kentucky Derby, Big Brown took all of the betting money. The undefeated colt kept his win streak alive with a sparkling 4 ¼ length triumph. The Derby field contained eventual Travers Stakes hero Colonel John and Court Vision, who would later evolve into a top turf horse.  Unfortunately, the Kentucky Derby was marred by the tragic breakdown of the gallant filly Eight Belles, who crossed the wire in second, 3 ½ lengths in front of the third place finisher. 
Comparisons to the 2004 undefeated Kentucky Derby winner Smarty Jones followed Big Brown to the 2008 Preakness Stakes. Sent off at 1-5 odds in the second Triple Crown leg, Big Brown again made short work of his classmates, galloping to a 5 ¼ length sweep and joining Majestic Prince, Seattle Slew and Smarty Jones as the only undefeated Derby/Preakness winners in history.  In the intervening three weeks between the Preakness and Belmont Stakes, Big Brown developed a quarter crack, causing an alteration in his training program. Despite the setback, Big Brown was installed as the favorite for the Belmont Stakes. His race record and talent towered over the remaining field of eight rivals.  As the Belmont Stakes progressed to the mile pole, a shocked crowd watched as the colt was pulled up by his jockey Kent Desormeaux, all the while fighting to run.  The horse was quickly removed from the track and rushed back to the barn. His connections refused to give any immediate explanation or status on the colt.  As the weeks ensued, various excuses were given.  His trainer Rick Dutrow, Jr. announced that the colt had raced on steroids, but denied giving the drug to the colt since before the Kentucky Derby. Later it was announced that the colt had ripped off his shoe during the race.
Two months later, Big Brown rebounded in the Haskell Invitational. He drifted slightly in the stretch, but got the job done, winning by 1 ¾ lengths.  Instead of facing Colonel John in the Travers, Big Brown took on the older turf veterans Proudinsky, Shakis and Silver Tree in the Monmouth Stakes.  Big Brown prevailed by the narrowest margin of his career, defeating Proudinsky by a neck going 1 1/8 miles over a good turf course.
Just weeks before the colt's forthcoming venture to California to face Champion older horse Curlin and the top European runners Raven's Pass, Henrythenavigator, and Duke of Marmalade in the Breeders' Cup Classic, Big Brown grabbed a quarter, ripping a three-inch piece of flesh off his right front foot after it collided with his right rear foot during a morning breeze. The injury wasn't life-threatening and would require only a couple of months to heal. However, instead of bringing the lightly raced colt back for a four year old campaign, Big Brown's connections retired him to stud at Three Chimneys Farm for an initial fee of $65,000.  The courageous colt earned an Eclipse Award as Champion Three Year Old and left the racetrack with a 8-7-0-0 ($3,614,500).
Examining a young sire's pedigree offers clues to how his offspring will perform.  Big Brown's sire Boundary was a Grade 3 class sprinter on the race track. At stud, he was noted as a better broodmare sire than sire of sires. He currently has four sons standing at stud in the US and Australia. Boundary's best son standing in the U.S. is the second year stallion Pomeroy. Pomeroy was a precocious two year old, who evolved into sound runner who raced through age five. Not surprisingly, his offspring are win-early sprint types who are contenders up to 1 1/16 miles. The majority race over dirt, but Pomory sires the occasional turf or synthetic winner.
There aren't many stakes horses in the first two generations of Big Brown's distaff family. None of his half siblings have come close to emulating Big Brown's brilliance on the track.   His dam Mien won one of her two starts and she is a half-sister to the listed turf stakes winner Queen of the Creek (by Theatrical).  Big Brown's second dam Miasma began her career in England and placed in a listed stakes as a juvenile.  She owns the only blacktype produced by her dam.  The third dam Syrian Circle is a half-sister to the Champion Older Mare Hidden Lake and two other stakes winners.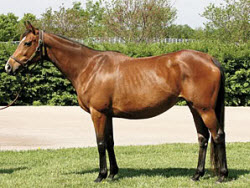 Despite this, there is interesting breeding in Big Brown's pedigree. His dam Mien carries a Formula One breeding pattern. In a "Formula One" the horse traces back to a foundation mare through the tail-female lines of the sire and the dam (the dam of the Sire and the female line of the Dam).  In Mien's case, both her sire and dam are descended from the Lowes 5-h distaff family, tracing back to Goody Two-Shoes. Mien has additional line-breeding to this family through her Lear Fan's damsire Lt. Stevens, who is a full brother to Nureyev's second dam, Thong. 
The sensational Intermediate/Classic Chef-de-race Nureyev is Big Brown's damsire and clearly his stamina genes are present in Big Brown.  Big Brown also has fairly close inbreeding to the Intermediate/Classic Chef -de-race Damascus (3S x 4D) as well as inbreeding to the Stout Chef -de-race Round Table (4S x 5D).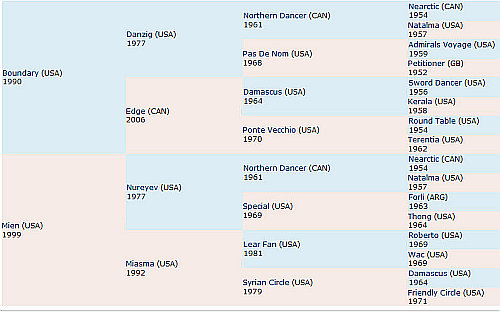 Big Brown has 78 foals in his first North American crop. So far, five foals have started. Big Brown has two winners, one in Russia and the other at Churchill Downs; one runner placed third and the other two finished off the board.  The young stallion's offspring aren't expected to be early season types.  They should begin gathering victories from July onwards and improve with racing.  About half of Big Brown's crop is out of mares whose families either won or placed in their debuts, so many of his offspring should win at first or second asking. Big Brown's progeny should do well over all surfaces, especially turf, and be best between 5F to  1 1/8 miles, although some individuals may go longer depending on their distaff lines.  Notable offspring include half siblings to the top sprint sire D'Wildcat and the multiple stakes winners Beautician, Recapturetheglory, Middlesex Drive, Medallist and Pink Champagne. Other foals on the roster are out of the stakes winning dams Ivannavinalot, Shaggy Mane, Sugar Punch, Formal Miss and Irish Smoke.   
By Laurie Ross, HRN Pedigree Analyst