Editor Joe Manning says The Louisville Story Program can best be described as "a non-profit literary arts outreach organization." After taking on projects such as stories of overlooked area neighborhoods and a history of the Dirt Bowl, a local streetball tournament, attention recently turned to the city's most well-known venue.
"Better Lucky Than Good" is an anthology of first-person stories from racetrackers who have at some point called Churchill Downs home. While the stories of certain trainers and jockeys are highlighted, the vast majority of perspectives in the recently released book come from the backbone of the backside -- grooms, hotwalkers and starting gate crew to name a few.
"We reach out to folks in Louisville, Kentucky, (and) give them the tools and resources they need to tell their own stories in their own words," Manning said. "Folks we haven't heard from before and don't hear from often enough, we amplify untold stories and untold voices."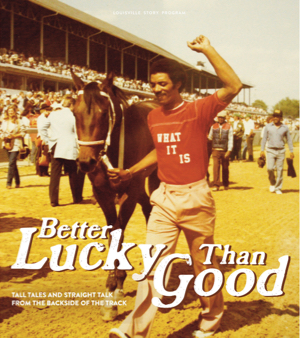 "Better Lucky Than Good" contains 300 pages of text and personal photos, with the stories reflecting normal day-to-day life at the track. It took three-plus years to collect and edit the 32 authors' stories in a painstaking process to ensure that the tales were told not only in the participant's own words, but in their own voice.
"We're really proud of this book," Manning said. "I started this project without any real practical understanding of Thoroughbred racing at all."
Manning, a Louisville native, of course was familiar with the Kentucky Derby. But he never gave much thought to the people who got those 20 horses per year to the starting gate.
"I, like very many Louisvillians, focus on the track one day a year," he said. "The other 364 days of the year I had very little awareness of one of the most significant and most iconic institutions of my hometown."
Authors of each chapter make up a diverse group, with their commonality the horse. They share an innate love for the stars of the racing show, and "Better Lucky Than Good" shines a light on their racetrack community.
"While I spent three years on the backside and really have grown to adore that environment and community, this book is not really about horses very much," Manning said. "It's about the people that take care of the horses. Their lives are just absolutely shot through with an addiction to and a love for the animal and the sport.
"I feel like my neighbors and those folks who read this book will be largely interested in the lives of the folks on the backside and the people who support the sport."
The book also features snippets from neighbors who grew up around Churchill Downs and their interactions with the racetrackers.
There's the story of Lee Wagner, the third-generation owner of Wagner's Pharmacy, a pharmacy, tack supplier, gift store and diner at the corner of Fourth Street and Central Avenue. Wagner literally grew up on the backside of Churchill Downs.
Cristobal Resendiz Trejo was moved to the United States from Mexico when he was 14 years old. He lived in a barn for almost his entire adult life taking care of horses. Manning calls Trejo "the most dedicated and singularly focused horseman" he met through the process of editing the book.
"His love for the animal radiates off of him," Manning said. "It's like magic or something. He's been a groom all his life and he wouldn't be an assistant or a trainer if you gave him a million bucks."
Manning's excitement for collecting the stories has been met by a racetrack community pleased with the final product.
"You get around this crowd and you hear these great stories and you set yourself up for remarkable victories and really devastating losses sometimes," he said. "It's the people in the community that exist on the backside that I think a lot of folks keep coming back for -- the reason they spend their entire lives in the shedrow is because they love the animals and they like hanging around with each other.
"...Everybody is super glad with it and seems real grateful to have been included and they think it is a good and accurate document which just means the world to me."
Available now for $25, "Better Lucky Than Good" can be purchased through Amazon.com or The Louisville Story Program's website.