While the Belmont weather forecast is improving, there is always concern of a wet track and how it may move up (or down) certain horses based on their breeding.  We took a look at Horse Racing Nation's Sire Analytics to see which Belmont Stakes runners could potentially improve in the mud.
Looking up the eight sires of the Belmont Stakes starters, we are comparing how their offspring performed in all dirt routes (races of 1 mile or more) versus 'wet' dirt routes, races where the track condition was other than fast (muddy, sloppy, good, etc.).  We are then measuring the win percentage in these two categories, as well as the HRN impact number.  The HRN impact number measures how well a horse performs compared to the odds.  So an impact score of zero percent performs exactly according to the win odds would suggest.  An HRN impact score of +10 percent means the horses are winning 10 percent more than their odds would suggest. 
Looking at the sire data, we find that most of the sires wet track data is remarkably similar to fast tracks.  In fact, the win percentage is exactly the same for Exaggerator (Skippylongstocking), Creative Cause (Creative Minister) and Ghostzapper (Golden Glider), while it only changes by one percent for Curlin (Nest), Mo Donegal (Uncle Mo).
The one sire that moves up in the mud is Constitution (We the People).  His offspring are winning at 19percent in dirt routes, but this jumps to 27 percent in wet dirt routes.  Not only is that an increase of 8 percentage points to win, but that is a 42 percent jump (27 percent over 19 percent).  We also see this reflected in the HRN impact score that is 22 percent higher.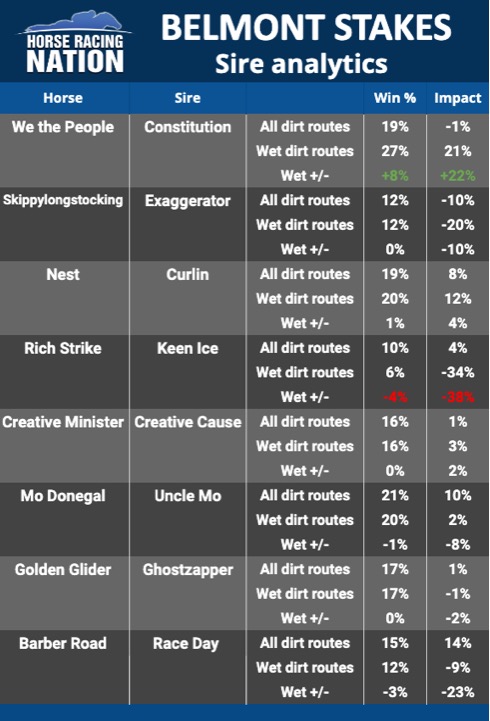 On the downside, the biggest mover is the Kentucky Derby winner, Rich Strike's sire Keen Ice.  His offspring win at 10 percent in all dirt routes, but this drops to just four percent in wet dirt routes.  Again, not only is that a four percent decrease in win percentage, but that is a 40 percent drop from 10 percent to six percent.  This is also reflected by a -38 percent change in HRN Impact. 
Other than We the People and Rich Strike, the other horse where an off track could have a moderate impact is Barber Road.  His sire, Race Day, gets 15 percent winners in dirt routes, but that drops a bit to 12 percent when the track is off.  The HRN impact is -23 percent. 
We'll find out Saturday how much the weather will impact the Belmont track, but if it does give extra consideration to We the People and maybe consider fading the Derby winner Rich Strike. 
To get positive and negative Sire Moves every day, check out Horse Racing Nation's Sire Moves report, which is part of the HRN Pro Reports package. 
Below is a glimpse of the sire moves noted for the race after the Belmont, Race 12.  It's a maiden claimer on the turf featuring several horses changing distances and a few horses trying the turf for the first time.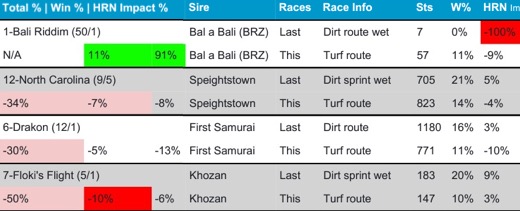 The Sire Moves report can help provide clues as to which horses are more likely to improve or decline with the track, surface and distance of today's race.  For example, #7 Floki's Flight, who is 5/1 on the morning line, is by Khozan who only gets 10 percent winners in turf routes, as opposed to 20 percent winners sprinting on wet tracks.  This may help you to toss this horse at 5/1 odds. 
Good luck in the Belmont!