Today's Breeders' Cup Classic prep is the Grade 1 Awesome Again at Santa Anita, and we've got you covered with Super Screener picks (including a long shot you won't see coming), Ed DeRosa's fair odds plays and a head-head analysis of the race. 
But before we get into the picks, let's take a look at the best speed figures of 2023 for this group. If you want to check out HRN's Free Past Performances page, you can download free PPs courtesy of our partners at Brisnet.
 Awesome Again field: Top speed figures of 2023
| |    Beyer    | TimeformUS |    HRN    |
| --- | --- | --- | --- |
| Senor Buscador | 101 | 122 | 105 |
| Defunded | 102 | 126 | 105 |
| Slow Down Andy | 99 | 124 | 103 |
| Skinner | 99 | 120 | 96 |
| Bye Bye Bobby | 89 | 111 | 104 |
| Celestial Moon | 90 | 116 | 98 |
| National Treasure | 98 | 118 | 100 |
| Piroli | 98 | 120 | 102 |
| Stilleto Boy | 103 | 123 | 106 |
Awesome Again handicapping
The Super Screener does a whale of a job pointing out live runners and long shot plays every weekend. For the Awesome Again, author Michael Shutty did not disappoint.  He looks for no. 3 Slow Down Andy (5/2) to run a big race without having to deal with Arabian Knight or Geaux Rocket Ride today.
In addition, he notes that no. 6 Celestial Moon is a great long shot play at 30/1. This is an interesting play as Celestial Moon is a lightly raced 4-year-old that could go off at odds of 40/1 or higher. Use him as a price in third and fourth in your trifectas and superfectas. There's also a great Super Screener deal where you can get all of the Breeders' Cup preps starting today through the Breeders' Cup for one low price.
Ed DeRosa's Awesome Again fair odds also highlight Slow Down Andy as a possible play, but he anticipates getting an even better price on Senor Buscador, which may make him the preferred play. Here are Ed's fair odds below.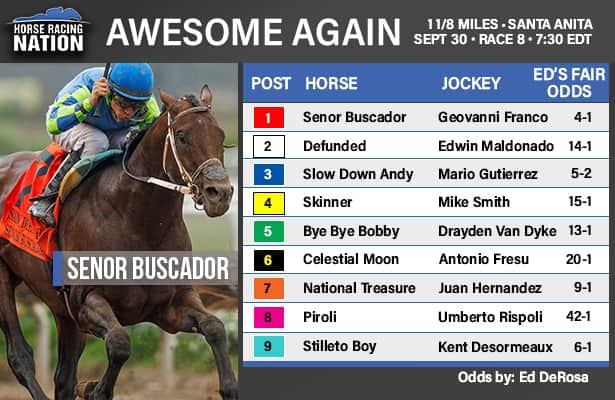 Looking at pedigrees 
Taking a quick look at distance pedigrees, we can pull on HRN's advance sire stats to take a quick look. As these are older horses proven at a route distance, we can see that the distance should be no concern for any of them. In fact most of their sires sport a similar winning percentage on dirt routes.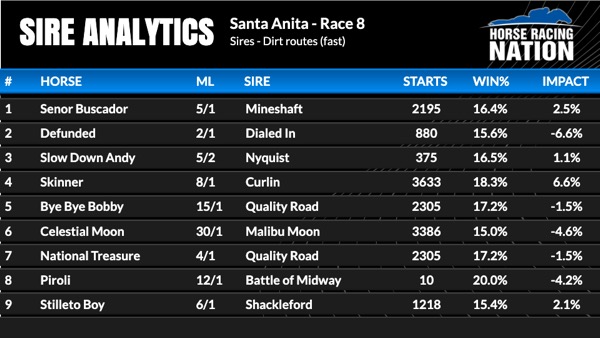 Even if you don't end up playing the Awesome Again, be sure to tune in and watch the race as several of these could end up in the Breeders' Cup Classic next month at Santa Anita. 
Below is the full field for the Awesome Again (G1).
Post
Silks
Horse / Sire
Rating
Trainer / Jockey
Last Start / Next Start
HRN
1
Senor Buscador
Mineshaft
5.89
Todd W. Fincher
Geovanni Franco
4th, 2023 Pacific Classic G1
Entered
Last Race
4th, 2023 Pacific Classic G1
2
Defunded
Dialed In
6.61
Bob Baffert
Edwin A. Maldonado
6th, 2023 Pacific Classic G1
Entered
Last Race
6th, 2023 Pacific Classic G1
3
Slow Down Andy
Nyquist
6.63
Doug F. O'Neill
Mario Gutierrez
3rd, 2023 Pacific Classic G1
Entered
Last Race
3rd, 2023 Pacific Classic G1
4
Skinner
Curlin
7.35
John A. Shirreffs
Mike E. Smith
5th, 2023 Pacific Classic G1
Entered
Last Race
5th, 2023 Pacific Classic G1
5
Bye Bye Bobby
Quality Road
4.67
Todd W. Fincher
Drayden Van Dyke
2nd, 2023 Pat O'Brien Stakes G2
Entered
Last Race
2nd, 2023 Pat O'Brien Stakes G2
6
Celestial Moon
Malibu Moon
0.00
William I. Mott
Antonio Fresu
3rd, Aqu AlwOC (4/30/23-R5)
Entered
Last Race
3rd, Aqu AlwOC (4/30/23-R5)
7
National Treasure
Quality Road
6.73
Bob Baffert
Juan J. Hernandez
5th, 2023 Travers Stakes G1
Entered
Last Race
5th, 2023 Travers Stakes G1
8
Piroli
Battle of Midway
5.39
Michael W. McCarthy
Umberto Rispoli
7th, 2023 Pacific Classic G1
Entered
Last Race
7th, 2023 Pacific Classic G1
9
Stilleto Boy
Shackleford
8.15
Ed Moger, Jr.
Kent J. Desormeaux
10th, 2023 Pacific Classic G1
Entered
Last Race
10th, 2023 Pacific Classic G1