More than 200 horses with more than 200 sets of odds. Kentucky Derby futures can look very daunting and very impersonal.
At William Hill they are quietly churned out at any of 114 outlets and to its thousands of app users around Nevada. Without explanation the names and numbers appear and disappear from October until May – or last year until September.
They are the work of a team that really has bigger sports-betting fish to fry during the course of any given workday. While football drives the revenue engine and basketball, baseball and hockey games provide volume, drop-in-the-bucket horse futures remain a passion for three men who are unabashed racing fans.
"We've always done it, just because we really enjoy it so much," said Joe Asher, the CEO of William Hill US. "We don't make much money on it, but we just do it out of a labor of love."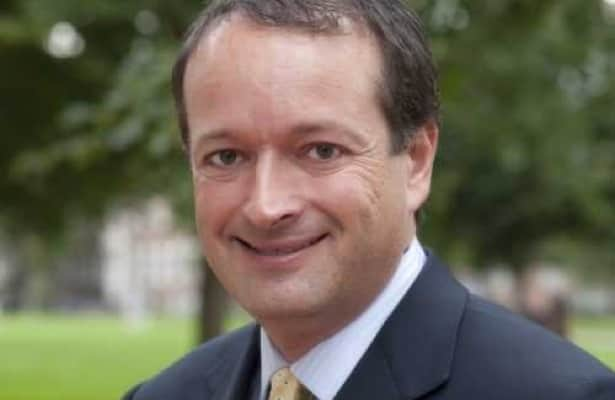 Joe Asher
The team includes Paul Bach, a senior trader in Delaware who absorbs most of the day-to-day work and responsibility, and Dan Shapiro, a vice president based in Las Vegas. They have written the William Hill futures for years with Asher, who grew up immersed in East Coast racing. Longtime horseplayers may remember him as a racetrack executive and announcer at places like Dover Downs and Foxboro Raceway.
"What people don't know is I still announce horse races every year," Asher said in an interview this week with Horse Racing Nation and for the Ron Flatter Racing Pod on VSiN. "I go up to the Elko County Fair on Labor Day weekend. They let me call a race or two when I'm up there. It's a lot of fun."
Sure enough, type "Joe Asher" and "Elko County Fair" into YouTube, and up pops his 90-second call of a race from a dusty track in northeast Nevada during the summer of 2015.
"It was great," he said. "A photo finish."
Those are not exactly big bucks on the line at an outpost like Elko. Nor is racing that big a betting enterprise across Nevada. Even in a 12-month period crushed by the pandemic, football alone still attracted nearly $1.9 billion in wagers across the state. Pari-mutuel betting on horse and dog races brought in a scant $155 million.
The Nevada Gaming Control Board does not specifically parse Derby futures, but by Asher's estimation they are "in the six figures. It's pretty modest relative to what we'll do on an NFL game or even a big college game. It's small relative to that."
That helps explain why Essential Quality and Life Is Good are only 8-1 co-favorites at William Hill. Such short prices 3 1/2 months before the Derby have attracted critics on social media. By comparison, Life Is Good is more than 10-1 at Circa Sports and 12-1 overseas. Better, but still not the stuff of get-rich-quick dreams.
"Whoever puts them up, and there's a variety of them with a couple offshore, I don't think they give you enough value," said DraftKings Sportsbook director Johnny Avello, a friend of Asher who ran a very popular Derby futures book at the Wynn Las Vegas for 13 years. "How do you have horses that are 5-1, 6-1, 7-1 that have to run at least two more races and then run the Derby itself? And that's if everything goes right."
Anyone expecting Asher to recoil with a defensive counterattack to that chorus of criticism might be surprised to hear that he often agrees.
"I'm always saying we ought to raise the price on this horse or that horse, especially when they get too low," Asher said. "I do think on some horses we have been too conservative, and I'm always pushing against that. On some of them I think Paul is too conservative, not to throw him under the bus. Easy for me to say, because I'm not doing it day in and day out. Paul hates to lose."
Except for the daily maintenance break that happens overnight, William Hill's ever-changing Derby odds are available round the clock to Nevada bettors. It is much the same at rival Circa Sports, which is in its second year offering its own horse futures at two Las Vegas casinos and countless app holders.
Those fixed-odds pools with dozens and dozens of horses are in direct contrast to the pari-mutuel Kentucky Derby Future Wager, normally offered by Churchill Downs four weekends a year between November and March with no more than 23 individual betting interests.
Churchill Downs Inc. and Nevada do not get along. Their 15-month dispute over how to split takeout has kept the state's racebooks from accepting bets into all-sources mutuel pools at CDI tracks, including Churchill Downs and the Fair Grounds. It got so bad that the casinos themselves booked last year's Kentucky Derby and Oaks, honoring post-time track odds while putting strict limits on the wagering menu to manage their risks.
The lack of a contract between the two sides actually might be a benefit to futures bettors, since CDI does not want William Hill and Circa offering fixed odds on its biggest race. Since Nevada was booking Derby futures long before Churchill Downs, it contends that it is grandfathered into the tradition.
"We post them as Nevada has historically done," Asher said, making the case that its business can only help CDI. "There have been some challenges in the relationship with Churchill, especially in the last year or so. Hopefully we get past that. I think the casinos in Las Vegas do such a great job with horse racing. It gives racing a chance to get before new eyes that it would never otherwise be able to do. To see a horse race up on the big screen, I think there's a real benefit to the racing industry."
While some of his race and sportsbook rivals in Las Vegas want nothing to do with giving any financial ground to CDI, Asher extended an olive branch, opening the door to sharing the fixed-odds action.
"That's not even an issue from my perspective," Asher said. "In the overall context of what we're talking about, it's smaller dollars. In the spirit of peace and harmony and collaboration, if we're able to do some joint marketing-type stuff, I know we would not have an issue with paying Churchill Downs on it."
Rivals would point out that Asher has more wiggle room to negotiate because of the size of William Hill, a multinational company that dwarfs other operations based in Nevada. It will only get bigger after Caesars Entertainment's $3.7 billion takeover goes final, presumably this spring. Under the new deal William Hill will run Caesars sportsbooks around the country.
That broader landscape includes advanced-deposit wagering platforms, which are technically illegal in Nevada. Even though ADWs would potentially take business away from racebooks, Asher did not rule out the possibility that they could line up alongside Las Vegas casinos – and maybe go into partnership with them.
"I don't see any reason why potentially there couldn't be a market for it," he said. "We've looked at the ADW business multiple times over the years. You've got a number of folks in that space, so what are we going to do that's unique to give us some sort of leg up or competitive advantage vis-à-vis the competitors?"
Whether it means beating or joining the ADW operators, Nevada's answer to Asher's question might be – well – Nevada. Especially the casino experience, absent COVID, in Las Vegas.
"We offer either free or subsidized racing forms, drinks and all the accoutrements of being in the sportsbook," said Asher, who has been the CEO since William Hill bought his successful bookmaking start-up nearly nine years ago. "It becomes a different experience."
Mergers and ADWs notwithstanding, the William Hill racing team soldiers on with its Derby futures – and Breeders' Cup Classic futures every fall and maybe a Pegasus World Cup pool next week.
Asher, Bach and Shapiro do so knowing that racing at best nowadays provides a small hold for the house. At worst it may be regarded as a loss leader, especially with all the hours that it takes Bach and Shapiro to keep track of everything from workouts to past performances to alerts about any buzz about the stock rising in 2- and 3-year-olds.
But there is always a good story. Did you hear the one about the trainer who scored big against Asher with one of his Derby winners?
"Doug O'Neill went out to either Buffalo Bill's or Primm Valley Resort, which is right on the (state) line. If you're driving from Santa Anita, the first place when you cross into Nevada is Primm." Asher said, remembering that O'Neill had a good-sized group with him to bet on I'll Have Another.
"I think we had him at 150-1. So they bet on him, and then we moved the line. They got him again. We moved the line. They kept betting. Everybody was in on it, even the night watchman."
When they all cashed that spring, they could brag that they beat the book. But Asher also made the most of it.
"Doug got us really good that year," he said. "But he was great afterward. He came out and did a little media event when he was cashing his tickets. We got a kick out of it."
That is really what Asher is in it for now. The kicks. It takes him back to a time when he might have made a career in racing rather than booking sports bets. He admitted that his mind wanders back to the road not taken. Especially when an announcer makes his own career move.
"I'll see that there's a job open at such-and-such a racetrack," Asher said. "When Frank (Mirahmadi) left, I said maybe I'll come to Monmouth and start calling races again. Once it's in your blood, it doesn't leave."