Through the first three months of the 2-year-old racing season, there has been no better bet than a juvenile trained by Tom Amoss.
The veteran conditioner leads all North American trainers by wins in maiden special weight races for juveniles, notching nine victories from 18 starters.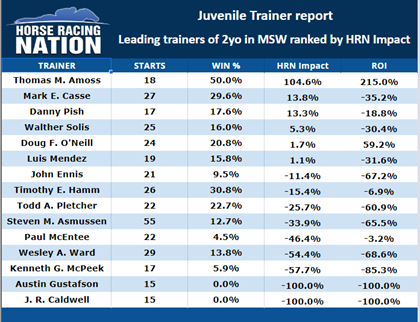 That performance is more than double the expected wins based on Horse Racing Nation's Impact score, and those betting each of those runners would have more than tripled their stake.
"We really worked the sales hard last year, and it's very gratifying to see that pay off," Amoss said Saturday after Woodford Thoroughbreds' Healing Waters won on debut at Horseshoe Indianapolis. "We've been really excited to get this group to the races, and Woodford does such a nice job with getting young horses ready."
"It starts with the horses we receive," said Shannon Machholz, Woodford's director of marketing and client relations. "Tom is hands on in picking out yearlings, and he has a great eye. It started as two teams that work well together, and that has only gotten stronger with success over the years."
The nine wins have come for seven owners.
"That's actually a relief," Amoss said. "Everyone's happy."
Joel Politi is among the two owners with multiple wins with this 2-year-old crop. Amoss previously trained Politi's Serengeti Empress to a multiple Grade 1-winning career that included a victory in the 2019 Kentucky Oaks.
"Tom has a gift for picking horses and then managing them all the way through the process of getting them ready for the races," Politi said. "People knew him for years as a claiming trainer or a trainer who can manage a veteran horse's career, but he's proven the last five years what a fantastic developer of talent he is."
Politi and Machholz both credited John Gleason, Woodford general manager for racing and training, as an integral part of the program.
"We receive yearlings typically in (the fall) and give them a very strong foundation of fitness as well as teach the horses professionalism on the track," Machholz said. "Tom likes that he can go right on with the horses he receives from us."
Another part of the Amoss barn's success has been jockey Edgar Morales, who has been aboard for five of Amoss's nine maiden special weight victories with 2-year-olds this year.
Of the 26 jockey-trainer combos with at least 11 starts together, the Morales-Amoss tandem ranks first by HRN Impact (+83.8 percent) and seventh by flat-bet profit (+33.8 percent).
The HRN Impact score measures the expected win total based on post-time odds against the actual win total. Positive scores reflect a situation in which the subject outperformed its odds.
"Edgar is a very underrated rider," Amoss said after Morales won aboard Healing Waters. "He's a strong gate rider and a strong finisher. I hope this doesn't let the secret out."
The next step for Amoss is deciding where all these winners go next.
"That's the tough part, and it keeps me up at night," Amoss said. "If they don't win you just pencil them in for the next maiden, but now I have to struggle with their next starts."
So far, Michael McLoughlin's Owen's Leap is the only 2-year-old winner to run back, finishing second to Gulfport in the Bashford Manor Stakes. Along with Politi, McLoughlin is the only other owner with multiple 2-year-old winners in the Amoss barn.