You could say Team Maximum Security was already used to the type of heat it faced Saturday at Monmouth Park.
The most controversial of 3-year-old colts carried odds-on favoritism into the Haskell Invitational (G1), then two starts after disqualified from the Kentucky Derby, survived a much more brief look by the stewards at contact through the far turn of the $1 million race.
"He's a game, gutsy little horse," said trainer Jason Servis. "If you look at what he did in the Kentucky Derby, there were four or five other horses within a half a length of each other and he ran away from all of them. In this race here, he showed the same kind of courage. He likes that fight. He doesn't mind going head-to-head with a horse, and he had that same situation."
Stewards lit the inquiry sign after the rail-riding King For a Day, who was right on the pace through final turn, took up under Hall of Famer John Velazquez.
"They want to always make it look bad, or make it look worse for this horse," Saez said as he journeyed from the winner's circle to the tunnel, peppered with a mix of cheers and boos from a crowd that remained on a long afternoon in New Jersey.
With the Haskell delayed just short of two and a half hours from scheduled post time due to high temperatures, Maximum Security also welcomed the challenge of Bob Baffert-trained Mucho Gusto, who ranged up three wide on the outside just as King For A Day bowed out of contention. 
"I know that (Mucho Gusto) was the horse to beat," Saez said. "He was battling. He was coming outside, he was coming right there and I stayed in my spot, you know."
A lone camera angle used didn't appear to show Maximum Security clearly disrupting King for a Day's path.
Painted in the pink and black colors of Gary ad Mary West Stables, and sporting the same orange No. 7 cloth as the Derby on his arm, Saez was finishing a thought on the race when interrupted by chants of "cheater" from the crowd.
"Oh, they will do that. I can't stop them," he said. "Oh well, you know? I won't look back."
Since the disqualification that shot Maximum Security to 17th in the Derby running order and his owners into a legal battle, it had been a bumpy ride up to the Haskell. In his lone race between the classics, the son of New Year's Day was defeated in Monmouth Park's Pegasus Stakes to King for a Day.
"You know, but he overcame that," said Saez. "He's a tough horse and he takes on the competition well. He likes that. (Pegasus) was a tough start, but he came out much stronger today. He was ready to race."
Servis knows something about navigating choppy waters with Maximum Security's outcomes since a convincing Florida Derby (G1) win in March, the last time the trainer, Saez, the West's and Maximum Security celebrated in the winners circle.
"After all that we've been through this year, you definitely pause for a little and have some concern when you see his name flashing there," Servis said after his horse was kept up Saturday.
He went on to talk about Saez and the reputation that he has gained in the horse racing community. 
"He's aggressive. He's an aggressive rider for sure," the trainer said, but just like the (Kentucky) Derby, there's nothing he did there to warrant being taken down. And with the Derby, it was all done wrong. It was ridiculous. I don't know how they got away with it."
"I didn't do anything wrong," Saez added. "Maximum Security didn't do anything wrong. He ran his race (Saturday). He was at his best."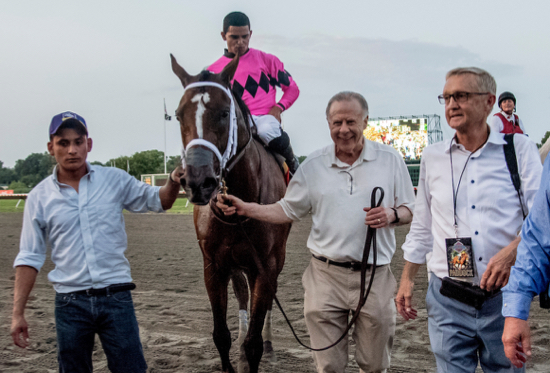 (Gary West leads Maximum Security into the winner's circle. Eclipse Sportswire)
A victory in the Haskell could send Maximum Security on to Saratoga's Aug. 24 Travers Stakes (G1) next. The victory also came with a "Win and You're In" spot in the Nov. 2 Breeders' Cup Classic at Santa Anita Park.
Still, the Haskell didn't completely clear the dark cloud hanging over this horse.
"You can't ever replace what we lost," Gary West said. "I'm so happy to see this horse back where he belongs, in the winner's circle. But (the Derby) is just something that will always be there. He won that race."
Saez sees this win in New Jersey as a positive turn of foot for he and Maximum Security. 
"This was important to get Max back to winning again," Saez added. "He's ready for anything now."
In the bigger picture, Servis contemplated whether Maximum Security has vaulted to the top of a 3-year-old class seen as wide open entering the weekend.
"If he (isn't), then I don't know when a division has ever had a clear-cut leader," he said. "Am I prejudiced? Of course I am. But if I'm a sportswriter and I'm voting and it's close to the end of the year, you have to lean a little toward Maximum Security after what happened in the Derby, whether you think he should have been taken down or not."