HRN Power Rankings Explained
How To Rate Your Favorite Horses
Once you've created your free account, you're ready to login and rate any horse on Horse Racing Nation - from Secretariat and the Top 250 Horses of All-Time to your favorite Kentucky Derby contenders.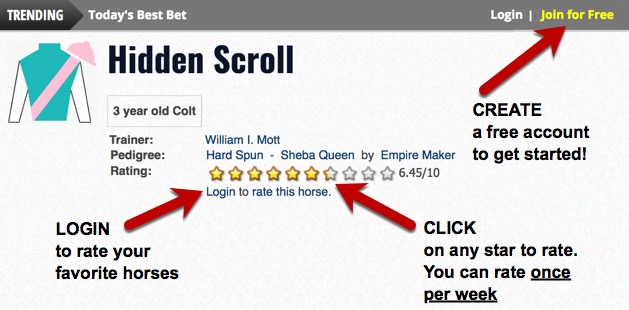 What are the different rankings?
Each time you rate a horse (or person), it impacts their overall rating and ranking. This creates rankings in different categories, including:
How Ratings Work
Each horse's rating is given a statistical computation based upon user ratings. The ratings are move than just an average as the rating is based on the number of votes each horse has received. This prevents a horse from being ranked #1 in the all time ranking with just a single vote of 10.
Thus it is important to vote horses based on ability, not in an attempt to "move them up."
You can vote on each horse once per week.
How To Fix Errors
If a horse has been retired (or deceased) and should not be included on the active lists, just go to that horse's page and click "edit" and edit the status and save.
How should I rate horses?
Everyone has a different opinion, but below are some general guidelines for rating horses:
| | |
| --- | --- |
| Rating | Guideline for voting |
| | Horse of the Year types |
| | Grade 1 winning performance |
| | Grade 2 winning performance |
| | Grade 3 winning performance |
| | Allowance winners |
| | Maiden and claiming race winners |
| | Have not won yet or infrequent winners |