Kentucky Derby 2023 - Road to the Derby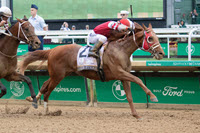 Kentucky Derby 2023 will be run for the 149th time on Saturday, May 6 at Churchill Downs in Louisville, Kentucky. Effective for the 2023 road to the Derby, horses finishing in 5th place will earn Derby points. The updated race schedule and point values are below.

Once again, horses trained by any individual suspended from racing in the Kentucky Derby cannot earn points to the race. Continuing from 2021, preps in California, New York, Florida and Kentucky will be run without Lasix. Horses who do run on the medication will not receive Derby points. Those horses are designated with a [*] in the chart.


The following are results of each prep race and points earned. The table will be updated reflecting any changes to the schedule.
Date

Race
Track
Distance

1st (points)

2nd (points)
3rd (points)
4th (points)
5th (points)

Sept. 17

Iroquois

Churchill Downs

1 mile

(10) Curly Jack

(4) Honed

(3) Jace's Road

(2) Hayes Strike

(1) Confidence Game

Oct. 1

Champagne

Belmont at AQ

1 1/16 miles

(10) Blazing Sevens

(4) Verifying

(3) Gulfport

(2) Andiamo a Firenze

(1) Champions Dream

Oct. 8



American Pharoah

Santa Anita

Cave Rock

National Treasure

Hejazi

Gandolfini

(1) Man Child

Oct. 8

Breeders' Futurity

Keeneland

11/16 miles

(10) Forte

(4) Loggins

(3) Red Route One

(2) Instant Coffee

Newgate

Nov. 4

Breeders' Cup Juvenile

Keeneland

1 1/16 miles

(30) Forte

Cave Rock

National Treasure

(6) Blazing Sevens

(3) Curly Jack

Nov. 26

Kentucky Jockey Club

Churchill Downs

1 1/16 miles

(10) Instant Coffee

(4) Curly Jack

(3) Hayes Strike

(2) Red Route One

(1)

Denington

Dec. 3

Remsen

Aqueduct

1 1/8 miles

(10) Dubyuhnell

(4) Arctic Arrogance

(3) Tuskegee Airmen

(2) Quick to Accuse

(1) Midnight Trouble

Dec. 17

Los Alamitos Futurity

Los Alamitos

1 1/16 miles

Practical Move (10)

Carmel Road
Fort Bragg

Tall Boy (2)

Arabian Lion

Dec. 17

Springboard Mile

Remington Park

1 mile

*Wildatlanticstorm

*Giant Mischief

Echo Again (3)

Gunflash (2)

Campfire Creed (1)

Dec. 26

Gun Runner

Fair Grounds

1 1/16 miles

Jace's Road (10)

Raise Cain (4)

Determinedly (3)

Hayes Strike (2)

Andthewinneris (1)

Jan. 1

Smarty Jones

Oaklawn Park

1 mile

Victory Formation (10)

Angel of Empire (4)

Denington (3)

Western Ghent (2)

How Did He Do That (1)

Jan. 7

Jerome

Aqueduct

1 mile

Lugan Knight (10)

Arctic Arrogance (4)

General Banker (3)

Neural Network (2)

Andiamo a Firenze (1)

Jan. 8

Sham

Santa Anita

1 mile

Reincarnate

Newgate

National Treasure

Packs a Wahlop (2)

Spun Intended

Jan. 21

Lecomte

Fair Grounds

1 1/16 miles

Instant Coffee (20)

Two Phil's (8)

Confidence Game (6)

Denington (4)

Bromley (2)

Jan. 28

Southwest

Oaklawn Park

1 1/16 miles

Arabian Knight

Red Route One (8)

Frosted Departure (6)

Sun Thunder (4)

Jace's Road (2)

Feb. 4

Holy Bull

Gulfstream Park

1 1/16 miles
Rocket Can (20)
Shadow Dragon (8)
West Coast Cowboy (6)
Legacy Isle (4)
Il Miracolo (2)

Rescheduled to Feb. 11

Withers

Aqueduct

1 1/8 miles

Hit Show (20)
Arctic Arrogance (8)
General Banker (6)
Andiamo a Firenze (4)
Prove Right (2)

Feb. 4

Robert B. Lewis

Santa Anita

1 1/16 miles

Newgate
Hard to Figure
Worcester
Arabian Lion



Feb. 11

Sam F. Davis

Tampa Bay Downs

1 1/16 miles

Litigate (20)

Groveland (8)

Classic Car Wash (6)

Classic Legacy (4)

Zydeceaux (2)

Feb. 11

El Camino Real

Golden Gate

1 1/8 miles (AW)

Chasing Chaos (10)

Gilmore

Harcyn

Passarando

Nullabor

Mar. 4

Battaglia Memorial

Turfway Park

1 1/16 miles (AW)

Congruent (20)
Scoobie Quando (8)
Bromley (6)
Moon Landing (4)
Miranda Rights (2)

Kentucky Derby Championship Series

Feb. 18

Risen Star

Fair Grounds

1 1/8 miles

Angel of Empire (50)

Sun Thunder (20)

Two Phil's (15)

Tapit's Conquest (10)

Single Ruler (5)

Feb. 25

Rebel

Oaklawn Park

1 1/16 miles

Confidence Game (50)

Red Route One (20)

Reincarnate (15)

Verifying (10)

Bourbon Bash (5)

Mar. 4

Fountain of Youth

Gulfstream Park

1 1/16 miles

Forte (50)

Rocket Can (20)

Cyclone Mischief (15)

Mage (10)

Shadow Dragon (5)

Mar. 4

Gotham

Aqueduct

1 mile

Raise Cain (50)

Slip Mahoney (20)

General Banker (15)

Eyeing Clover (10)

Clear the Air (5)

Mar. 4

San Felipe

Santa Anita

1 1/16 miles

Practical Move (50)

Geaux Rocket Ride (20)

Skinner (15)

Hejazi (10)

Fort Bragg (5)

Mar. 11

Tampa Bay Derby

Tampa Bay Downs

1 1/16 miles

Tapit Trice (50)

Classic Car Wash (20)

Classic Legacy (15)

Prairie Hawk (10)

Lord Miles (5)

Mar. 25

Jeff Ruby Steaks
Turfway Park
1 1/8 miles (AW)

Two Phil's (100)

Major Dude (40)

Funtastic Again (30)

Wadsworth (20)

Maker's Candy (10)

Mar. 25

Louisiana Derby

Fair Grounds

1 3/16 miles

Kingsbarns (100)

Disarm (40)

Jace's Road (30)

Shopper's Revenge (20)

Sun Thunder (10)

Mar. 25

UAE Derby

Meydan

1 1/8 miles

Derma Sotogake (100)

Dura Erede (40)

Continuar (30)

Perriere (20)

Go Soldier Go

Mar. 26

Sunland Derby

Sunland Park

1 1/8 miles

Wild on Ice (50)
Low Expectations (20)
Henry Q
How Did He Do That (10)
One In Vermillion (5)

Apr. 1

Florida Derby

Gulfstream Park

1 1/8 miles

Forte (100)

Mage (40)

Cyclone Mischief (30)

Mr. Ripple (20)

Fort Bragg (10)

Apr. 1

Arkansas Derby

Oaklawn Park

1 1/8 miles

Angel of Empire (100)

King Russell (40)

Reincarnate (30)

Rocket Can (20)

Airtime (10)

Apr. 8

Blue Grass

Keeneland

1 1/8 miles

Tapit Trice (100)

Verifying (40)

Blazing Sevens (30)

Sun Thunder (20)

Raise Cain (10)

Apr. 8

Santa Anita Derby

Santa Anita

1 1/8 miles

Practical Move (100)

Mandarin Hero (40)

Skinner (30)

National Treasure (20)

One in Vermillion (10)

Apr. 8

Wood Memorial

Aqueduct

1 1/8 Miles

Lord Miles (100)

Hit Show (40)

Dreamlike (30)

Arctic Arrogance (20)

Classic Catch (10)

Apr. 15

Lexington

Keeneland

1 1/16 miles

First Mission (20)

Arabian Lion (8)

Disarm (6)

Denington (4)

Demolition Duke (2)