Kentucky Derby 2021 - Road to the Kentucky Derby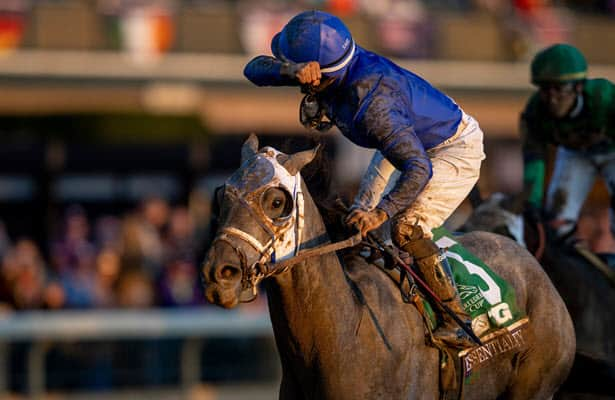 Kentucky Derby 2021 will go as planned on the first Saturday in May following the rescheduling of the 2020 Derby. For the first time in the points era, preps in California, New York, Florida and Kentucky will be run without Lasix. Horses who do run on the medication will not receive Derby points. Those horses are designated with a [*] in the chart.

Essential Quality, who has won the Breeders' Futurity and Breeders' Cup Juvenile, leads all c - but time will tell if he will have much more work to do to earn a berth. The remaining hopefuls have one last chance this weekend to vault their way up the Derby point leaderboard.
The following are results of each prep race and points earned. The table will be updated reflecting any changes to the schedule.
Date

Race
Track
Distance

1st (points)

2nd (points)
3rd (points)
4th (points)

Sept. 5

Iroquois

Churchill Downs

1 mile

Sittin on Go (10)

Midnight Bourbon (4)

Super Stock (2)

Therideofalifetime (1)

Sept. 26

American Pharoah

Santa Anita

1 1/16 miles

Get Her Number (10)

Rombauer (4)

Speilberg (2)

Waspirant (1)

Oct. 3


Breeders' Futurity

Keeneland

Essential Quality (10)

Keepmeinmind (4)

Super Stock (2)

Upstriker (1)

Oct. 10

Champagne

Belmont Park

1 mile

Jackie's Warrior (10)

Reinvestment Risk (4)

Midnight Bourbon (2)

Civil War (1)

Nov. 6

Breeders' Cup Juvenile

Santa Anita

1 1/16 miles

Essential Quality (20)

Hot Rod Charlie (8)

Keepmeinmind (4)

Jackie's Warrior (2)

Nov. 28

Kentucky Jockey Club

Churchill Downs

1 1/16 miles

Keepmeinmind (10)

Smiley Sobotka (4)

Arabian Prince (2)

Swill (1)

Dec. 5

Remsen

Aqueduct

1 1/8 miles

Brooklyn Strong (10)

Ten for Ten (4)

Known Agenda (2)

Pickin Time(1)

Dec. 18

Springboard Mile

Remington Park

1 mile

Se

ñ

or Buscador*

(4) Cowan

Red N'Wild*

Saffa's Day*

Dec. 19

Los Alamitos Futurity

Los Alamitos

1 1/16 miles

(10) Spielberg

(4) The Great One

(2) Petruchio

(1) Red Flag

Jan. 1

Jerome

Aqueduct

1 mile

(10) Kapo Cane

(4) Eagle Orb

(2) Hold the Salsa

(1) Swill

Jan. 2

Sham

Santa Anita

1 mile

(10) Life is Good

(4) Medina Spirit

(2) Parnelli

(1) Waspirant

Jan. 16

Lecomte

Fair Grounds

1 1/16 miles

(10) Midnight Bourbon

(4) Proxy

(2) Mandaloun

(1) Santa Cruiser

Jan. 22

Smarty Jones

Oaklawn Park

1 mile

(10) Caddo River

(4) Cowan

(2) Big Thorn

(1) Moonlite Strike

Jan. 30

Robert B. Lewis

Santa Anita

1 1/16 miles

(10)Medina Spirit

(4) Roman Centurion

(2) Hot Rod Charlie

(1) Spielberg

Jan. 30

Holy Bull

Gulfstream Park
1 1/16 miles
(10) Greatest Honour
(4) Tarantino
(2) Prime Factor
(1) Papetu

Feb. 6

Withers

Aqueduct

1 1/8 miles

(10) Risk Taking

(4) Overtook

(2) Capo Kane

(1) Royal Number

Feb. 6

Sam F. Davis

Tampa Bay Downs

1 1/16 miles

(10) Candy Man Rocket

(4) Nova Rags

(2) Hidden Stash

(1) Boca Boy

Feb. 13

El Camino Real

Golden Gate

1 1/8 miles (AW)

(10) Rombauer

(4) Javanica

(2) Govenor's Party

(1) It's My House

Feb. 13

Risen Star

Fair Grounds

1 1/8 miles

(50) Mandaloun

(20) Proxy

(10) Midnight Bourbon

(5) O Besos

Feb. 26

Battaglia Memorial

Turfway

1 1/16 miles (AW)

(10) Hush Of A Storm

(4) Like the King

(2) Gretzky the Great

(1) Hard Rye Guy

Feb. 27

Southwest

Oaklawn Park

1 1/16 miles

(10) Essential Quality

(4) Spielberg

(2) Jackie's Warrior

(1) Woodhouse

Feb. 27

Fountain of Youth

Gulfstream Park

1 1/16 miles

(50) Greatest Honour

(20) Drain the Clock

(10) Papetu

(5) Tarantino

Mar. 6

Gotham

Aqueduct

1 mile

(50) Weyburn

(20) Crowded Trade

(10) Highly Motivated

(5) Freedom Fighter

Mar. 6

Tampa Bay Derby

Tampa Bay Downs

1 1/16 miles

(50) Helium

(20) Hidden Stash

(10) Moonlite Strike

(5) Unbridled Honor

Mar. 6

San Felipe

Santa Anita

1 1/16 miles

(50) Life Is Good

(20) Medina Spirit

(10) Dream Shake

(5) Roman Centurian

Mar. 13

Rebel

Oaklawn Park

1 1/16 miles

(50) Concert Tour

(20) Hozier

(10) Big Lake

(5) Super Stock

Mar. 20

Louisiana Derby

Fair Grounds

1 3/16 miles

(100) Hot Rod Charlie

(40) Midnight Bourbon

(20) O Besos

(10) Proxy

Mar. 27

UAE Derby

Meydan

1 1/8 miles

(100) Rebel's Romance

(40) Panadol

(20) New Treasure

(10) Takeru Pegasus

Mar. 27

Jeff Ruby Steaks

Turfway Park

1 3/16 miles (AW)

(100) Like the King

(40) Sainthood

(20) Hockey Dad

(10) Hard Rye Guy

Mar. 27

Florida Derby

Gulfstream Park

1 1/8 miles

(100) Known Agenda

(40) Soup and Sandwich

(20) Greatest Honour

(10) Nova Rags

Apr. 3

Blue Grass

Keeneland

1 1/8 miles

(100)

Essential Quality

(40)

Highly Motivated

(20) Rombauer

(10)

Hidden Stash

Apr. 3

Santa Anita Derby

Santa Anita

1 1/8 miles

(100) Rock Your World

(40) Medina Spirit

(20) Dream Shake

(10) Defunded

Apr. 3

Wood Memorial

Aqueduct

1 1/8 Miles

(100) Bourbonic

(40) Dynamic One

(20) Crowded Trade

(10) Weyburn

Apr. 10

Arkansas Derby

Oaklawn Park

1 1/8 miles

(100) Super Stock

(40) Caddo River

(20) Concert Tour

(10) Get Her Number

Apr. 10

Lexington

Keeneland

1 1/16 miles

(20) King Fury

(8) Unbridled Honor

(4) Starrininmydreams

(2) Proxy