About Horse Racing Nation
Horse Racing Nation Is For the Fans!
Founded in 2009, Horse Racing Nation's offices are at 714 W. Main St. in downtown Louisville, Ky. We're minutes away from Churchill Downs and one hour away from Keeneland, so it's easy for us to get out to the tracks for workouts, interviews and races!

Owned by Horse Racing Labs, LLC, we also operate the popular handicapping brand Super Screener and contest site DerbyWars.

You can Meet the Team here and Contact Us here.

Original media: Covering horse racing

Horse Racing Nation is one of the few websites that covers U.S. Thoroughbred racing full-time. Between our original news stories, blogs and opinions, video content, social media coverage and coverage of industry news supported by track press releases, our goal is to keep you updated on horse racing every day!

Video coverage on YouTube

With weekly HorseCenter video shows from Brian Zipse, Matt Shifman and producer Brett Workman, to coverage of workouts and interviews at the track, Horse Racing Nation is one of the leading horse racing sites on Youtube.com year round.
Horse Racing Nation videos have been been viewed more than 3.4 million times! Be sure to subscribe to Horse Racing Nation on Youtube today!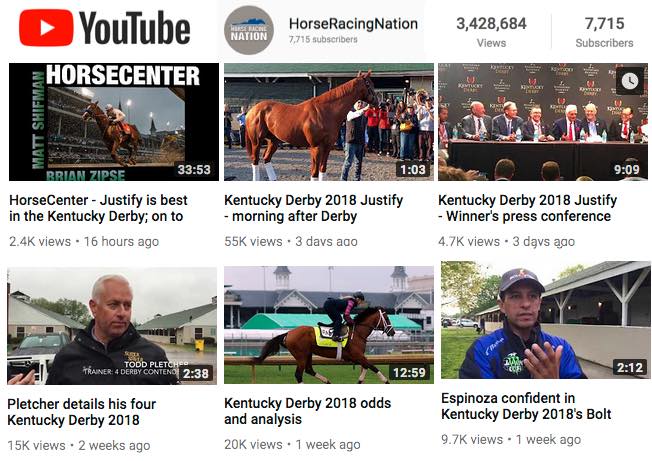 Horse Racing Nation website





Horse Racing Nation was developed as a free, Wiki community focused on racing information, insights and discussion for passionate horse racing fans. The "Nation" for the first time, provides a place where racing fans from around the world can share their love of horse racing with their fellow community members. The information, stories, photos, videos and comments on Horse Racing Nation are all provided by horse racing fans and organized for logical and easy access.





The central premise for building this site was following a question we asked in 2007: If someone Googled Curlin, what could they expect to find? There might be a few articles, some videos and pictures, but nothing aggregated into one place. No concrete, all-inclusive source of information, like those found with other major sporting web sites, exists for horse racing. And so Horse Racing Nation was born.





Horse Racing Nation was designed to provide one location where you could find information about horses like American Pharoah – his races, videos, photos, stories, connections, pedigrees, relatives, stakes and tracks – then discuss American Pharoah with other passionate racing fans, and repeat the process for the hundreds of thousands of other Thoroughbreds that came before and will come after him.





Horse Racing Nation is for anyone who loves horse racing and wants the latest industry news linked to an extensive, fan-supplied horse racing database. It is a site for the passionate fan to contribute racing information on any aspect of the sport as well as provide unique insights and angles to produce a successful wagering experience. Our hope is that newcomers, veteran race fans, those interested in breeding, industry professionals, handicappers and media will find the site informative and entertaining. In addition, one unique aspect of Horse Racing Nation is the ability to look up news and racing history at a very granular level – for a specific race, sire, dam, owner, trainer or jockey. This is sort of like a mini fan site for Bob Baffert, Pioneerof The Nile and Victor Espinoza. We hope that this will be useful to fans of the sport in following their favorite horses and people, as well as owners, breeders, trainers and jockeys.




The Wiki site
Because Horse Racing Nation was founded as a Wiki, with an underlying Wiki database, all information is supplied by daily contributors – users like you - and the amount of data in the database is completely reliant on the contribution of racing fans. What does this mean? Well, if your favorite horse (or race) is not in the database, then you can add it yourself! The database is set for users to easily add horses, people, pedigrees, races, silks, photos and videos!

In the same way, the accuracy and quality of the information in the database will be dependent on contributors. It will also be up to contributors to recognize errors and correct them when possible. We want to hear your thoughts about what you would like to see and what can be improved – by sending an email to mail @ horseracingnation.com.

Is it designed for handicapping races?
Over time, Horse Racing Nation has become a more usable and viable site for handicappers. From Best Bets of the day to handicapping blogs, HRN strives to become an industry leader in race data and handicapping information.
Features of Horse Racing Nation
Stakes Tracker


There are a few pillar components of Horse Racing Nation, all of which are breakthrough features in the horse racing world. The Stakes Tracker is a comprehensive list of probable next-out starts and fields for major horses and races in the future. Where is your favorite turf miler going? How is the Blue Grass field shaping up? Use the stakes tracker to find out.
Writers and Community
Our editors, writers and users post news, blogs, and notes daily from around the world in Thoroughbred racing. These news pieces are also sorted and displayed based upon who they are about. From there, you can dive into discussion about the topic at hand. One of Horse Racing Nation's goals is to present objective views in the horse racing industry. Horse Racing Nation is also open to advertising from all reputable companies in the industry. Do you agree with a trainers quote from the race? Let it be known. Was there a bad ride as well? Type it up. Then as people respond, it's like you're at the track with your friends.



Plays of the Day



Horse racing and handicapping go hand-in-hand, and we wanted to capture that with Horse Racing Nation. The Plays of the Day component allows any user at any time to post their thoughts on a race. Do you like a live long shot? Do you think there's too much pace? Not enough pace? Post it, and let others discuss, and then cash! Horse Racing Nation is the place to share your handicapping insights with your fellow racing fans.



The Data Vortex



The history of racing information present on almost all of our profile pages could be known as "The Data Vortex." Here you will find every piece of racing data in our database, entered by users like you. And the best part? You can click your way around, get lost and see the full potential of Horse Racing Nation. Be warned, you might start on American Pharoah, and five minutes later find yourself on Cigar – it's that addicting!



Legal background



This database does not contain any proprietary data from any other source. Please review the Terms and Agreements for submitting data for questions and a copy of our Privacy Statement. Photos should be uploaded only by the photographer or with permission from the photographer.



Refund and Exchange Policy



If you have purchased any items from Horse Racing Labs, LLC, you can find our exchange policy

here

.



Company and Founders



To meet the team behind Horse Racing Nation, go

here

.