On any typical Saturday, I might hear it once or twice, but everything becomes magnified on the first Saturday in May.
"Who do you like?"
"What are you betting?"
"Who are you using?"
The questions I hear over and over again are understandable. The Kentucky Derby is the big one, after all.
It's the one race of the year when even the most casual observer tunes in. As a lifetime lover of racing, a turf writer and a handicapper, I am always more than happy to give my opinion...even to those I only hear from just before the first Saturday in May.
Actually, the Kentucky Derby is only part of the equation this week at Churchill Downs for handicappers. The big one is supported by numerous other prestigious races, including the Kentucky Oaks. As a bettor who likes to go for big scores, many of my plays this week will involve multiple races. I will also look to the trifecta as my go-to wager in the Kentucky Derby.
With another deep field set to enter the starting gate on Saturday, I see great value in this year's Derby, despite believing the top horses are for real. Of the seven horses I expect to be among the favorites, I will not be using two of them. I believe that both Maximum Security and Vekoma are both speed types who have benefitted from great race setups in their big prep wins. At the 10 furlongs of the Derby, I expect both to fade out of the top three.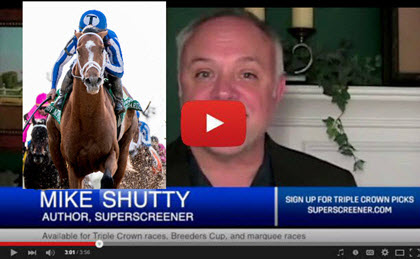 This leaves Tacitus, Game Winner, Improbable, Roadster and Omaha Beach as my five horses to beat. I don't see too much to separate any of them and I will be using all five in my trifectas.
I will also be playing my top three longshots. Code of Honor, Win Win Win, and By My Standards are all horses I can easily see running big, and finishing well, at odds in the 20-1 range.
My first trifecta play will be a simple eight-horse box using all of them, of course, pending Tuesday's post position draw. A 50-cent wager will cost $168, and as long as the top choices don't run 1-2-3, the payoff will be worth much more.
I will also play another trifecta using my top picks at the value on top. This ticket will have Tacitus, Game Winner, Improbable and Code of Honor in the top spot; all eight of my main plays in second; and the same eight, plus longshots Spinoff, Country House, and Long Range Toddy will be on my ticket for third. This 50-cent bet will cost $126. 
As mentioned, I will be investing plenty into multi-race wagers, including the Oaks-Turf Classic-Derby Pick 3, as well as the Pick 3, Pick 4 and Pick 5 leading into the Derby. All three can be made for a 50-cents base, so the opportunity to spread it around and include live longshots will be there.
In the Kentucky Oaks and the Turf Classic, Bellafina and Bricks and Mortar will be the heavy respective favorites. I will use both in my multi-race wagers, but I do not believe either is a sure thing. Champagne Anyone is a filly that has caught my eye, and Chocolate Kisses is my Oaks bomb.
Finally, back at a mile, Got Stormy in the Distaff Turf Mile is one horse that could really make my weekend. She will not be one of the favorites, and I think she is ready to run huge for trainer Mark Casse. I will be using her on all tickets in that Derby day race.
A couple of notes here: If any of my top Kentucky Derby picks draw the rail, I will likely alter this ticket. Look for post draw remarks within the comments section of this blog. Also, if the weather goes bad, as it did last year, I would also look to make some simple changes to the bet.