Zipse's Kentucky Derby Daily – Day 35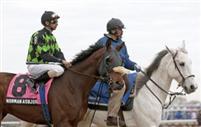 With a name like Norman Asbjornson, this horse better be able to run. Named after the 75-year-old founder of AAON, the three-year-old colt has a lot to live up to. Still CEO of the successful NASDAQ listed corporation, Asbjornson, the man, has proven himself a success on many fronts. A self-made millionaire, he has given back to his tiny hometown of Winifred, Montana in a big way. Thanks to Asbjornson, the town of 150 people has a new city hall, library, museum, pool bathhouse, and community center. His generosity also allows for local students to receive scholarships to attend his alma mater, Montana State University. Like I said, with the name Norman Asbjornson, this horse needs to be a runner.


It's starting to look like he might be just that. Much like his near Triple Crown winning sire, Real Quiet, Norman A showed little last year as a juvenile sprinter. Three sprints at two Pennsylvania tracks provided little evidence that he would ever do anything of note, but as soon as he was given the opportunity to run a route of ground an amazing transformation took place.


A one mile maiden special weight at Penn National last December 8 was his coming out party. Sent off at 24-1, Norman crushed the field with an easy five length score. The Christopher Grove trained, Pennsylvania bred was again shown little respect as he was sent to the post at 14-1 in his next start, an allowance race at Parx Racing on January 15. No problem for Norman A, again he demonstrated both his improvement and his affinity for two-turns, with another easy win. So after two solid wins at big odds in Pennsylvania, it was time for the Thomas McClay and Harry Nye homebred to try the big boys.


Not surprisingly the bay colt was completely ignored by the bettors in the historic Derby prep, the Gotham Stakes at Aqueduct. Once again this horse showed he has no idea what his odds are. Made a 47-1 rank outsider, Norman Asbjornson ran another strong race. The Daily Racing Form comment line reads, Steadied 1/16th pole, stubborn. As his successful namesake no doubt knows, a little stubbornness can be a good thing. He was only second best that day, to the highly regarded Stay Thirsty, but it was another clear step in the right direction. And so the odyssey will continue.


Norman A was among the 13 horses whose connections paid $6,000 to make them Triple Crown eligible during the recently concluded late nomination period. To prepare for an assault on racing's most coveted series of races, he continues his stamina building workouts at Bowie Race Course, and his connections have their sites on Aqueduct's Wood Memorial, where he would face undefeated champion, Uncle Mo. High hopes indeed for Norman Asbjornson, but if he keeps improving at this rate, who knows what heights he could reach. Kind of like a small town boy from Montana becoming a captain of industry.

[Norman Asbjornson currently resides at #30 on HRN's 2011 Kentucky Derby Contender Rankings ... too high, too low, or just right?]