Can a man that has actually stepped into the Kentucky Derby winner's circle, even if just once, really be considered an unmitigated failure in the single race that everyone wants to win? In the case of Todd Pletcher, the answer is yes.
As easily America's most successful trainer over the last decade plus, Pletcher has feasted on a steady diet of stakes winners, earnings titles, and Eclipse Awards. It seems when his powerhouse stable loses one member to retirement, two more budding stars are there and ready to step in for the 45-year-old native Texan. For Pletcher, it truly never is about rebuilding, but rather about managing all the talent that can be found in his barn on any given day. But at the same time that the training records have fallen, the disappointing finishes on the first Saturday in May have piled up.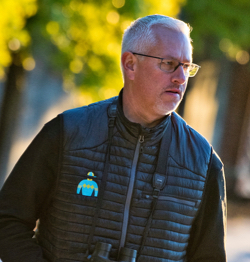 1-for-31. The 3% winning percentage speaks for itself, with only Super Saver's win on a muddy track in 2010 saving Pletcher from the dreaded shutout. Whether you believe it can be attributed to not working his horses hard enough to succeed in the rigorous Kentucky Derby, not having the right horse, or just plain bad luck, the dismal record on Derby Day for Pletcher is troubling. 
Many of his best prospects for the run for the roses have fallen off the trail before race day. Notably in recent years, Eskendereya was injured in 2010, and Uncle Mo was stricken by a disease in 2011. Possibly his best three-year-old of all was the filly, Rags to Riches, who settled for a win in the Kentucky Oaks instead of a chance to win the big one. Last year, one undefeated hotshot, Algorithms, was injured early in the season, while another, Gemologist finished 16th while suffering an injury in the race.
Finishing that poorly under the famed twin spires has become commonplace of late for his horses. In his first four trips to the Derby, Pletcher collected a 2nd, 3rd, and two 4th place finishes. Respectable results for a young trainer without his first Derby win, but in the last half-dozen years, his charges have finished better than 6th only once (Super Saver's win.) It doesn't sound all that bad until you consider that Pletcher has run 17 horses over that period. The average finishing place for those horses is 11th place and if you remove Super Saver from the average, it drops even lower for the other 16. 
Pletcher's overall average finish for all 31 Kentucky Derby starters is also 11th place.
But for all of us, 2013 is a new year, and for Pletcher, it is another opportunity at Kentucky Derby glory. Once again his stable is loaded, and in fact, Pletcher may have his deepest cast of new three-year-olds in his training career. Multiple stakes winners, Shanghai Bobby, Violence, and Overanalyze, lead the way, but are just a small sampling of potential Kentucky Derby starters he has in his barn. Archwarrior, Delhomme, Capo Bastone, Palace Malice, Revolutionary, Verrazano, Micromanage, just to name a few, also carry the hopes of America's top trainer as he hopes to improve his career Kentucky Derby record. A record, as you can see below, that is in some desperate need of improving.