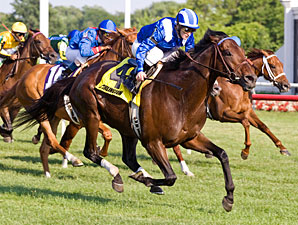 There were times during his career when I thought Tajaaweed might be more, but I've come to the realization that he simply will not come out victorious against the best … not that there's anything wrong with that. The world needs solid grade three horses, and Tajaaweed is a very good one.
On his day, and when there are no real tigers to be dealt with, Tajaaweed can uncork his patented, glorious looking rally that swoops by the entire field in the blink of an eye. I have seen it many times. Like on July 9 in the Grade 3 Arlington Handicap, when the Shadwell Stable owned and Dan Peitz trained turfer toyed with a very good field that included Mister Marti Gras and Dean's Kitten. Or more recently on September 10, when Tajaaweed went from last to first in what seemed to be only a few strides. It was only an allowance bunch that day, but the striking move, combined with the snappy final time of 1:47 3/5, was more proof of the talent within the good looking son of Dynaformer.

Even in one of his losses, a second place finish to Turallure in Churchill Downs' Opening Verse (Keep in mind, Turallure is the same horse that missed winning the Breeders' Cup Mile by the smallest of margins) in which Tajaaweed gave up the lead late, was beaten only a length, and beat the rest of the field by more than six lengths, he looked like a horse that might be on the verge of something big. But I know better.
Tajaaweed is simply not the horse that will win a grade one race. It's taken me a while, but I finally can say that with confidence. More proof of this came in his last race. He finished sixth behind Gio Ponti in the Grade 1 Shadwell Mile at Keeneland. This type of disappointment fits right in line with his sixth place finishes in the last two editions of the Arlington Million.
This afternoon the six-year-old horse should be right at home however, in the River City Handicap at Churchill Downs. Not only is the day's feature of the grade 3 variety, but the race looks to be loaded with speed. Solid early fractions should only assist Tajaaweed when he is ready to make his big run. I'm not giving you a groundbreaking play here, as he is likely to be the race favorite, but look for Tajaaweed to score an eye-catching victory. Just don't expect it to lead to something bigger. There's nothing wrong with being a grade 3 horse.
Photo courtesy of Four Footed Photos