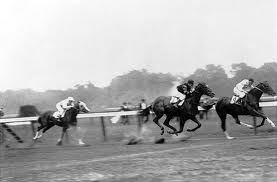 The date was August 13, 1919. The Chicago White Sox were just weeks away from shaking everyone's faith in America's pastime, and in the world of thoroughbred horse racing, the fates were preparing to conspire against perhaps our greatest thoroughbred in history. After six overpowering juvenile victories, Man o' War was already being considered a superstar. Going in, Saratoga's Sanford Memorial had all the looks of another routine victory for the imposing chestnut colt. Instead it would become one of the most important upsets in not only racing, but in the history of American sports.
Man o' War, bred by August Belmont, owned by Sam Riddle, trained by Louis Fuestel, and ridden by Johnny Loftus, had swept through his first half-dozen races as if he would never lose. Truly a man among boys, Man o' War had won a maiden race at Belmont Park on June 6 by six easy lengths and then proceeded to dominate five consecutive stakes races at Belmont, Jamaica, Aqueduct and Saratoga. It wasn't that he was winning each race, or the margin of victory in each race, but it was the ease in which he was doing it that set him apart. "Eased final 16th" and "Never extended" were becoming familiar comments for the big, red youngster.
By his fourth lifetime start, Man o' War was already being saddled with 130 pounds in an attempt to even out the playing field. It made little matter, and in his sixth race and win, he carried that impost while easily winning the U.S. Hotel Stakes at Saratoga on August the 2nd. On that afternoon, his closest pursuer in the ten-horse field was a Whitney Stable runner named Upset, who at 115, was in receipt of 15 pounds from the winner. Eleven days later the two colts would be back at the same track, and running at the same distance in the Sanford Memorial.
Unfortunately, it cannot be said that the race went off without a hitch. The most consistent account of how the race was run goes something like this: The regular starter was out sick, so a replacement starter, who was said to be up in years, would be in charge of getting the horses off from the barrier fairly. It did not happen. The heavily favored son of Fair Play was reportedly not facing the right direction when the field was sent on their way. With no chance of taking the early lead as accustomed, Man o' War would need to rally if he were to remain perfect.
His well-regarded stablemate, and supposed main competition, Golden Broom, would make the early lead with Upset close behind. After his bad start, Man o' War moved up to fourth after a quarter mile, of the 6th furlong race, was completed.  As Golden Broom began to weaken, it was Upset, who took over early in the stretch.  Man o' War, who had encountered traffic throughout the race, and had been shut off on the rail, was now swung wide under Loftus for a final attempt to catch the leader, who again was getting 15 pounds from the big horse. It was not to be. The big upset was pulled off by Upset, who won by what the charts call a half-length, but many said was even less.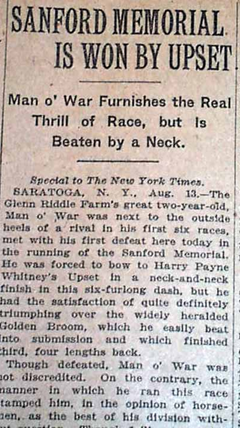 The enormity of the upset sprung by Upset only became larger as the true greatness of Man o' War was revealed. He defeated Upset on numerous occasions after the loss, each time easily. In fourteen races after the Sanford, the great horse won each time, and was barely ever challenged in many of the biggest races on the American racing landscape. He has been voted as the greatest horse ever to grace a racetrack many times. His lifetime record reads: 21 races, 20 wins … and one narrow, troubling loss.
 
There has been much written about the Sanford since, that have raised many questions. How many lengths did Man o' War lose at the start? How much trouble did Loftus get his mount into during the race? Did the jockeys have something stewed up to guarantee a loss for the prohibitive favorite? Nearly a hundred years later, it is hard to know for sure. What we do know is that on the afternoon of August 13, 1919, Upset won and Man o' War lost, believe it or not.