Four more days until the world finds out if I'll Have Another will become the first Triple Crown winner in 34 years. Hopeful to find a brand new legend in the 2012 Belmont Stakes in the form of a feisty chestnut colt from California, I found myself recalling another Belmont legend. This legend only had two legs, and hadn't been three-years-old in a long, long time.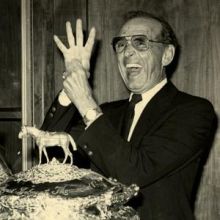 I found myself chanting the 72-year-old trainer's first name with thousands of others at Belmont Park that day. "Woody! Woody! Woody!" You could not help but to be caught up in the excitement and admiration for the man that had just won his fifth consecutive Belmont Stakes. No matter who you bet on that day, you were joined by a common sense of awe. "Woody! Woody! Woody!" Thinking of the record now, I find it even more unbelievable than I did that day. Winning one Belmont is a feat that most trainers would happily give up their left arm for, and Woody Stephens won five … In a row! "Woody! Woody! Woody!" 
1982's Belmont Stakes featured a sea of slop. Conquistador Cielo was a talented son of Mr. Prospector who had been sidelined by a saucer fracture that cut his two-year-old season short. Not ready for the Derby preps in the Spring, Conquistador Cielo showed a readiness for big things with a sharp allowance win at Belmont Park in May. He came back with an overpowering win against older horses in the Met Mile, setting a track record in the process. Five days later Woody brought him back to run against the best of the Triple Crown class, Gato Del Sol, Aloma's Ruler, and Linkage. The sloppy conditions benefited the Stephens' speedster in a big way. Conquistador splashed home 14 lengths the best. Belmont Stakes win #1 for Woody.
In 1983, Woody sent out a strapping son of his first Derby winner, Cannonade. His name was Caveat and he had been improving all spring. After a rallying third in the Derby, Stephens prepped for the Belmont with an allowance victory. Second choice behind the runaway winner of the Peter Pan, Slew O' Gold, Caveat was a horse prepared to peak in the Belmont. Way back early, Caveat needed to scrape the paint to bust through a small hole turning for home and drew off to an easy win over the classy Slew O' Gold. Belmont Stakes win #2 for Woody.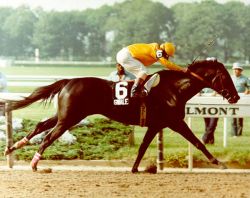 I had missed watching in person Woody's first two Belmont wins, but I would not miss any more. In 1984, I was in direct opposition of a handicapping rival that day, my brother Dave. I loved Jack Van Berg's quirky colt Gate Dancer who had won the Preakness, while Dave was all about the Derby winning Swale. My brother, who was one of Seattle Slew's biggest fans, was right. Swale, a son of Slew, set all the pace and rolled to an easy victory. Gate Dancer was up the track, and my brother's longshot, Pine Circle, easily passed the others for second and a tasty exacta. The trainer of Swale of course was Woody Stephens, giving him his third straight easy victory. Belmont Stakes win #3 for Woody.
1985 was a really strong field with juvenile champion Chief's Crown, and Preakness winner Tank's Prospect leading the way. This time I would be on the Woody Stephens bandwagon. My pick for the Derby, Stephan's Odyssey, had run 2nd at Churchill. He was coming back from a losing prep over the track in the Peter Pan, but I thought he would run big in the Belmont. I was right and I collected. Stephan's Odyssey did run big, but could not hold off the powerful stretch run of a Rich Cream gelding named Creme Fraiche. Luckily for my ticket, Creme Fraiche was Woody's other horse. Not only did he win another Belmont, but his two horse entry had run away from the rest of the field. Belmont Stakes win #4 for Woody.
I have to admit, this one surprised me. In the 1986 Belmont, I thought favored Rampage, Derby winner Ferdinand, or two very promising, lightly-raced colts, John's Treasure and Personal Flag, would be too much for Woody's horse Danzig Connection. On paper it did not look like he would be able to handle these horses. Perhaps another sloppy Belmont track that day had much to do with the outcome, but it was Woody's horse who was strongest down the lane. Danzig Connection surged clear at the eighth pole and had plenty left to hold off John's Treasure and Ferdinand. A horse that had been beaten in two allowance races, not long before, had just done it for Woody. What a training feat. Belmont Stakes win #5 for Woody.
Interestingly Woody's winners were favored only once, that being the ill-fated Swale in 1984, who died suddenly and tragically eight days after his Belmont win. In none of the five Belmont Stakes, won by Woody Stephens, was there a Triple Crown at stake. What about the sixth year you ask? In 1987 Gone West, trained by Stephens, finished sixth in the race won by Bet Twice, as Alysheba failed in his Triple Crown attempt. He had at least taken a shot to win #6. Woody is no longer with us, but his legend and his untouchable record of five straight victories in the Test of a Champion will live on.
Photos courtesy of NYRA