Zipse's Kentucky Derby Daily – Day 20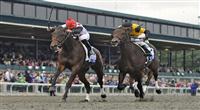 I am thrilled to be heading to Keeneland today. It is not only one of America's finest racetracks, but it is nestled lovingly in the middle of the rolling bluegrass hills of horse country. Lexington, Kentucky is the heart and soul of thoroughbred horse racing, and Keeneland is a beautiful place to put on their show. A visit there always brings goose bumps. Why then do I find such disappointment in their marquee event?


There is no doubt that Keeneland's impressive racing schedule is highlighted by the $750,000 Blue Grass Stakes. The Grade 1 affair is simply overflowing with tradition. In the past 87 years, the race has produced more than 20 winners of the Kentucky Derby, and over the past thirty years, no race has produced more starters in the run for the roses. It has always been a key prep for what happens on the first Saturday in May. Yet lately I have the distinct impression that the prestigious race no longer has anything to do with who will win the Kentucky Derby.


Gone are the days when year after year the Blue Grass produced strong contenders for the Derby. From 1959 to 1979, the winner of Keeneland's big race went on to win under the Twin Spires a whopping eight times. Growing up I watched horses like Riva Ridge, Alydar, and Spectacular Bid win the Blue Grass. For now at least those days seem long gone.
It's now been 20 years since the last horse, Strike the Gold, won both the Blue Grass and the Derby. Worse yet, when Keeneland got rid of the dirt and switched to the Polytrack surface, it seems so went the standing of the Blue Grass as a legitimate prep for the Kentucky Derby.


I now consider it extremely unlikely that a horse can win on the Keeneland strip, which is so very different than that of Churchill's, and then three weeks later repeat the success in the Derby. In fact, since the transition to Polytrack, the winner of the Blue Grass has finished 11th, 20th, 10th, and 8th in the Derby. Clearly success in the Blue Grass is no longer a strong recommendation for your chances in the Derby.


Don't get me wrong, I still enjoy the race, and The 2011 Blue Grass provided a thrilling finish as Brilliant Speed got up in the shadow of the wire to edge Twinspired, and King Congie. Kudos to the victor, winning it will likely be a career highlight for Brilliant Speed. Yesterday's edition was also a fun race to watch, but as for the Kentucky Derby, I will look elsewhere than the trio of two turf horses and a synthetic specialist.