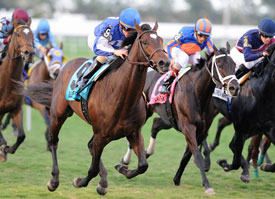 As I watched this afternoon's $100,000 Dania Beach Stakes from Gulfstream Park unfold, two things struck me by the time the field of eleven had hit the wire. The first thing was the obvious; the winner, Summer Front, is a serious turf horse. Stumbling badly out of the starting gate, he, along with rider Ramon Dominguez, were left with plenty to do in the flat mile feature, but that is exactly what they were able to accomplish, rallying stoutly on the outside to swoosh by a solid enough looking field, for a 1 1/2-length victory. Now undefeated in three starts,
Summer Front covered the distance in 1:35.57 over a firm turf course. The good looking juvenile had previously won the King Cugat Stakes at Aqueduct, and a maiden sprint at Belmont Park for trainer Christophe Clement and owner Waterford Stable. Both of those wins came on the grass, meaning the son of War Front has never run on anything but the green stuff. Therin lies the second and more questionable thing that crossed my mind while watching the win ... this may be a serious contender for the 2012 Kentucky Derby.
How can I say this about a horse that has never run on the dirt? Recent history is a great place to start. Lest we forget, in three of the last six Kentucky Derbies, the big race was one by a horse considered to be a turf horse at this stage of things. Furthermore, none of the three, (Barbaro, Big Brown, or Animal Kingdom) had even started on the dirt before Barbaro ran in the Holy Bull in February of his sophomore season. Clearly experience on dirt is not a prerequisite of the modern Kentucky Derby winner.
From this recent history we know that Summer Front is at no disadvantage having never tested traditional dirt at this stage of his young career, but the question remains, will this horse that Ramon Dominguez made a special trip to Florida to keep the mount, even like the dirt? I think there is good reason to believe the answer will be yes.
Being a son of War Front, Summer Front gets a fair amount of both turf and dirt breeding from his sire line. War Front was a talented sprinter on the dirt, and a son of classic sire Danzig, out of a Rubiano broodmare. On the female side, Summer Front is out of Rose Summer, a daughter of the versatile sire El Prado, she has plenty of both distance and dirt in her female bloodlines, being out of a Cherokee Colony mare. It is from this female side, that Summer Front has an abundance of distance pedigree to fall back on as the distances get longer. Overall his pedigree looks like one that is becoming more common these days ... a horse that should be able to handle a variety of surfaces.
So the precedent has been set threefold, and the pedigree is there, but should Summer Front really be considered as a legitimate Kentucky Derby possibility, as we ring in the new year, despite having run on nothing but grass? Why not ... I, for one, am ready and willing to roll with this new angle in early Kentucky Derby handicapping.
Photo courtesy of Bob Coglianese