Spectacular Bid, Vigors, Princess Rooney, Lady's Secret, Free House, and
With Approval
. Many of my all-time favorite horses were gray. What is it about these pigment challenged thoroughbreds? Maybe it's as simple as they tend to stand out in a race full of chestnuts and bays, or maybe there is more than meets the eye to the phenomenon. I can't really say for sure, but what I do know is that I always like a good gray. And With Approval was more than just a good gray, or in his case, roan.
The homebred Kinghaven Farm runner was an outstanding racehorse right from the beginning. With Approval, trained by Roger Attfield, was undefeated in both of his starts as a two-year-old in 1988. After easily winning a maiden at Woodbine, the son of Caro, out of the Buckpasser mare, Passing Mood, quickly became a stakes winner with a photo finish victory in the Display Stakes. It was the win in the Display that would be a precursor for things to come. First off, it displayed the young horse's ability to get to the wire first in the tightest of finishes.
This will to win would become a vital part of his road to immortality as a Canadian champion. After beginning his second season with one win in four starts in Florida, including a 2nd place finish in the Tampa Bay Derby, With Approval would head back to Toronto to set sail on a wild ride that would soon make him famous. First came a near miss to multiple stakes winner Domasca Dan in the seven furlong Queenston Stakes. Sprints were not his thing, and we soon learned neither was losing photos. Snoopy, a nickname born from his laid-back attitude, would roll to victory in his next four starts. Perhaps roll is the wrong word, as the winning margin of those four victories totaled less than a half-length. Two wins by a head in the Marine and Plate Trial Stakes, sent him to Canada's biggest race, the
Queen's Plate
, as an 11-10 favorite. Things did not go well for Snoopy and jockey Don Seymour that day, but when he finally found room to run, he laid it all on the line, eventually winning by a nose. A new nickname was rightfully bestowed upon him. The Cardiac Kid would keep the thrilling victories going with a head score in Fort Erie's Prince of Wales Stakes to move two-thirds of the way to the big prize.
To finalize his sweep of Canada's Triple Crown, With Approval would need to win the
Breeders' Stakes
at 12 furlongs on the turf. Turf, that was the second half of the story from his win as a juvenile in the Display. Back on the grass for the first time since, The Cardiac Kid would not need a photo to decide this one. Winning off by 7 ½ lengths, With Approval became Canada's first Triple Crown winner in 26 years, and earned a $1 million bonus in the process.
Yet after these two excellent years, including entry into the pantheon of Canadian racing, it was not until his four-year-old season that I fell in love with the colt, who by that time had become near white. As good as he was in 1989, With Approval, would be even better in 1990. Despite his obvious liking for the feel of the green under his hooves, his connections gave him a few more chances on the dirt. Both races were losses, and they sandwiched a sharp win on the Keeneland turf. So after a thumping at the hands of some of America's best handicap horses in the Pimlico Special, the Canadian Triple Crown champion would become strictly a turf horse for the rest of his career.
A romping win in Woodbine's Connaught Cup marked the beginning of his second career, and led to my first ever up close glimpse at the champion. The occasion was Belmont's Bowling Green Handicap. As a son of one of our favorite turf sires, Caro, my dad and I were there to bet the horse with the perfect 4 for 4 turf record against some of the top turf horses in the U.S. The distance loving El Senor was actually the favorite until the last few flashes, but in the end the New York crowd finally decided on With Approval. They were right. On a very firm turf course, all With Approval did that day was run the fastest 1 3/8 miles ever run. In 2 minutes, 10 and 1/5 seconds, the Canadian had added world record holder to his list of achievements. 21 years later, the only world record that I witnessed in person, still stands.
Another turf victory, this time in the Tidal Handicap at Belmont Park, followed a few weeks later, maintaining his undefeated record on grass after six starts. He was now the unquestioned best turf horse east of the Mississippi, and well on his way to an American championship to go along with his Canadian honors. But it was not meant to be.
It wasn't that With Approval ran poorly, he never did, but he just ran into huge performances. First, in the Sword Dancer, El Senor ran huge, and by him to take the 1 ½ mile test. My second chance to root for him in person came at Arlington, and With Approval looked briefly like a winner, but it was Charlie Whittingham's talented Golden Pheasant, running the race of his life, to power to victory over him in the Million. In the
Breeders' Cup Turf
, With Approval won the battle of North America, but could not hold off one of Europe's best, losing narrowly to England's In The Wings. Despite the 2nd place finishes, I was hopeful that my favorite turf horse had done enough for an Eclipse Award, but when the excellent three-year-old, Itsallgreektome, won two big races at Hollywood to close the year, the Canadian was denied.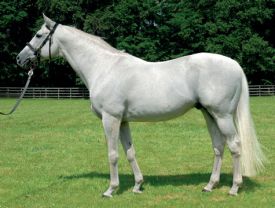 Little matter, With Approval retired with a then Canadian earnings record of $2.8 million, and 13 wins from 23 starts. He soon after became an obvious addition to Canadian racing's Hall of Fame. At stud, it was no surprise he would become a success. His dam Passing Mood sired no fewer than six stakes winners, with Belmont winner Touch Gold being his top sibling. In all With Approval has sired 47 stakes winners, including Kentucky Derby favorite Talkin Man. First in Florida, then in England, he proved to be a solid sire, as well as an influential broodmare sire. Breeders' Cup winner Miesque's Approval was one of his best produced by his daughters. Currently, With Approval has a grade 1 winner in Mission Approved, who hopes to do one better than his sire in next week's
Arlington Million
.
While his offspring continue to run well, the sun has set on the life of With Approval. The champion passed away last June at the age of 24 at Lanwades Stud in England. It's not often you find a horse who could win on courage, as evidenced by his many photo finish wins. Who could display huge talent by romping in record breaking times, I saw that in person on a June afternoon at Belmont Park, and could win many important races on both turf and dirt, but that was With Approval. He could do it all. I remember you With Approval.