Growing up in New Jersey and getting to visit
Belmont Park
for almost every big Saturday afternoon, autumn after autumn, helped shape the person I would become. Those memorable days at Belmont allowed me to see all of the great horses of the golden age of racing. The memories of what I witnessed will forever be etched in my heart and my soul. I was fortunate to see so many wonderful horses and amazing races. It was the best of times, but on those rare occasions, it was also the worst of times. Any fan of horse racing knows the incredible highs and lows that are part of loving this sport. As another fall prepares to welcome race fans to Belmont Park, I do what I do every year. I reminisce about those golden years of racing, and think about many of those unforgettable days at the racetrack. I think of Secretariat and Ruffian, Wajima and Forego, Alydar and Affirmed, Seattle Slew and Spectacular Bid. They were true stars of the sport. I can't think of New York racing in the autumn without thinking of one other horse though. His name was
Timely Writer
, and he was the encapsulation of everything great and everything tragic our sport has to offer.
Timely Writer was an extremely popular horse in the early 80's. His come from behind style on the racetrack, and his rags to riches story made him easy to like. Despite being a grandson of Northern Dancer, the little bay was purchased as a yearling for $13,500. He was purchased by Peter and Francis Martin of Boston, and the pair turned him over to veteran local trainer Dominic Imprescia. At a time when yearling sales were through the roof, clearly he was not considered to be a future star.
Timely Writer by Staff Writer, out of Timely Roman, by Sette Bello, began his career available to be claimed at Monmouth Park. Luckily for his connections, nobody bit on the $30,000 price tag. He won that race by eight lengths in racehorse time. While he did not set the world on fire in his next few races, he was able to earn a stakes win in Suffolk's Mayflower Stakes at six furlongs, but his breakout race would come in Saratoga's Grade 1 Hopeful Stakes. Dismissed by the Spa crowd, Timely Writer took advantage of a lively pace to come from well back and roll right by the talented Out of Hock to win going away.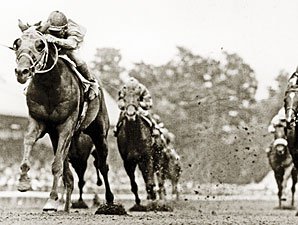 Winning one of the most important two-year-old races that easily announced Timely Writer as a force in the division, but still did not make him the glamour youngster in a big Champagne field. The single important juvenile race of the year back in the pre-Breeders' Cup days, the one-mile race attracted two undefeated horses to grab the attention.
Before Dawn
was an awesomely fast filly who was the most impressive young miss since Ruffian had come around eight years earlier. She was made a clear favorite over both Timely Writer and
Deputy Minister
, a Canadian who was already six for six. This was the first time I saw Timely Writer in person, and I was impressed as he proved too good for his unbeaten foes. Before Dawn was kept busy early and by the time she put away her early competition, Timely Writer, who had bided his time with partner Jeffrey Fell in the early stages, was already upon her. She fought on for a while, but could not handle the stretch running power of the winner. At the wire, he was almost five lengths clear of the filly, with Deputy Minister a well beaten fourth.
 
That would be his only meeting with Deputy Minister, but despite the lopsided result, the Canadian who won eight of nine in 1981, was awarded the Eclipse Award as outstanding juvenile male. Timely Writer was recognized somewhat by sharing the Experimental Free Handicap highweight at 126 pounds, along with Deputy Minister. Which colt was better though was certainly in question going into 1982.
After not doing much in a seven furlong race to begin his sophomore season, Timely Writer quickly returned to his winning ways. At Hialeah, he beat 15 other Kentucky Derby hopefuls in the richest race in Florida history at the time, the Flamingo Stakes. Winning by 3 ½ lengths he stamped himself the early favorite for the Kentucky Derby. Meanwhile, Deputy Minister was suffering from ankle issues and had gone off form. Next for Timely Writer would be the Florida Derby, where he would hook a new undefeated hotshot in Star Gallant. Once again this would prove little trouble for Timely Writer, as he hooked the speedster at the eighth pole and easily went by to win by two lengths under Fell.
Then just weeks from the first leg of a date with destiny, Timely Writer became gravely ill with the stomach ailment, gastroenteritis. His racing career was likely over, but more importantly, his life was suddenly in serious jeopardy. Stomach surgery would save Timely Writer's life, and sure enough the colt that came from modest beginnings would make it back to the races.
Sidelined 19 weeks by the sickness and then life-saving operation, Timely Writer returned on August 14 to give the local fans a thrill by wining Suffolk's Yankee Handicap under 125 pounds. Just 10 days later he would visit the Spa to win an allowance race at Saratoga. It would be only the second time I was able to see him in person and he looked every bit the champion I had seen at the Champagne. Having missed each leg of the Triple Crown won by Gato Del Sol, Aloma's Ruler, and Conquistador Cielo, it seemed like his time was finally now. He was healthy, and he was back.
A schedule was set for an autumn at Belmont that, if successful, would carry him to Horse of the Year honors. The Jerome Handicap, followed by the Marlboro Cup, and finally the Jockey Club Gold Cup were on his dance card. But of course, things would not be that easy for this horse. He was not allowed to run in the Jerome because a trace of a drug meant to alleviate a cough was found still in his system the morning of the race. It was a strange story for a horse of his magnitude, but for his trainer, who had previously served a two-year suspension for infractions back in Boston; it was not his first questionable test result. 
Without the benefit of the Jerome under his belt, Timely Writer would run an uncharacteristically poor race in the Marlboro Cup. Much like he had done to begin the year, he bounced back quickly from a dull effort, winning a handicap race, one week before the Jockey Club Gold Cup, impressively by 7 lengths. Timely Writer was now pronounced ready and the crowd made him a 2-1 favorite to defeat older horses and win Jockey Club. I was in that crowd of more than 27,000 that day with millions more watching it on national television.
The big race was to be Timely Writer's 15th and final lifetime start, as a deal for his stud duties had already been made. Poised to go out a winner as he moved smoothly into contention, the race favorite instead would be humanely destroyed after shattering his left foreleg as the field approached the homestretch of the Jockey Club Gold Cup.
 
And from that instant, it only got worse. In an unspeakably horrific chain of events, Johnny Dance tripped over the fallen Timely Writer, fractured his left foreleg and also would lose his life that day. Two other horses also fell as the result of Timely Writer's injury. Khatango went down, while Sing Sing stumbled trying to avoid the accident and lost his rider. Both Khatango and Sing Sing escaped serious injury, as did each of the four riders who fell. In the definition of a meaningless finish, Lemhi Gold was the winner of the grade one race. I remember as a 13-year-old boy being unable to watch what was unfolding, but at the same time needing to see if everyone was going to be OK.
Thankfully, I was not in attendance for the tragic injuries of Ruffian, Go For Wand, Barbaro, or Eight Belles, but I was there for this one. I can't imagine ever seeing anything worse at the racetrack.

In death, Timely Writer was honored by becoming only the second horse to be buried at Belmont Park, joining the great Ruffian.
29 years later, Timely Writer received some more, and long overdue, recognition. Gulfstream Park, where he won the Florida Derby, honored the excellent horse with a stakes named in his honor this March. A prep for the Florida Derby, the Timely Writer Stakes was won this spring by the champion Uncle Mo. A 93-year-old Dominic Imprescia was part of the trophy presentation to the winning connections. Several weeks later, on May 8, Imprescia died in his sleep at his home.
In a heartbreaking way, it's funny how my feelings about Timely Writer evolved. In the Champagne, my heart was with the filly, Before Dawn. Timely Writer handed her first defeat. In the
Jockey Club Gold Cup
, I was rooting for Christmas Past. She ran third to Lemhi Gold, but I have no doubt that Timely Writer would have beaten her. For that matter, I have little doubt that the little horse that nobody wanted would have proved a dominant force in that year's Triple Crown. It took the most horrible tragedy that I ever saw in person to fully appreciate him. The Eclipse Awards may have never said so, but he was a more than the people's champion, he was a true champion. Now each fall as I watch the great racing from Belmont Park I can't help but to think of him with great fondness. I remember you Timely Writer.